There is no doubt that the bathroom is one of the focal points of any home. A space with its own personality that invites you to relax and escape from the stresses of everyday life.
From Aparici Cerámicas we want to inspire you with our proposals for the design of modern bathrooms.
And above all, to advise us on the materials needed to make them a reality. So, if you are thinking of renovating your home or starting a project from scratch, take note.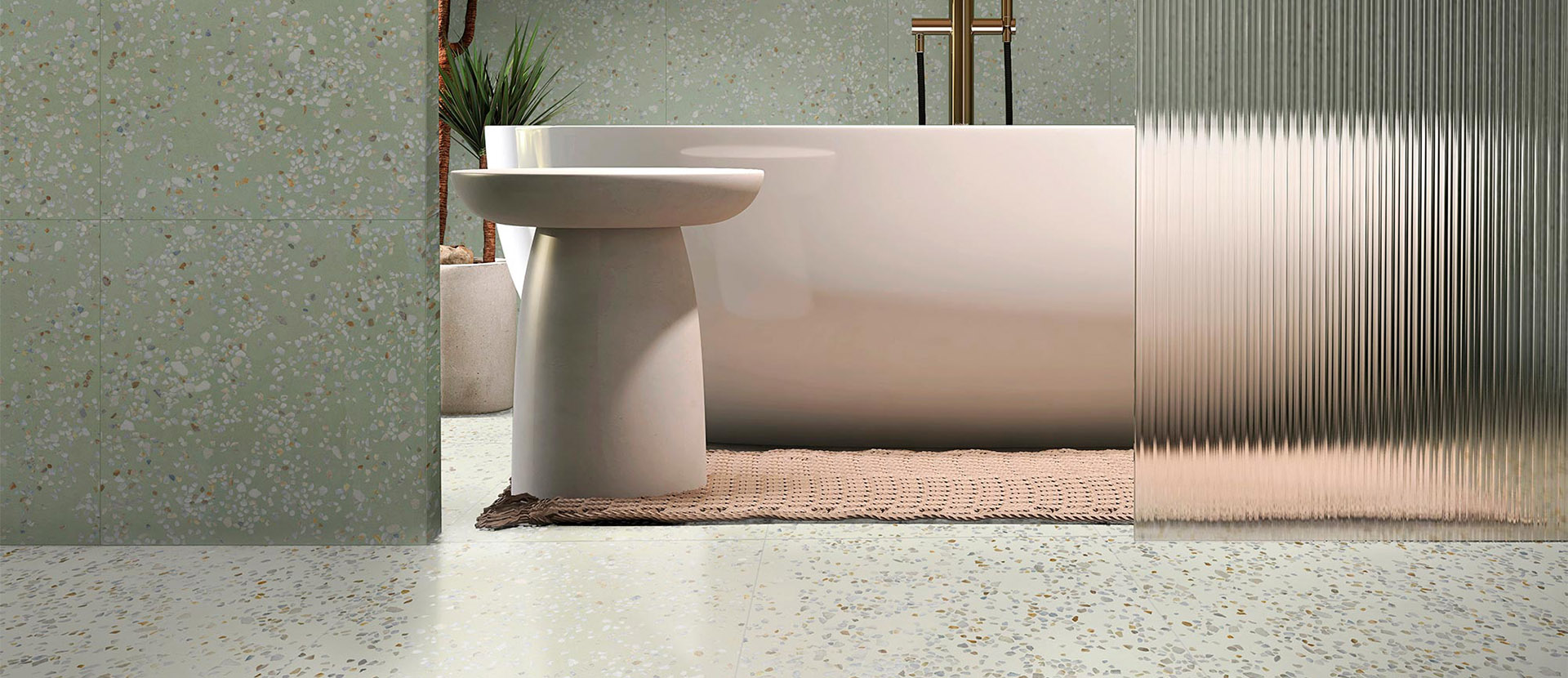 Trendy
Types of modern bathroom designs
When opting for a modern bathroom design, it is important to take into account the personality and overall aesthetics of the project, so that the bathroom, with its peculiarities, is an extension of the bathroom. We must also take into account that the size of the room will influence the choice of elements, materials and accessories to project the modern design we are looking for.
For this reason, from Aparici Cerámicas we bet for those bathrooms in which the aesthetics and the comfort always go hand in hand. We bet, in short, for spaces that we can enjoy with the five senses.
Industrial style bathrooms
Today we want to break with the cliché that industrial style can be too cold for a space like the bathroom. The key is to find a balance between the different elements and materials. For example, wooden furniture softens or tones down the personality of glass and steel, two of the most commonly used materials.
In addition, the options for cladding and flooring are growing in the hands of ceramic design. Stone-effect tiles in neutral colours or with a rust effect in warm tones help us to transmit that feeling of comfort without renouncing the industrial look.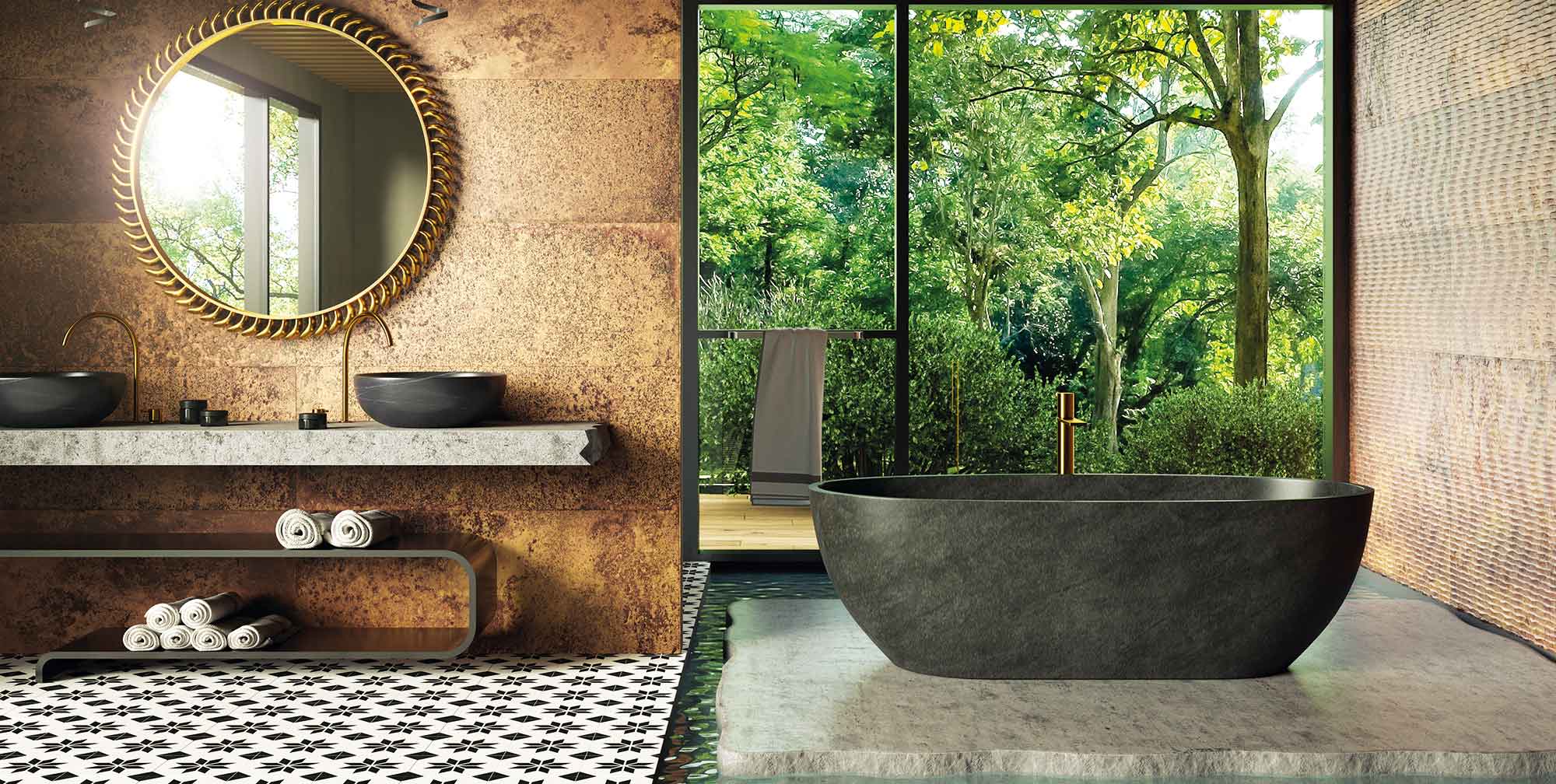 Corten
Minimalist bathrooms
The aim of minimalist bathrooms is to create pleasant and functional spaces with few elements. A creative challenge in which the importance lies in the details. Taps and fittings with simple lines, backlit mirrors or wall-mounted furniture are a must in this decorative style.
Likewise, in minimalist bathrooms, neutral tones and natural stone and wood textures stand out. Porcelain floor and wall tiles are a great ally for introducing natural textures in warm tones with the resistance of the most advanced materials.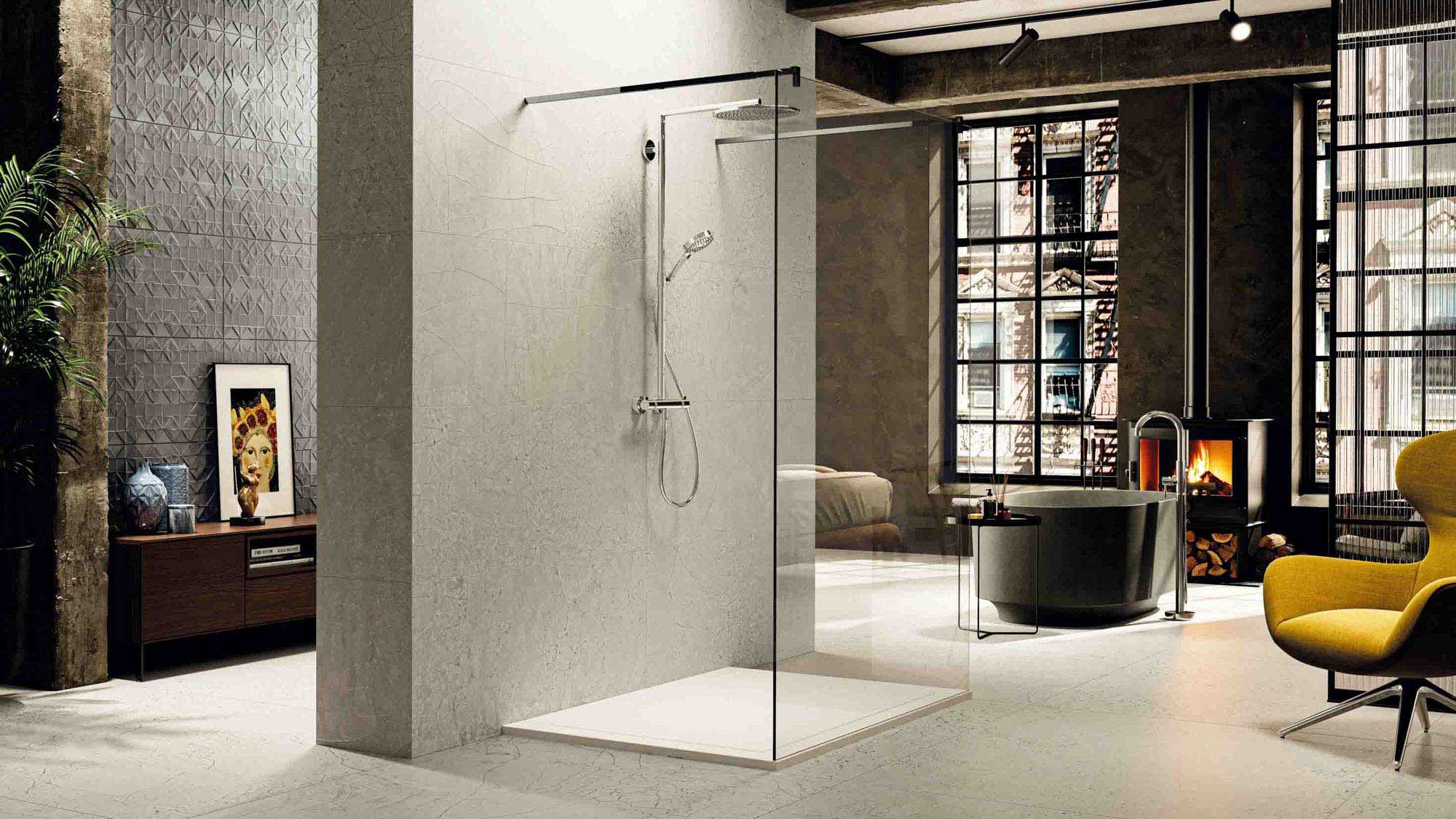 Cracked
Modern rustic bathrooms
Another style that is making a strong comeback in bathrooms is rustic. With the right elements we can design a modern space with that rural chic charm that evokes times gone by. One of the keys is to combine handcrafted objects (a stone washbasin, textiles, wooden furniture with fittings...) with other radically contemporary ones (minimalist taps and wall lights, freestanding bathtubs).
As far as flooring is concerned, the cotto look is one of the most common in the rustic style. In Aparici you will find collections such as Cotto or Pierre that fit in like a glove. Another option is to update the rustic style with porcelain tiles with a cement or even encaustic look.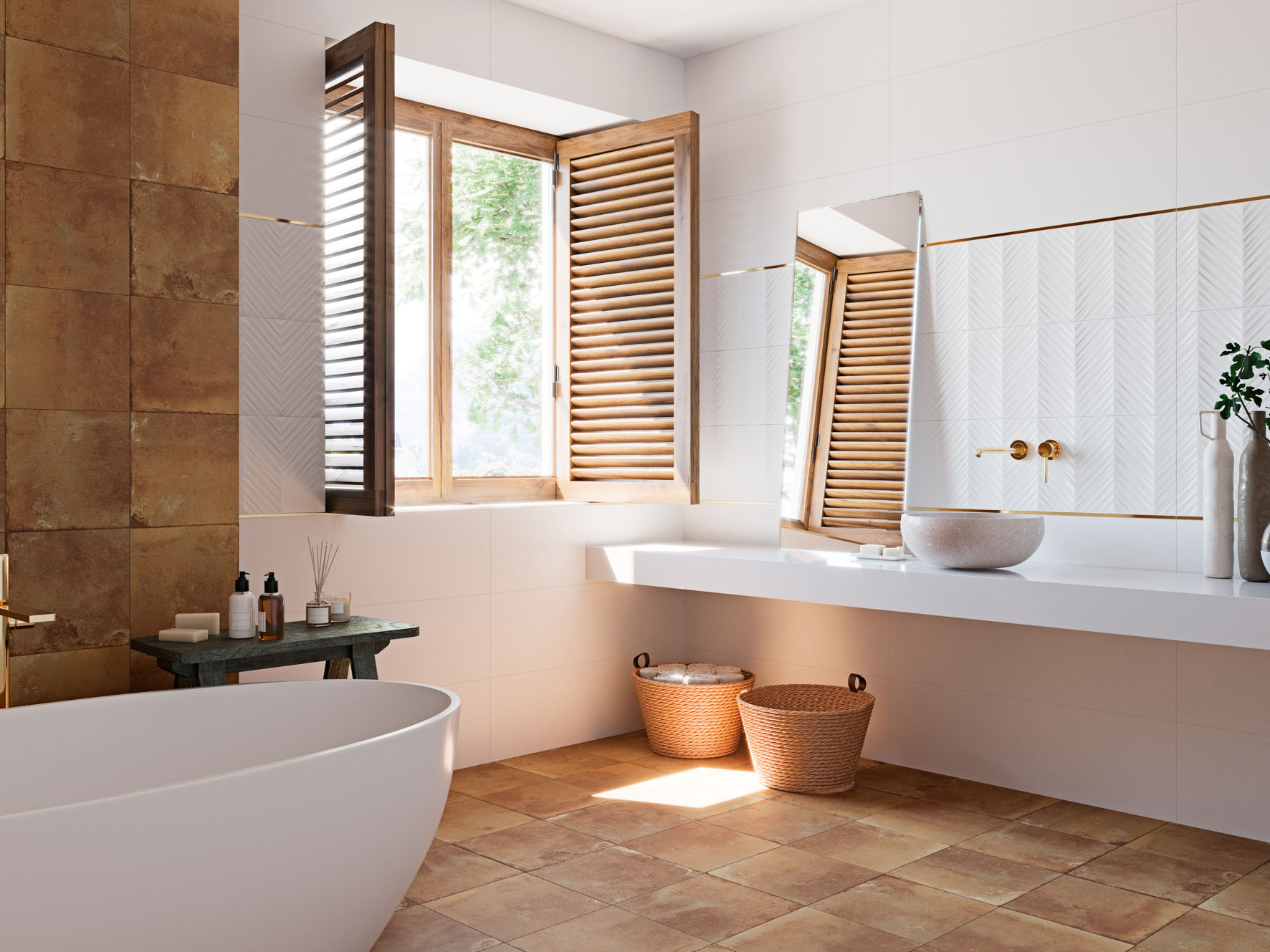 Cotto
Black and white bathrooms
A combination that never goes out of style and has infinite design possibilities. Black and white is a timeless option that adapts to any style, even the most modern. One of the first decisions in the design of a bathroom that opts for this binary combination is to choose a predominant color. In smaller spaces, a greater prominence of white helps to give more light and a feeling of spaciousness. Similarly, lighting is also essential to achieve balance.
Black and white bathrooms do not have to be boring. One option to give life to black and white is to opt for floor and wall tiles with geometric shapes. In addition, you can always add a touch of color in the textile pieces that you can change depending on the season.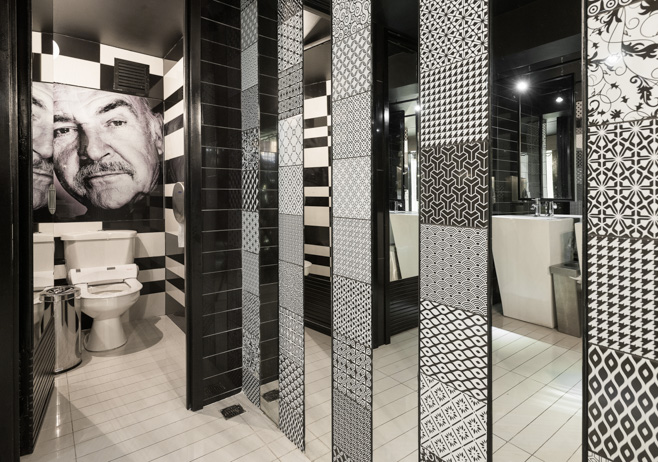 Tiles for modern bathrooms
Once you have chosen the style for your modern bathroom, it is time to select the right materials and surfaces to make it a reality. The flooring and cladding are, without a doubt, central elements in the design, since they largely condition the final result. The first thing to bear in mind is that the bathroom is a space with a very particular use and therefore requires materials capable of withstanding this use.
Porcelain stoneware has technical characteristics that make it ideal as a bathroom floor and wall tile. On the one hand, it hardly absorbs water and is extremely resistant to temperature changes. In addition, it is very easy to clean and maintain and prevents the proliferation of bacteria. If to all this we add a chameleon-like personality capable of adapting to any design, we have the ideal material for a space like the bathroom.
Tile colors for bathrooms
Porcelain tiles for the bathroom are able to cover almost the entire chromatic range. Undoubtedly, the most popular tiles are white and gray, both as flooring and cladding. These pieces stand out for their neutrality and for being suitable for almost any style. For example, cement effect tiles in gray and light tones are ideal for industrial, Nordic or minimalist style bathrooms, while those that recreate the design of marble add sobriety to the space.
Porcelain tile also adds color to the bathroom.
Used as cladding, for example, it allows us to highlight a wall such as the shower wall, as is the case with the Stracciatella collection and its colorful terrazzo effect.
Tiles for small bathrooms
In the case of smaller bathrooms there are also some recommendations when it comes to selecting the right tile. Tiles in light tones and glossy finish reflect light better and provide visual amplitude to the space. As for the format, it is advisable to avoid intermediate sizes and opt for large or small tiles. The former generate more visual continuity by reducing the number of joints. In the case of small format tiles, we will achieve a similar effect if the joints are of the same tone.
As for the appearance of the tiles, many of Aparici's collections are available in mosaic-type pieces, ideal for smaller bathrooms. Other collections such as Jacquard , with its relief finish, or Lined , which combines white hexagonal pieces with others in different shades, will add dynamism to the final design.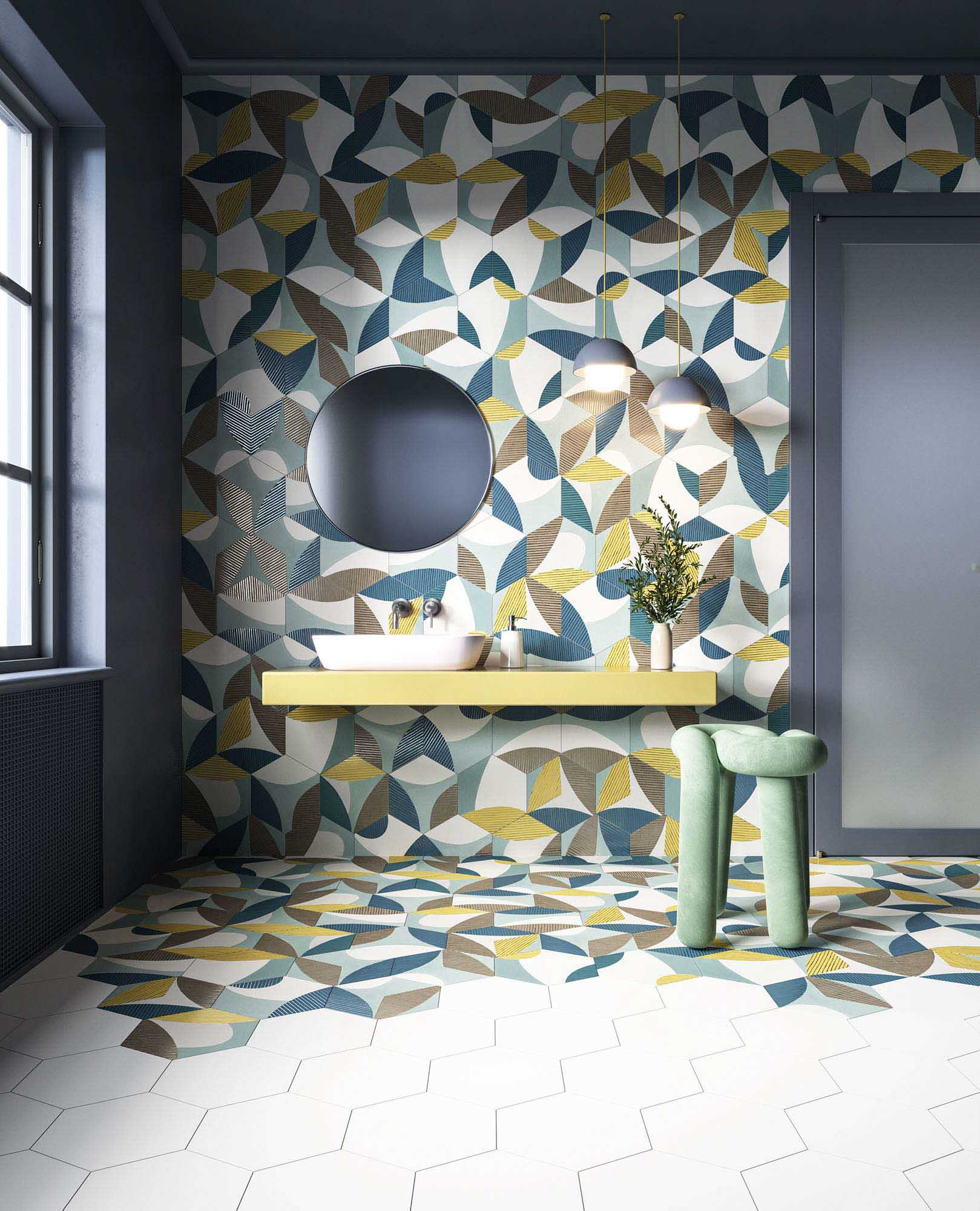 Lined
Non-slip bathroom flooring
Safety is a key factor when choosing flooring for the bathroom. Porcelain tile offers the ideal slip resistance to prevent scares and falls, as well as multiple design options for the most modern bathrooms. One of the most commonly used tiles is the encaustic type, as it helps to highlight the bathroom floor and gives personality to the space. Collections such as Bondi offer pieces with geometric motifs in gray tones adapt to styles such as industrial.
Porcelain floors also have a place in other decorative styles such as Nordic. In this sense, collections such as Chalkwood give new life to the texture of natural wood and make it suitable for the most modern bathrooms.
As we have seen, there are numerous styles and materials to design a modern bathroom with its own personality. If you have any doubts about which tiles are best suited to this space, from Aparici Cerámicas we will be happy to assist you.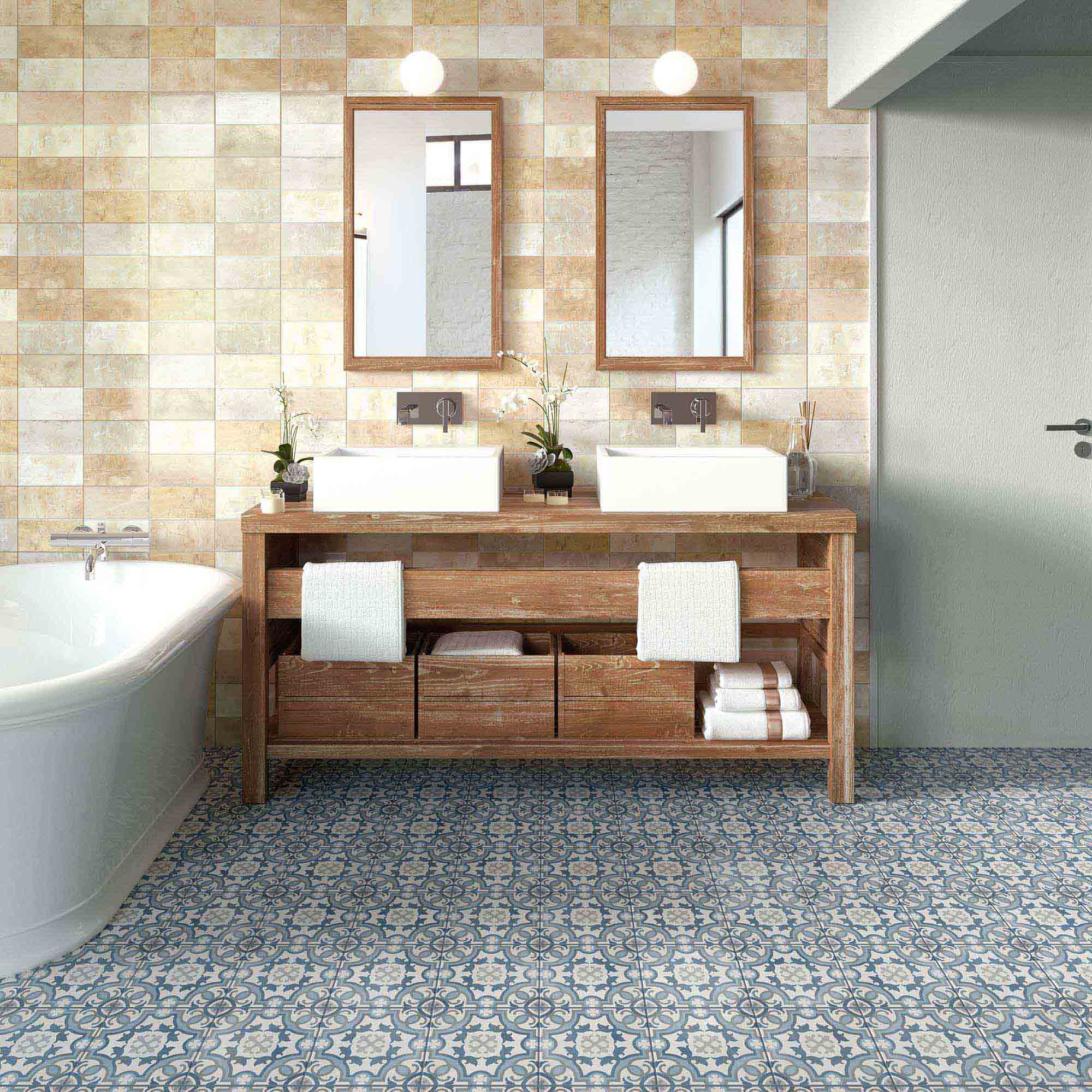 Bondi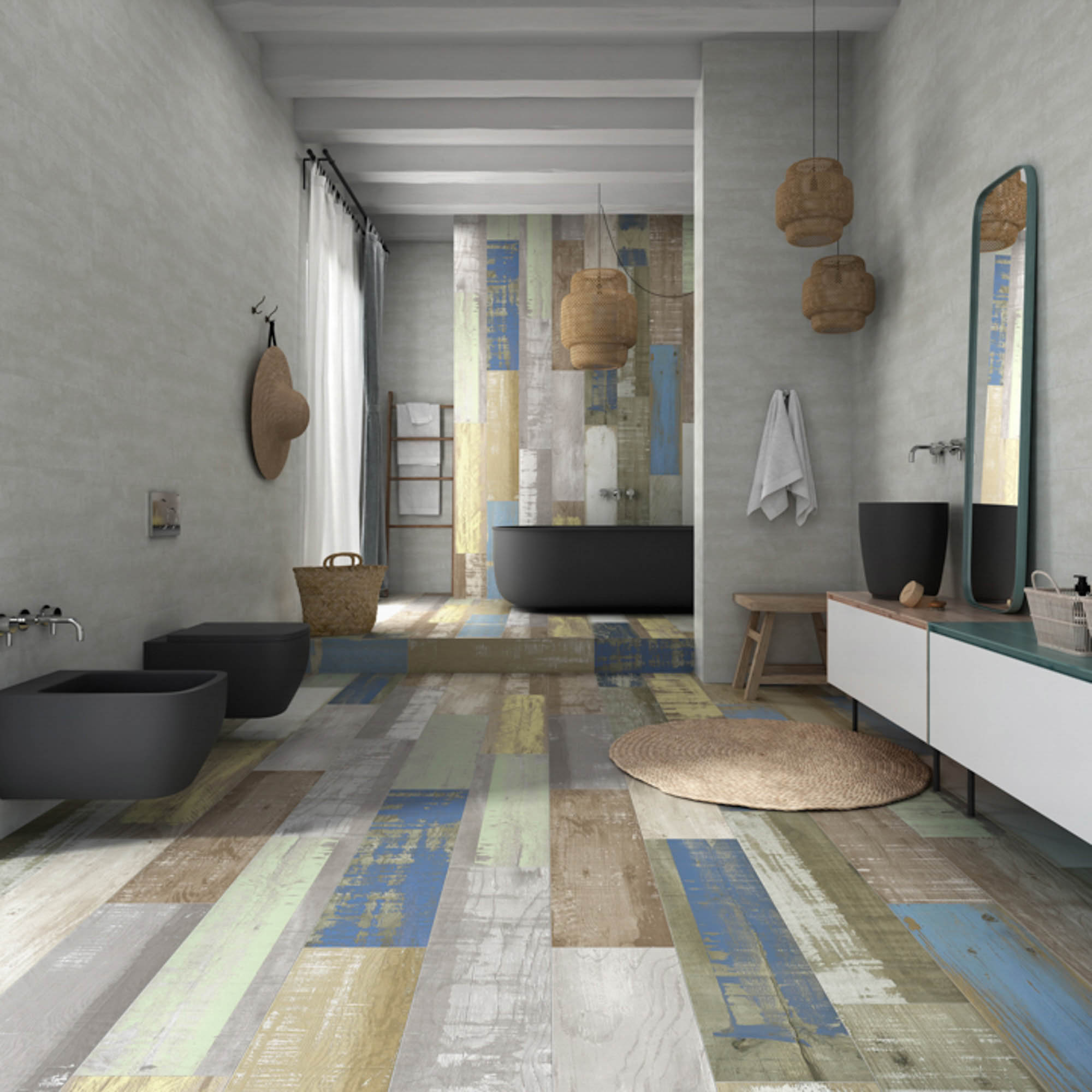 Chalkwood