Do you want to give your bedroom a touch of modernity?
When it comes to designing this rest space, there are many elements that allow you to elevate the style of your bedroom. Without a doubt, one of them is the headboard. In addition to their functionality (protecting the back wall from stains and insulating the bed from the cold or heat of the wall), they are also visually attractive and have the ability to stand out within the overall design of the space.
In this article we tell you about the most common materials and present various creative ideas for modern headboards. Get inspired by our suggestions and learn how to transform your bedroom into an oasis of design and comfort.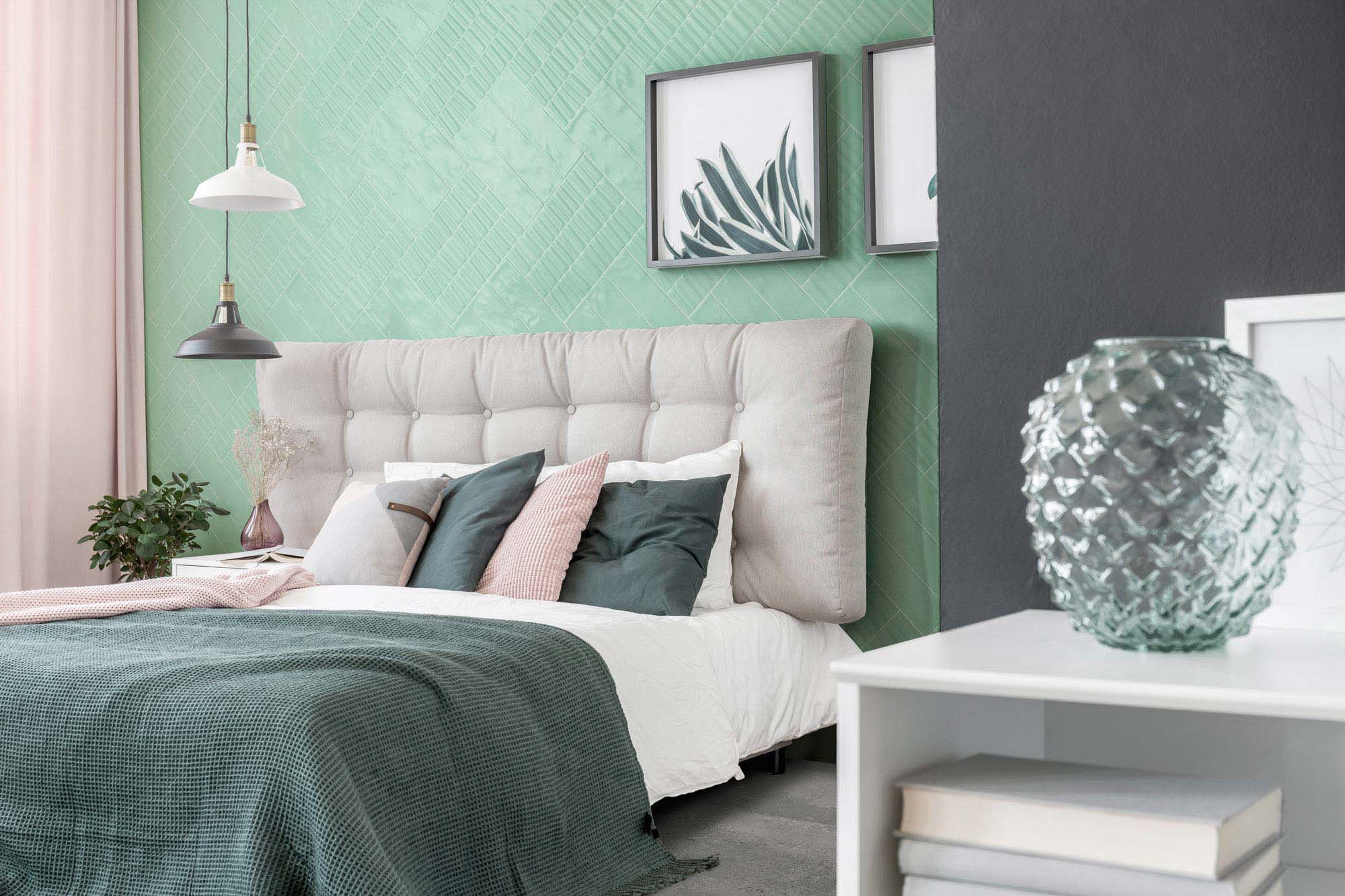 Joliet
Materials for modern headboards
When it comes to headboards, the choice of materials is essential to achieve the desired look. The options are growing and go far beyond the more traditional materials, such as textiles or iron structures. Here are the most popular options for making the headboard fit seamlessly into a modern bedroom design.
Upholstered or upholstered bed headboards
Upholstered or upholstered headboards are a classic that is constantly being reinvented. They stand out for the feeling of comfort they transmit and for their ability to design a cosy atmosphere thanks to the textile textures. There are different options (cotton, linen, velvet) depending on the desired style.
Among the advantages are the warmth and comfort of their soft backrest, especially if you are one of those people who enjoy reading or watching television in bed. On the other hand, both cleaning and maintenance are much more delicate, as well as being a more expensive material.
Wood or pallets
Wood is an enormously versatile material in interior design and adapts perfectly to a modern bedroom design. They are, without a doubt, one of the most durable options and stand out for their timeless character and their ease of adapting to all types of bedrooms, from the most modern and minimalist to the most rustic. On the other hand, they are heavier and noisier than other materials such as upholstery.
If you opt for wood as the material of choice for the headboard of your bed, you should know that there are many options. Solid wood, for example, will provide warmth thanks to its grain. A more modern option is to reuse pallets to shape the headboard.
Iron headboards with a modern look
Another material that has adapted to the times, wrought iron headboards are no longer just a thing of the past. Although they are usually associated with a more rustic or traditional style, nowadays there are new designs with clean lines and an industrial look that fits perfectly in a modern style bedroom.
Among its advantages are its variety of models and its extreme resistance. On the other hand, it is a very heavy material, which heats up and cools down easily. They can also be uncomfortable and require specific maintenance to prevent and avoid oxidation.
Porcelain tiles for headboards
One of the materials that is gaining ground as a bed headboard is porcelain stoneware. It is a chameleon-like surface that can become almost any material. Thus, its infinite variety of patterns, textures and colours is a fundamental tool for adding a touch of sophistication to the bedroom regardless of its style.
The advantages of porcelain tile as a headboard include its ease of installation and lightness compared to other materials. It is also very easy to clean and does not require extensive maintenance to maintain its appearance and performance over time.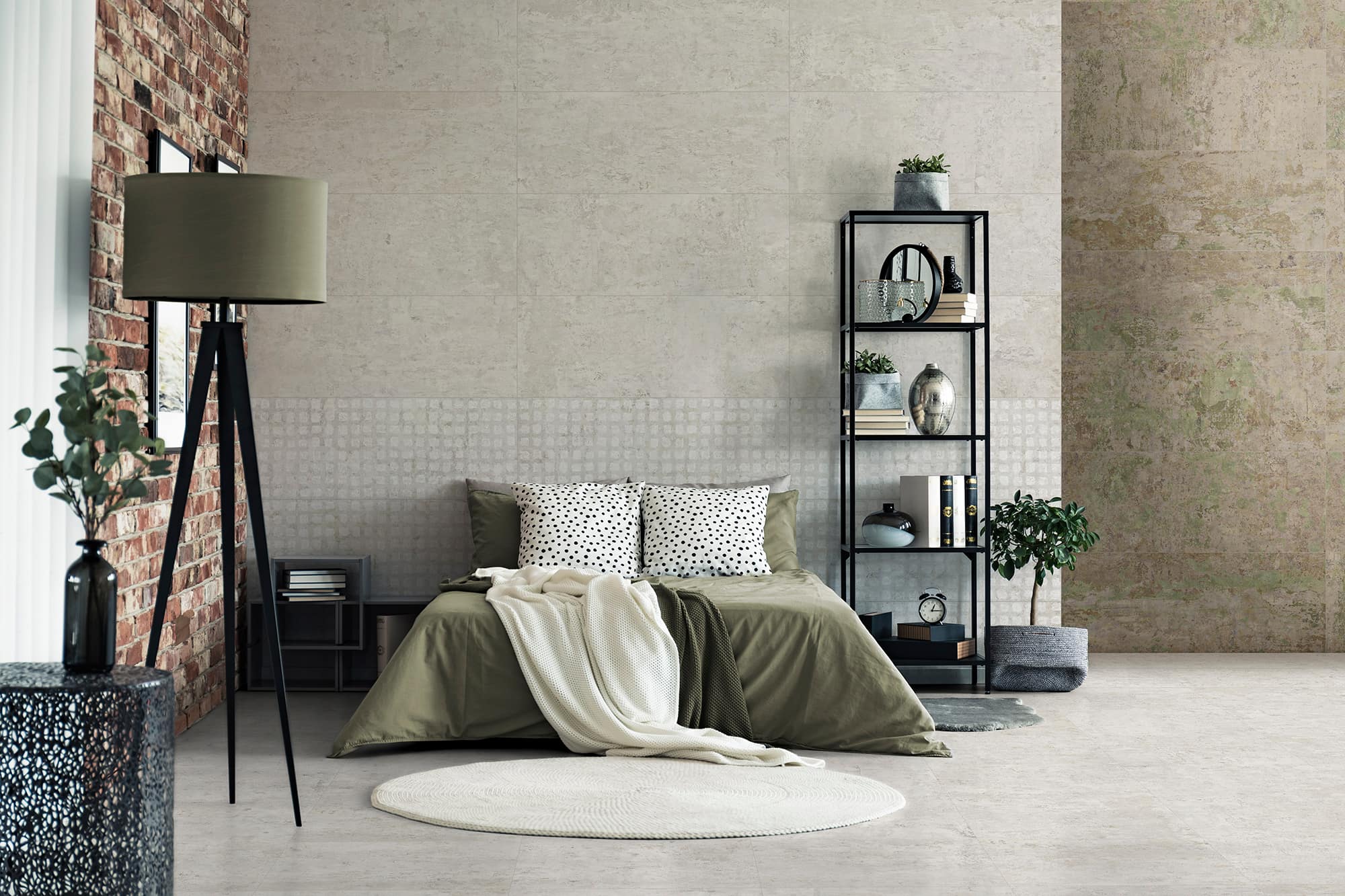 Evoke
A headboard for every style of decoration
As we have just seen, the use of ceramic or porcelain tile as a headboard offers limitless versatility. Its variety of aspects means that it has a place in any bedroom and adapts like a glove to the most popular decorating styles. Here's what those styles are and which collections to choose to make them a reality.
Modern headboards
There are different looks and finishes of porcelain tiles that make it possible to design a modern headboard. For example, concrete effect porcelain tiles are perfectly suited to minimalist styles, while metallic tiles stand out for their rusty effect and for conveying the personality of styles such as industrial.
For their part, embossed tiles stand out for their decorative power and their ability to transmit dynamism to the bedroom as a whole. Their attractive visual effects do not leave anyone indifferent, either through their undulating shapes or through effects such as crackle.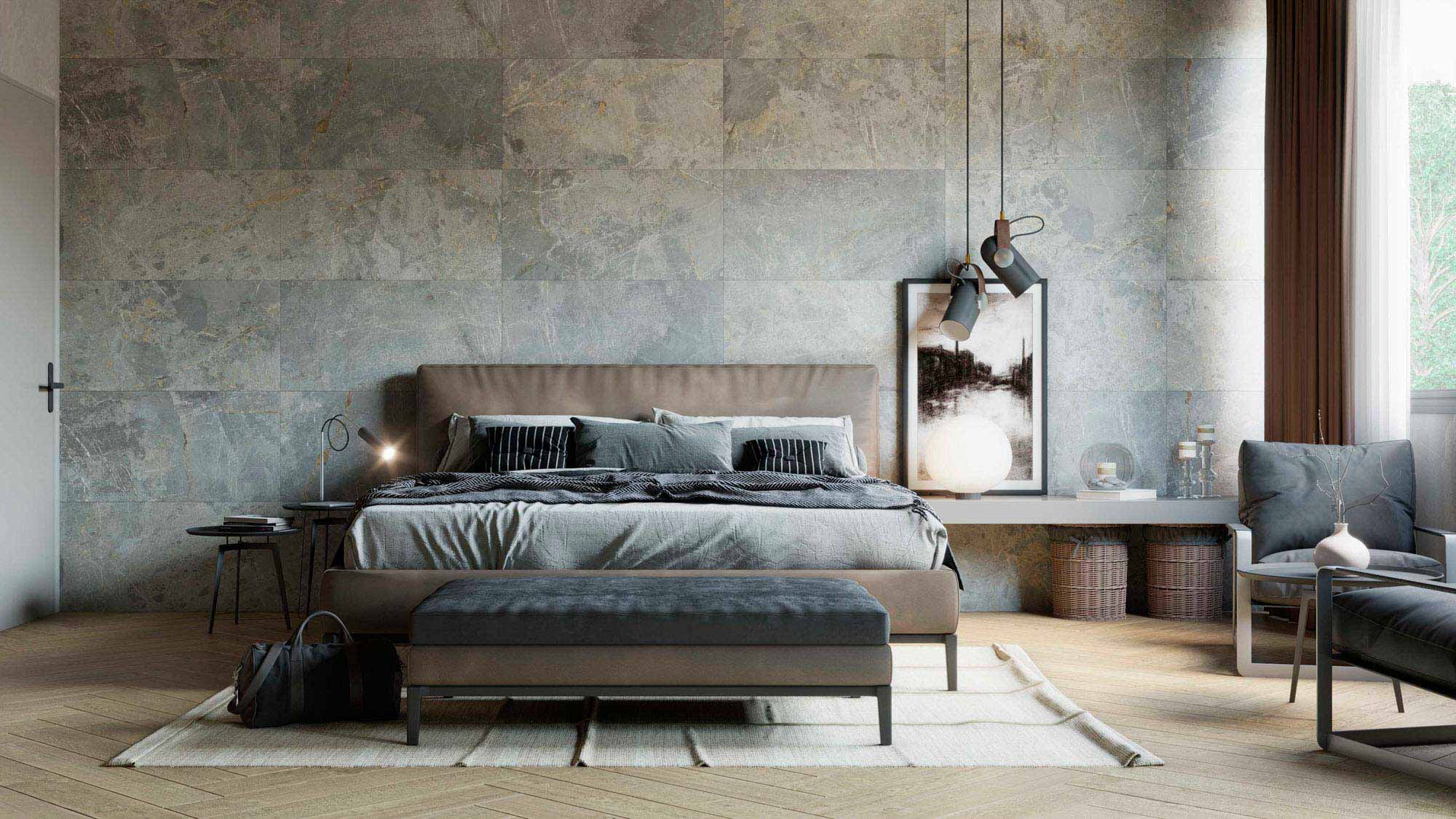 Dstone
Vintage headboards
Porcelain stoneware allows you to enjoy traditional designs with the advantages of the most advanced materials. Thus, the vintage style is still in force and there are many options. For example, textile effect tiles stand out for the soft texture with which they reproduce carpets and other types of textiles. In other words, they offer you the aesthetics of the most traditional headboards with the advantages of porcelain stoneware.
There are more options when it comes to designing a vintage headboard with porcelain tiles. Thus, imitation encaustic tiles stand out for their colour and visual effects, while hexagonal porcelain tiles stand out for the dynamism of their shape and the variety of their decorations.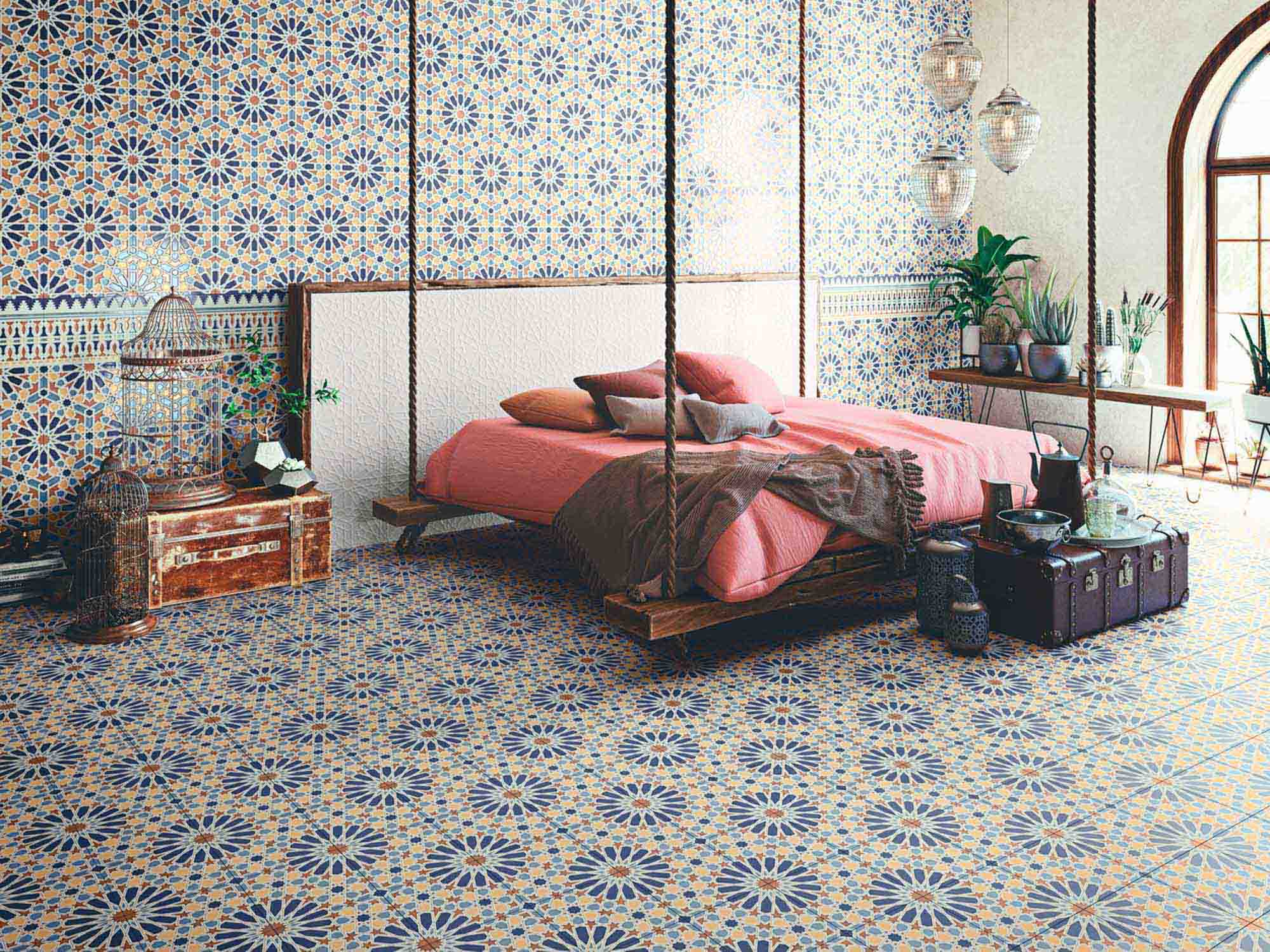 Alhambra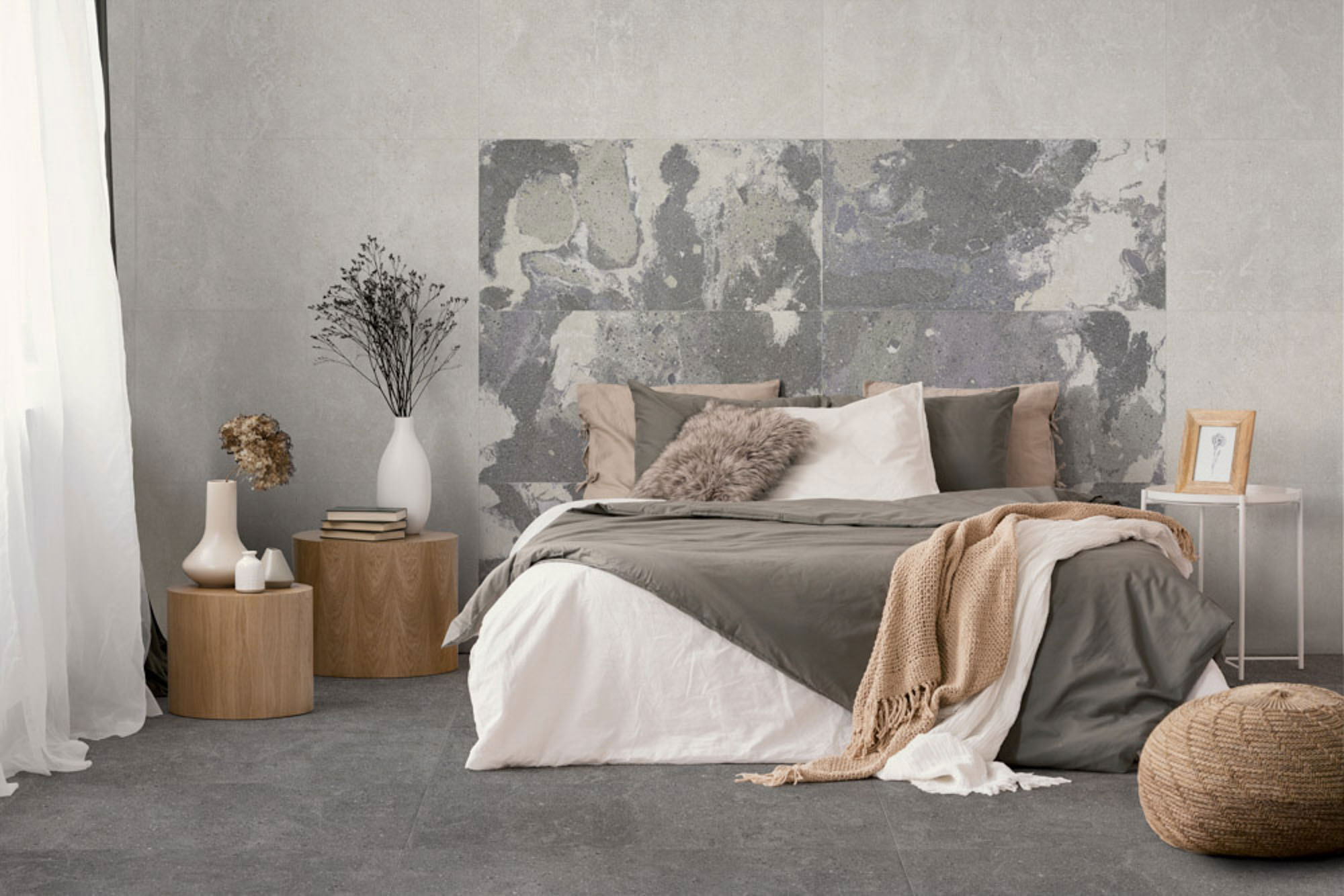 Lithops
White headboards
White tiled headboards are a trend in their own right, contributing to a clean, minimalist bedroom design. Within the white tile family there are options to suit all tastes, from those that reproduce the veins of marble and other natural stones to single-colour options or embossed pieces.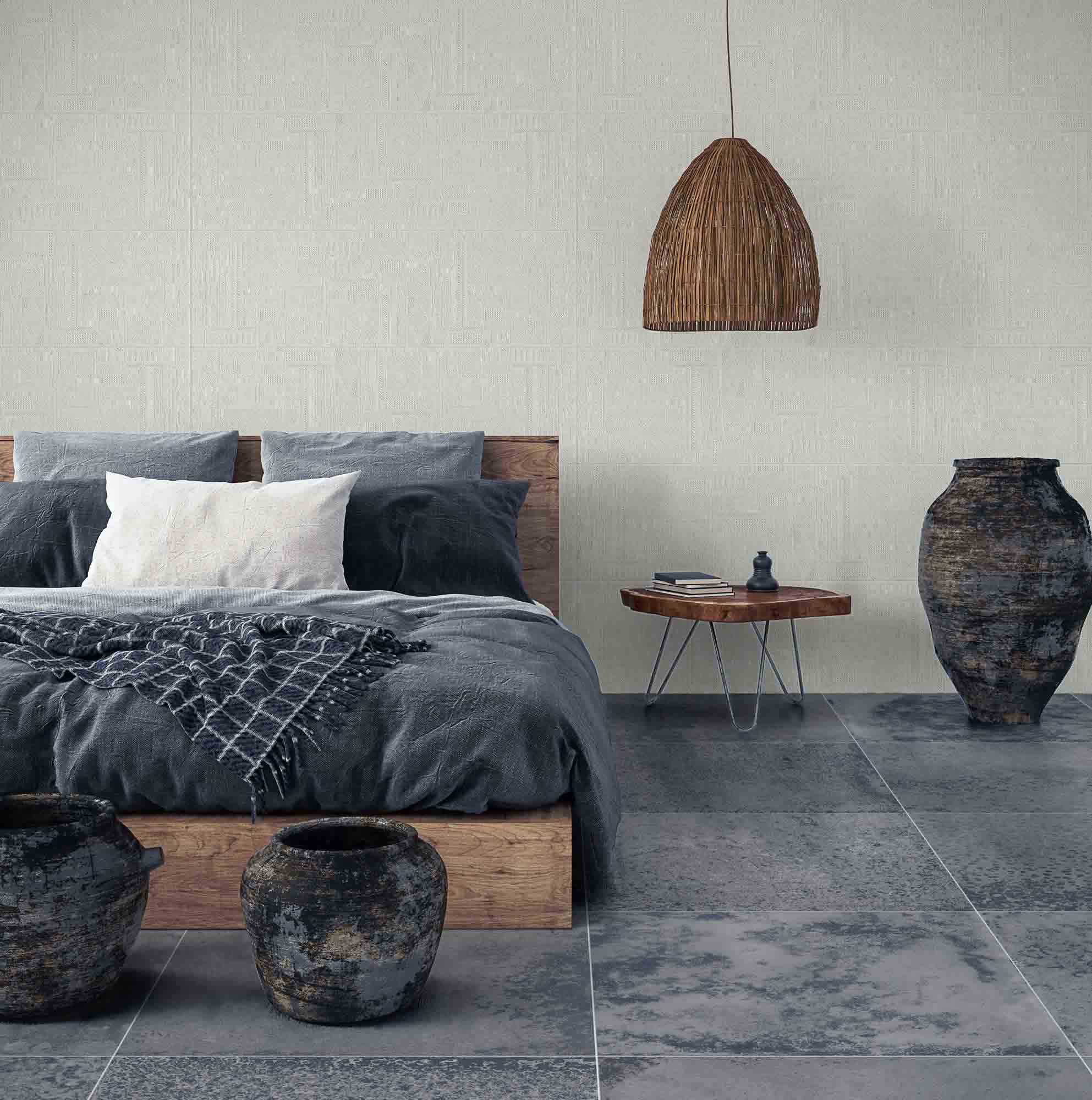 Corten
In short, headboards are a must when it comes to designing a bedroom and, as we have seen, porcelain tiles are one of the most versatile materials. Do you dare to use them in your project?