Marble has always been one of the great classics in the history of architecture. Moreover, its characteristic veining is more relevant than ever thanks to the appearance of new materials that faithfully reproduce its design. Among them, porcelain floors imitating marble stand out, a surface that is based on the natural to offer the unique advantages of stoneware.
If you are in love with the textures of this natural stone and want to incorporate them into your home, marble-effect porcelain tiles for floors are what you are looking for. Still not sure?
Read on and you'll find out!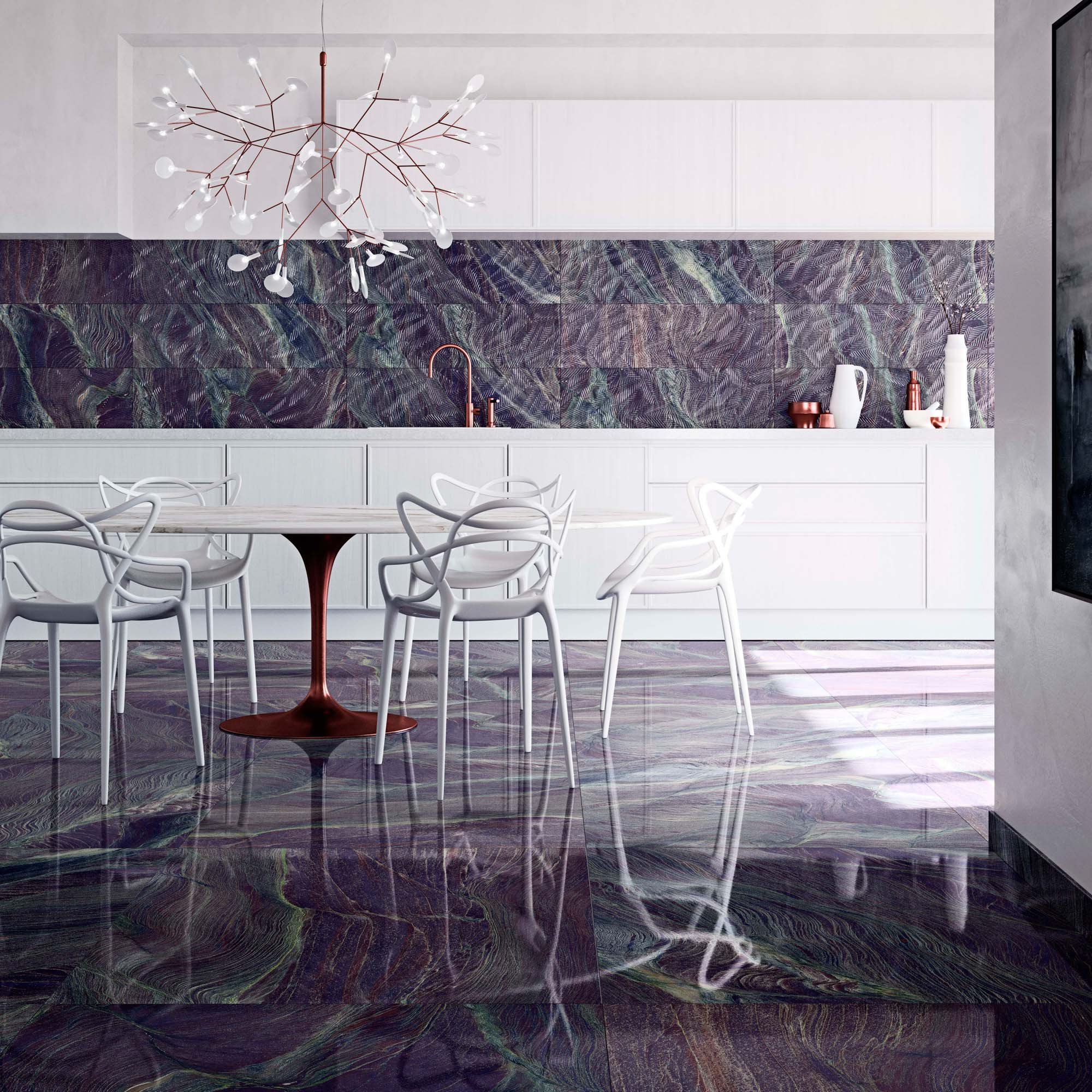 Vivid
Why choose a marble-look porcelain floor?
Imitation marble porcelain floors have characteristics that make them attractive for any project and possess differential qualities. These are some of their many advantages:
Impact resistance. Porcelain flooring does not scratch or crack easily. It is a material that is highly resistant to any type of damage or scratch, abrasion and traffic. Another of its advantages is that porcelain stoneware does not deform over time, but maintains both its aesthetics and its properties.
Easy to clean and maintain. It does not require special and exhaustive care. Unlike natural marble, porcelain imitation marble has a low porosity, which makes it a waterproof material and very easy to clean.
Variety of designs and formats. Thanks to the latest technology, the tile makes it possible to recreate any design with a variety of styles, colours and finishes. In other words, the same material is capable of reproducing the design of marbles as different as calacatta or travertine
Thanks to its variety of finishes, you will be able to pave any room in your home or project, from bedrooms and living rooms to kitchens, bathrooms or terraces in its non-slip finish.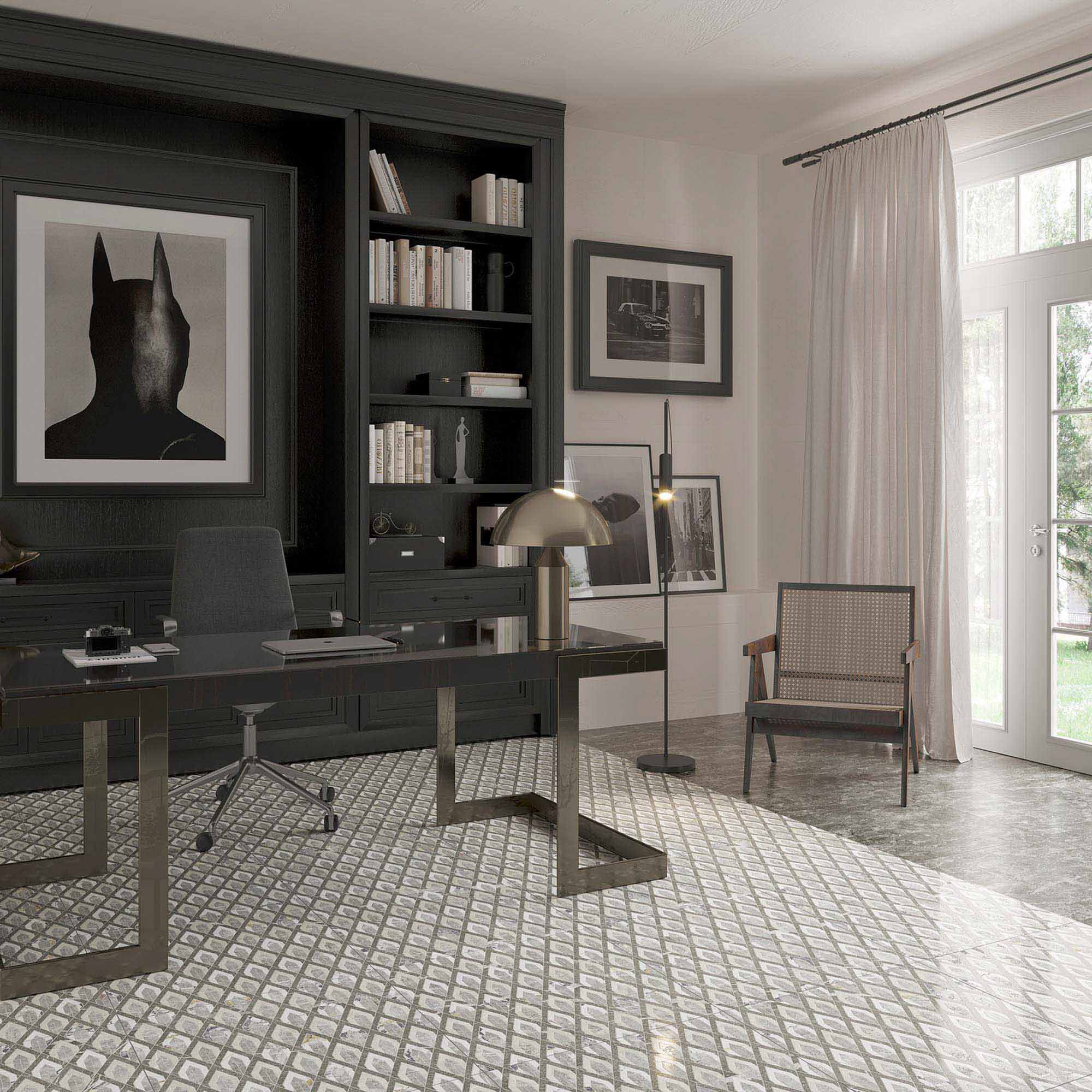 Sunderland
Types of marble design porcelain floor tiles
There are different types of marble-look porcelain floor tiles depending on their finish. Their choice depends both on the place where they are to be installed and on the overall aesthetics of the project. Let's take a look at some of the most popular marble floors depending on their finish.
Polished finish porcelain floors
Porcelain tiles with a polished finish produce pieces with a smooth, shiny surface, similar to that of a mirror. This extra luminosity, provided by the shine, gives elegance, sophistication and good taste. Polished porcelain tile is the finish par excellence for interior areas such as dining rooms, corridors or bedrooms. In addition, this type of finish does not lose effectiveness over time.
Lappato finish flooring
Lappato finish porcelain tiles, also known as semi-polished, have a glossy and matt finish at the same time. The lappato finish, which is silky to the touch, reflects light and naturally illuminates the space and, as it is not completely polished, it creates a combination of light and dark shades. In short, it provides an appearance very similar to natural stone.
Matt tiles for floors
A totally different finish to those mentioned above is the matt tile, which is characterised by the absence of shine and reflections. Imitation marble porcelain floors in matt finish have a modern and contemporary style and provide a more discreet, serene and natural touch. Matte floors have the advantage that footprints are not marked, making them a very good choice, for example, for areas such as the bathroom.
Non-slip flooring
Beauty and safety go hand in hand with non-slip flooring. Non-slip tiles are highly recommended for outdoor areas, such as terraces or balconies. But their functionality is not limited to outdoors; they are also ideal for indoor wet areas such as kitchens, bathrooms, spas... The qualities of anti-slip porcelain tiles prevent slipping without altering the design of the tile.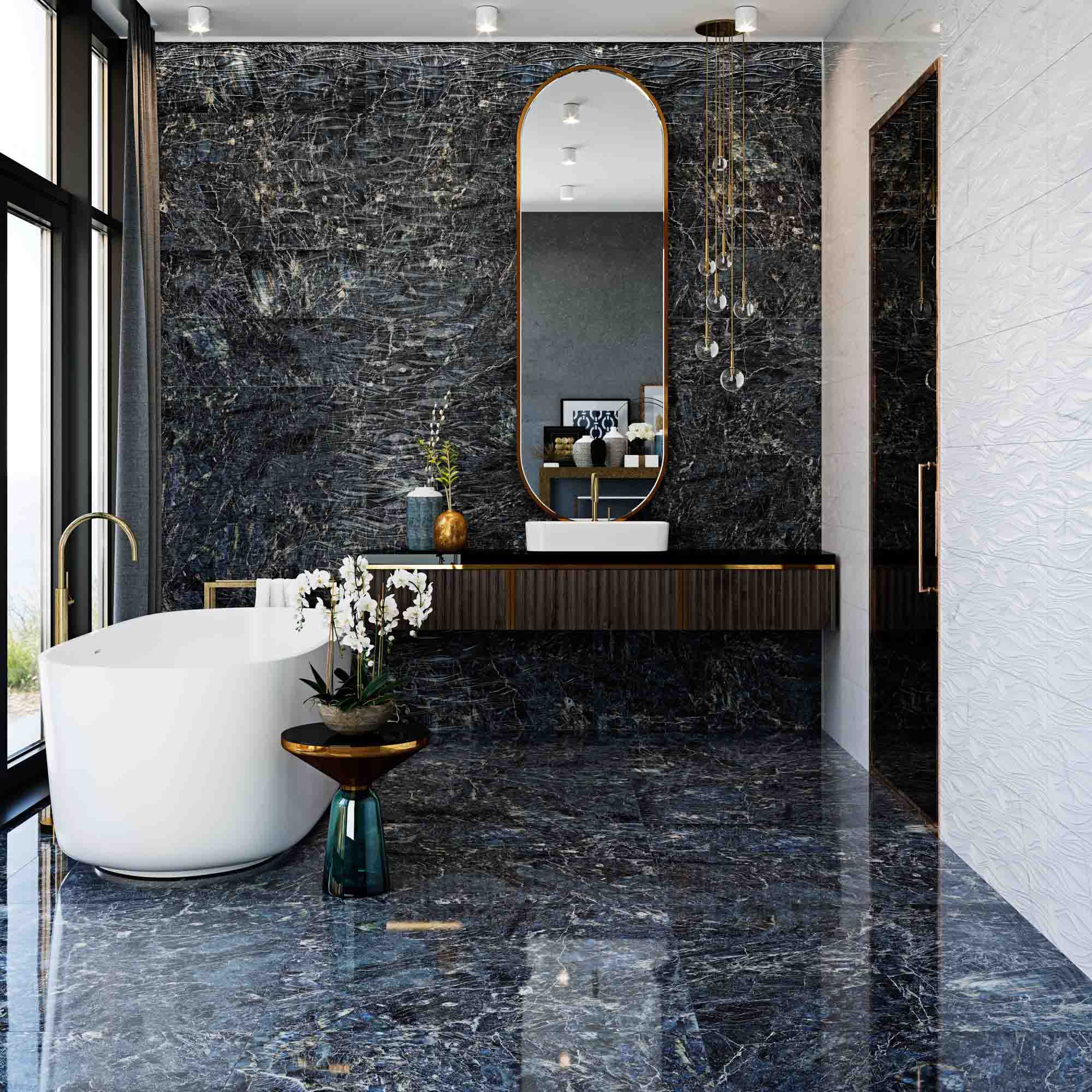 Vivid
Imitation marble porcelain floor designs
To speak of porcelain floors imitating marble is to speak of an almost infinite variety of colours, textures and designs. Each one brings a different nuance to the project. Here are some of the most popular.
White porcelain tile
White porcelain tile is a timeless choice that is always on trend. This shade offers a touch of elegance even in small spaces, brings spaciousness and brightness and fits in with any style. Within the Aparici catalogue, some of the designs that imitate the most classic white marble are Imarble, with its clean and homogeneous appearance, or Calacatta, with its characteristic veining.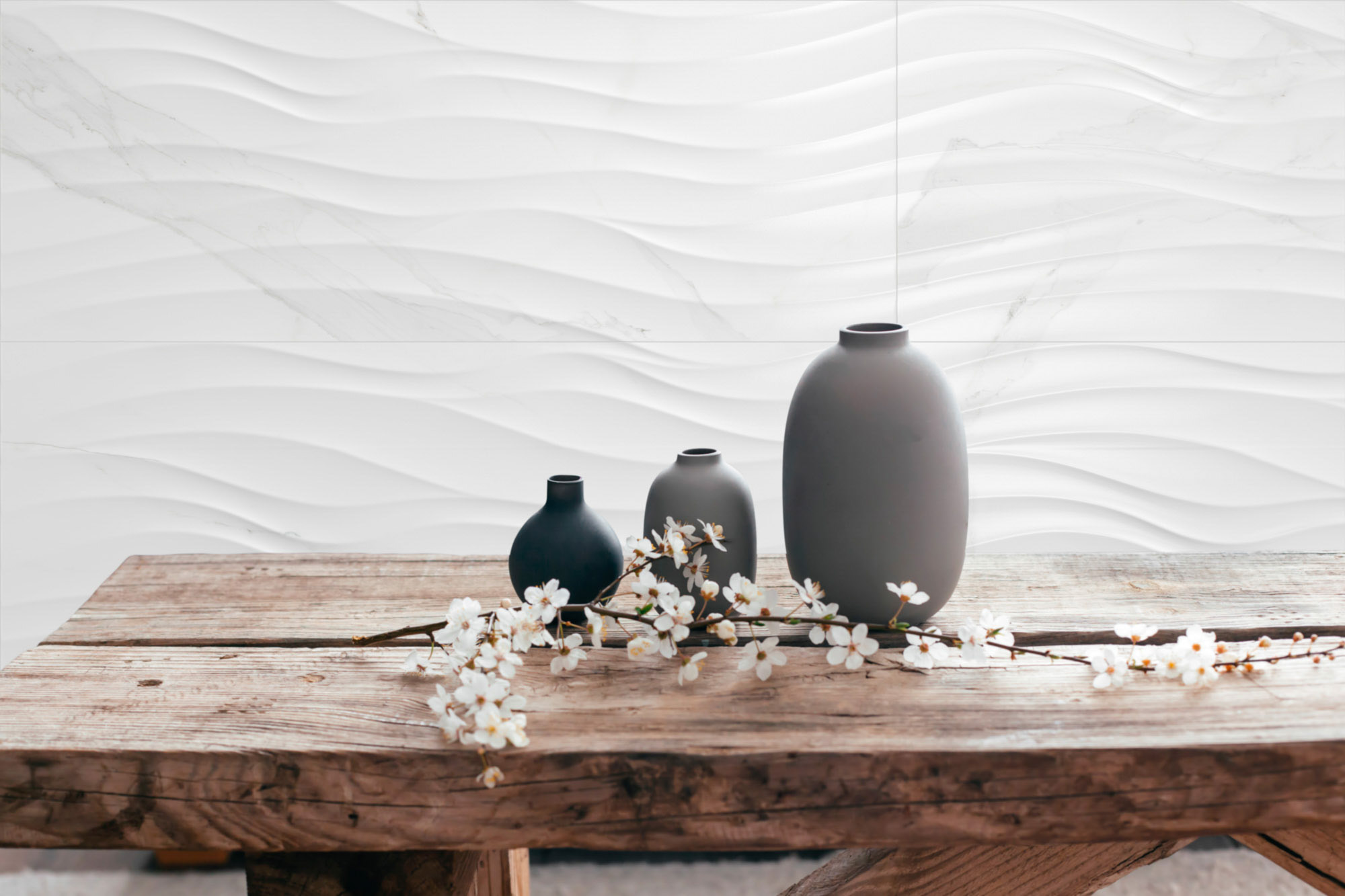 Marbox
Grey porcelain floors
Imitation marble porcelain floors in grey tones bring energy, sobriety and a neutral and contemporary look. In addition, grey porcelain stands out for its versatility in terms of design. It can be combined with almost any shade or opt for a monochrome space to obtain a sober and sophisticated look at the same time. In our catalogue you can choose the shade you like and the finish that best suits your needs.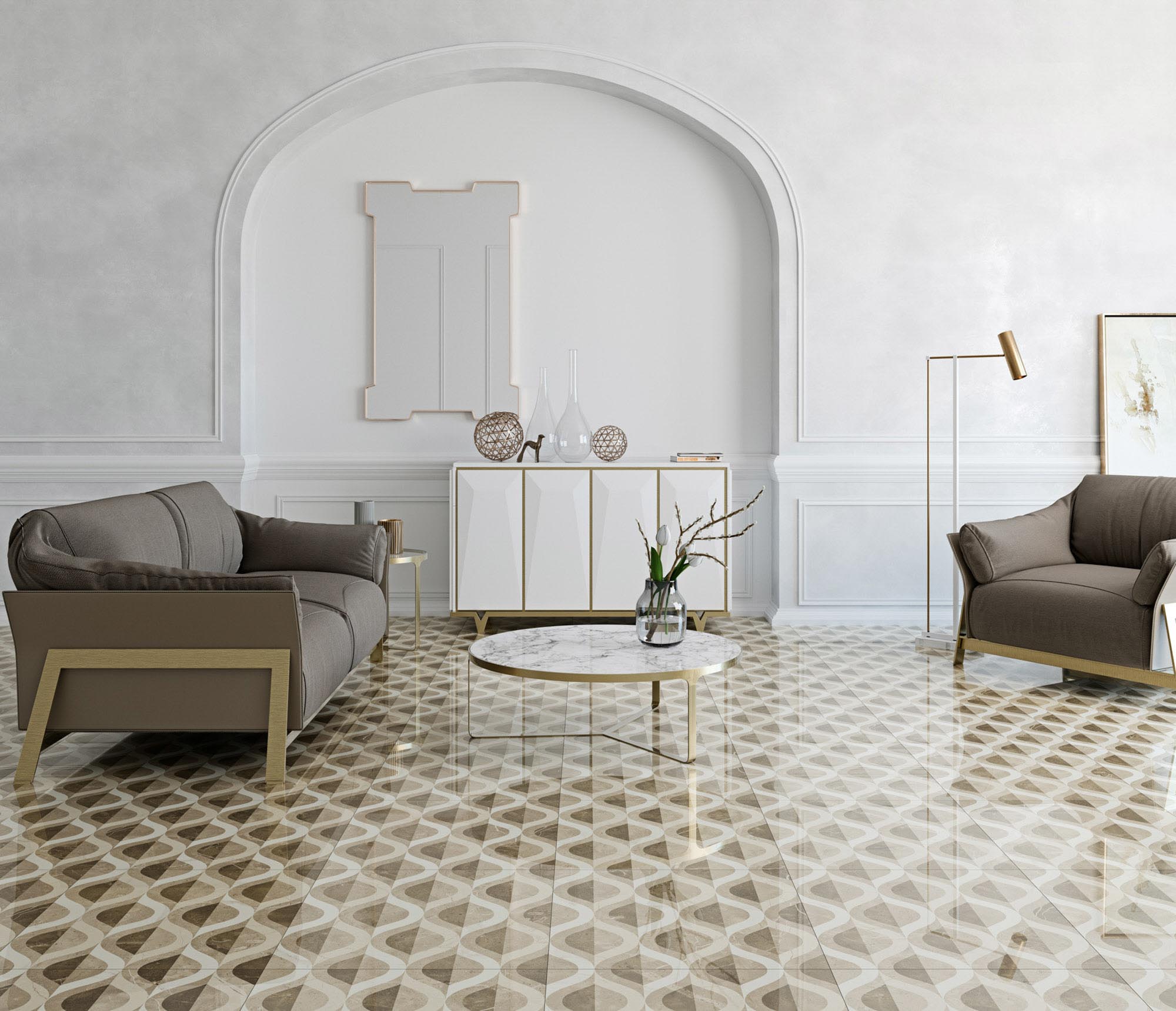 Regio
Beige imitation marble porcelain tile
Just like white and grey tones, beige marble effect porcelain tiles also help to optimise space, thanks to the reflection of light and the amplitude it visually provides. Beige is neutral, timeless and highly combinable. For example, the Magma Ivory design is an option that brings balance, elegance and distinction.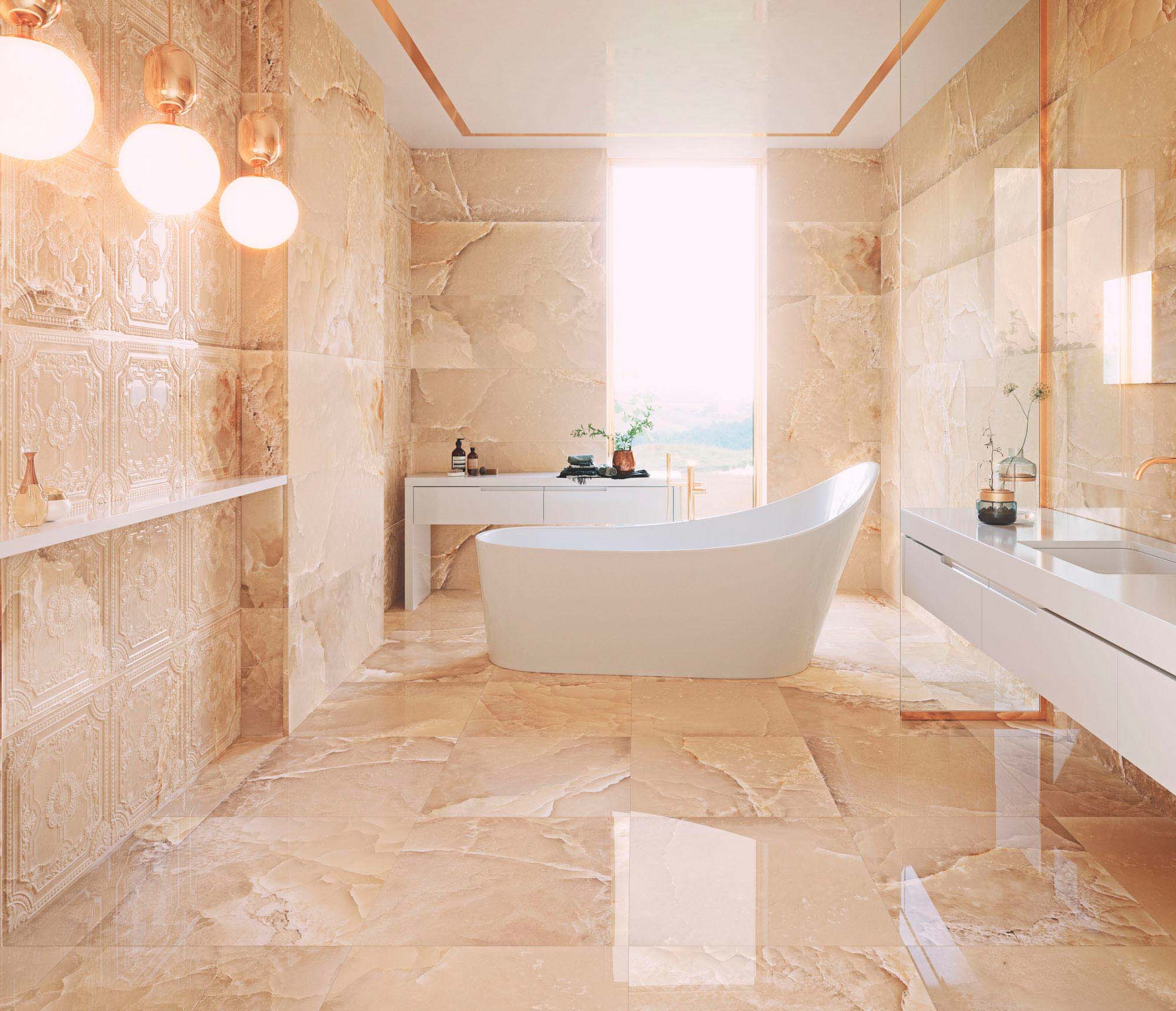 Magma
Travertine marble imitation porcelain tiles
The porcelain floor imitation travertine marble is synonymous with originality. It stands out for its elegance and unequalled beauty. The travertine marble effect tile brings luminosity, warmth and creates contemporary spaces, a very frequent choice in interior decoration (living rooms, bedrooms, bathrooms...) and exteriors. Porcelain tile provides the aesthetics and personality of natural stone, as well as meeting the necessary conditions that make it the best option.
Large-format imitation marble porcelain tiles
Large-format imitation marble floors stand out for their ability to provide greater visual continuity in space by reducing the number of joints. In addition, it is the format that best imitates large slabs of natural marble and provides a greater sense of spaciousness in the space in which it is installed.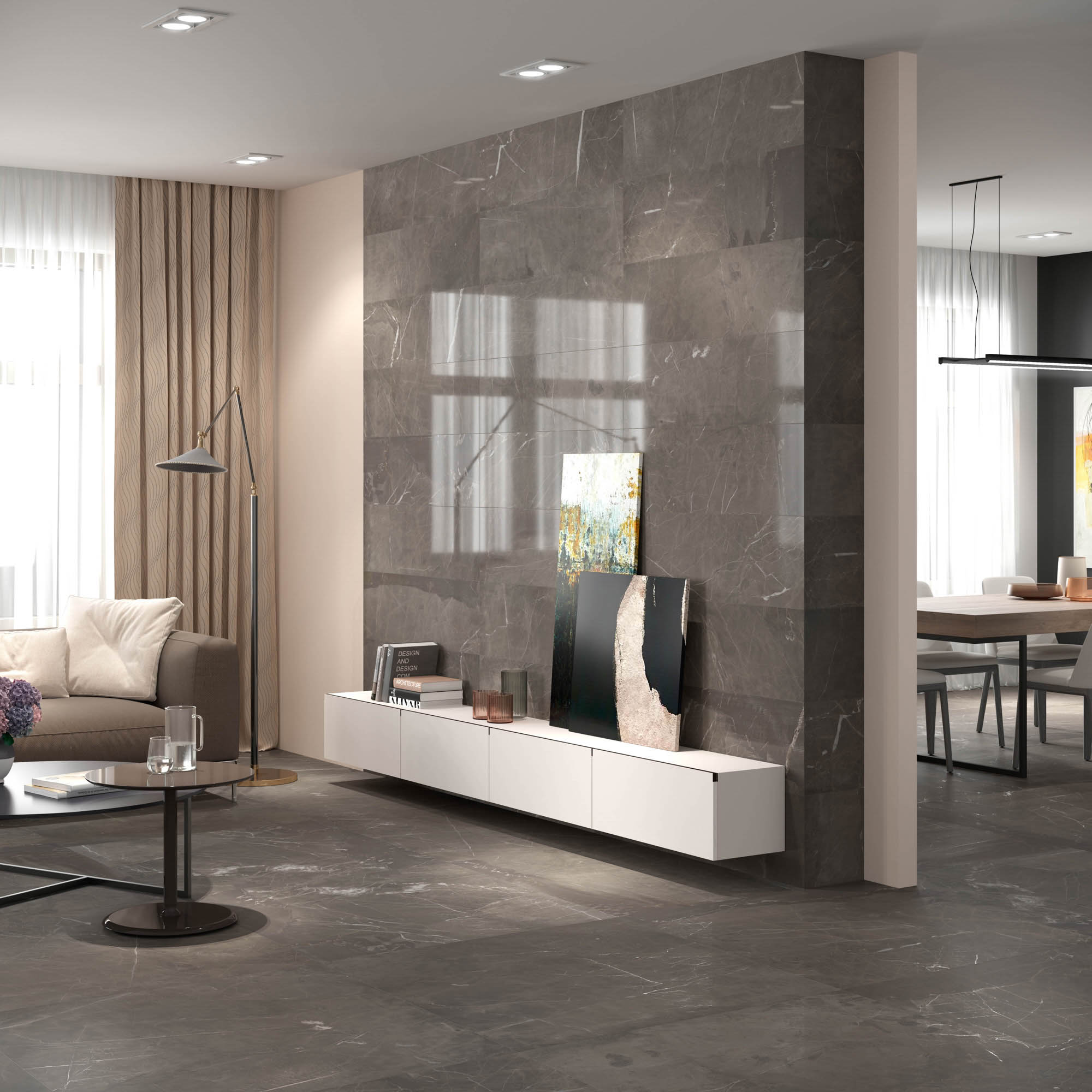 Dstone
Marble-look porcelain floors are, without a doubt, the best choice to create spaces with deep elegance without renouncing to the advantages of the most advanced materials. At Aparici, we have a wide collection of marble-look ceramic floor tiles that allow you to choose between different finishes, colours and formats.