With the arrival of the good weather, outdoor spaces become the new living room. Gardens, patios and terraces are full of life, but which garden floor to choose to create a natural atmosphere in harmony with the environment? There are several aspects to consider, so we are going to advise you and give you the best ideas to get a beautiful, safe pavement that maintains its design and properties over the years.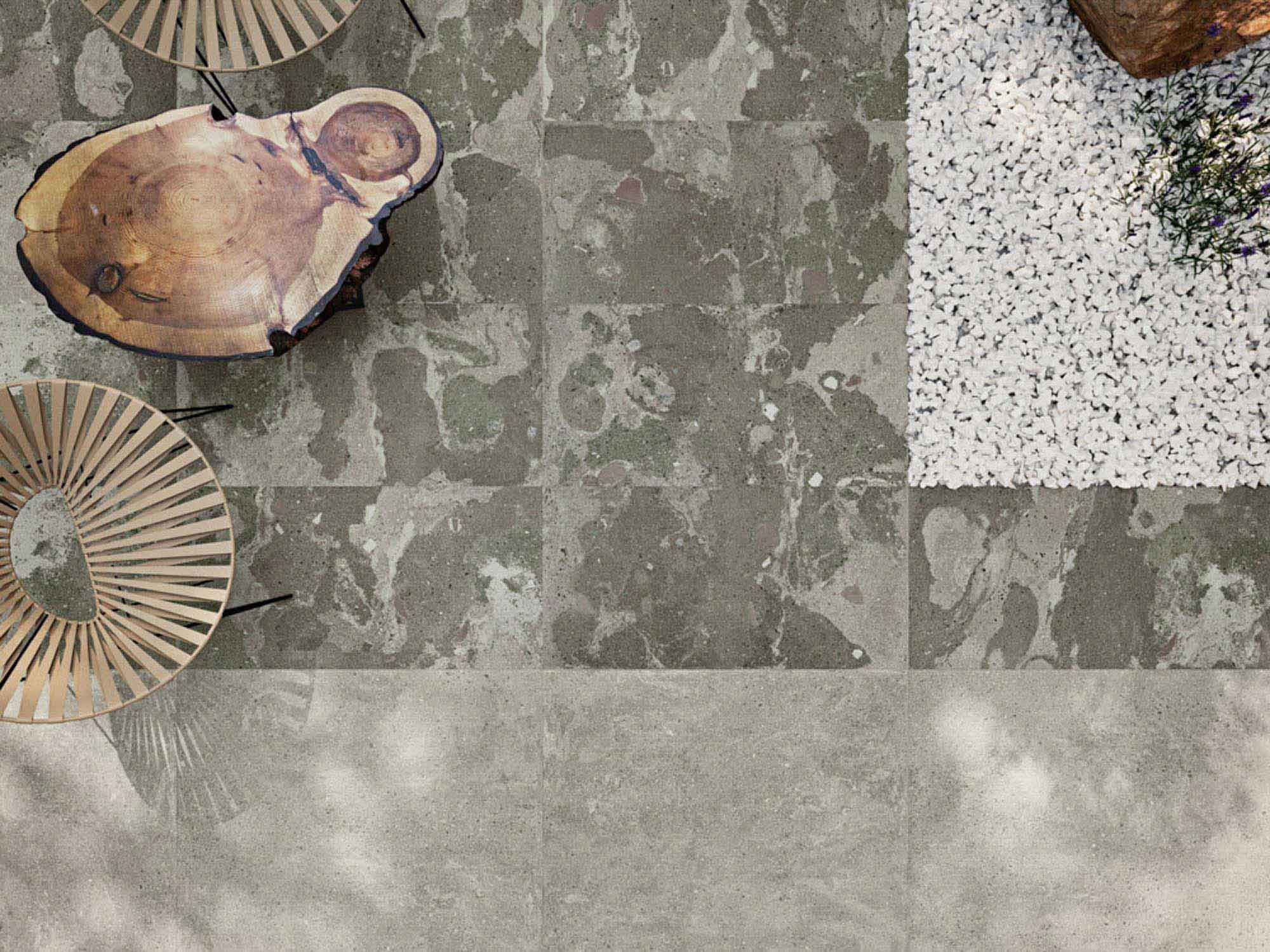 Lithops
Types of garden flooring
There are many options for garden flooring: wood, stone, concrete... When selecting the ideal material for your outdoor flooring you should take into account the style, but also other aspects, such as its technical characteristics and ease of maintenance. These are the most successful options in recent years.
Wooden floors for outdoors
Wooden garden floors stand out for their warmth and contribute to generate a feeling of comfort. This type of flooring blends in perfectly with the environment and is ideal for achieving that rustic or country style. In addition, the installation of outdoor wooden floors has the advantage of being a simple process that does not require great effort. On the other hand, it requires exhaustive care and specific products to maintain its qualities over time.
Synthetic floors: composite
Synthetic flooring is a modern alternative to tropical wood flooring. Composite (a mixture of wood fibres and resins or polymers) is a highly durable material for outdoor use and remains almost unalterable over time. However, they are expensive to maintain (no partial repairs are possible) and they heat up more than natural wood, which is certainly a disadvantage during the warmer months.
Natural stone outdoor paving
Among garden paving, natural stone paving stands out for its strength and durability. They are also very decorative because they have that special, natural and very authentic beauty. On the other side of the scale are their high price compared to other materials and their maintenance. The vast majority of outdoor stones are porous and require specific products, while others such as marble are fragile and easily scratched.
Porcelain tiles for the garden
Porcelain tiles are a safe choice for gardens because of their strength and durability. Porcelain floors for outdoors have other advantages to take into account: they are very resistant and durable and are not altered by the passage of time or by the most adverse climatic effects.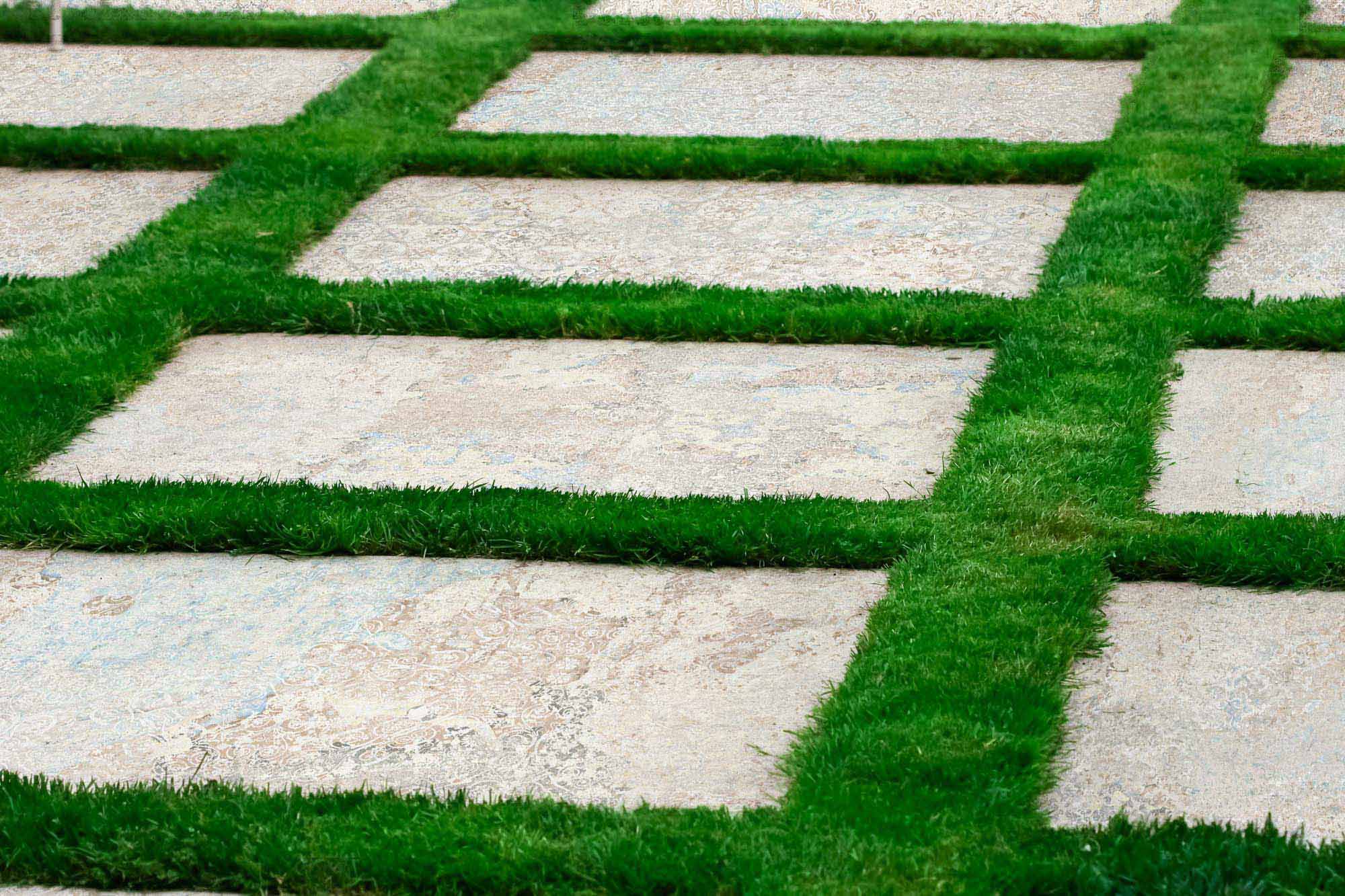 Carpet
Porcelain tile, the best floor for an outdoor garden
Of all the options for garden paving, porcelain tile is undoubtedly the most complete. In addition to its wide range of decorative possibilities, it stands out for its high resistance to extreme temperatures, both hot and cold, its low maintenance and ease of cleaning compared to other materials.
Another point in its favour is its versatility, as in its 2cm thick version it allows for different forms of installation, something very useful in an outdoor garden where we want to differentiate the areas according to their use:
Porcelain paving on plots
Aparici 2CM tiles are easily installed in raised floor systems using plots. Among its advantages are its flexibility of use and speed of installation. Before installation, make sure the area is level, compacted and able to support the weight of the tiles. It can be installed on terraces with integrated swimming pools, as it facilitates water channelling.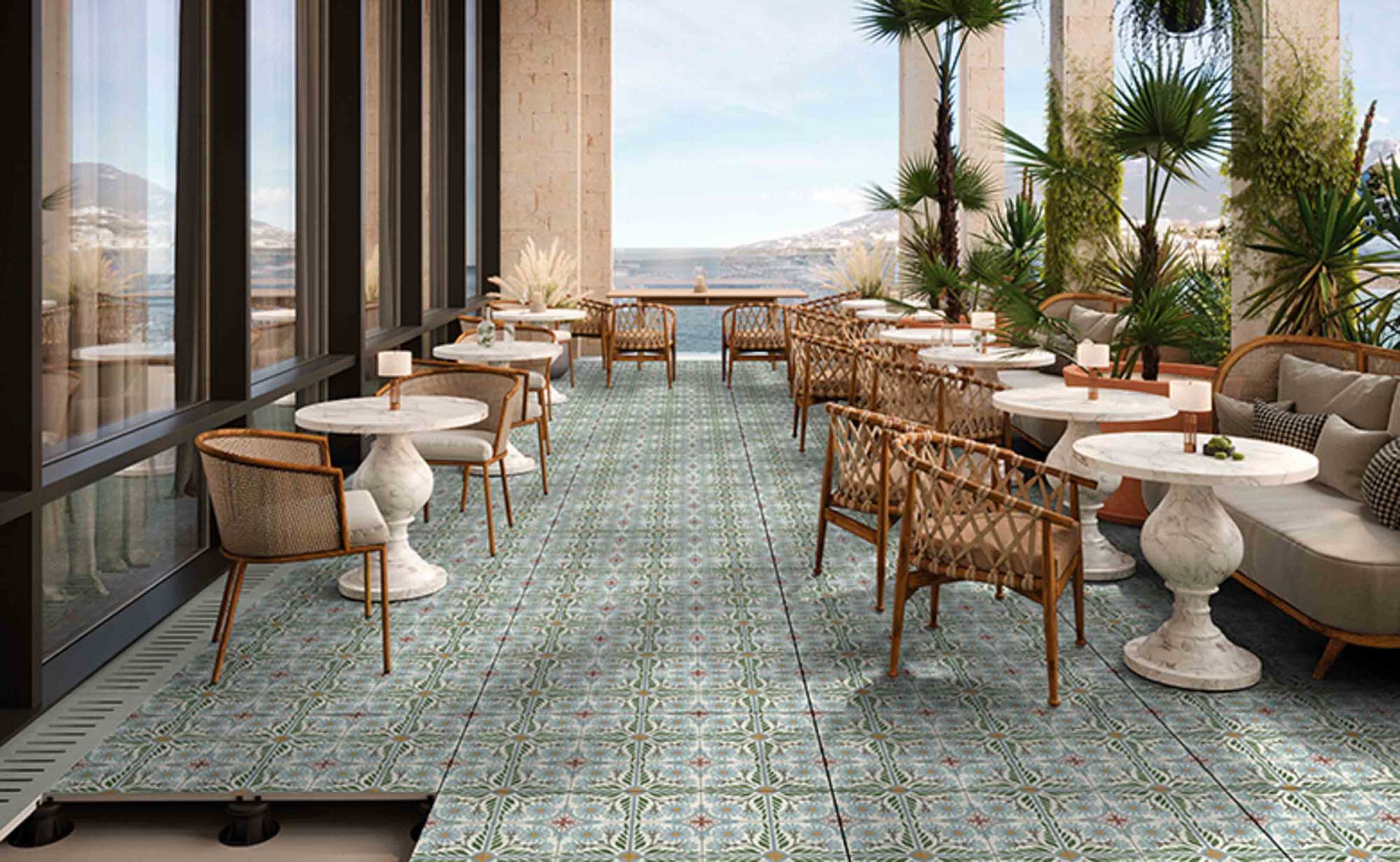 Altea
Traditional installation
The traditional installation with adhesive on the infill layer is ideal for paving the outdoor garden floor. This type of installation provides high resistance to dynamic and concentrated loads.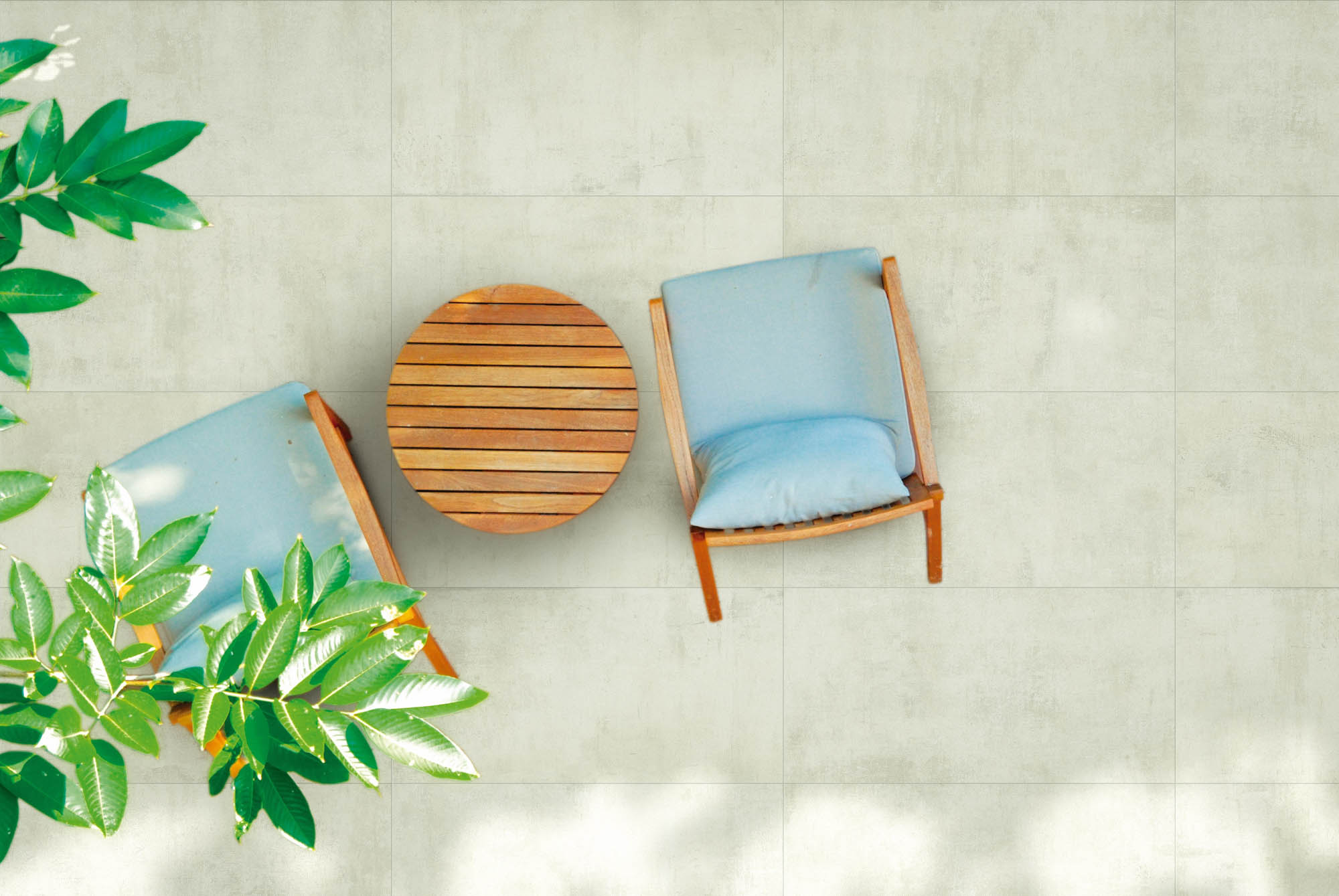 Attila
Garden flooring without building work
Laying on gravel is a practical and versatile solution that is characterised by its contemporary aesthetics. It is quick to lay, economical and does not require any building work. The 2 cm thick porcelain tile can be laid directly on gravel or on grass, thus integrating this type of paving into a green environment, which is particularly recommended for gardens.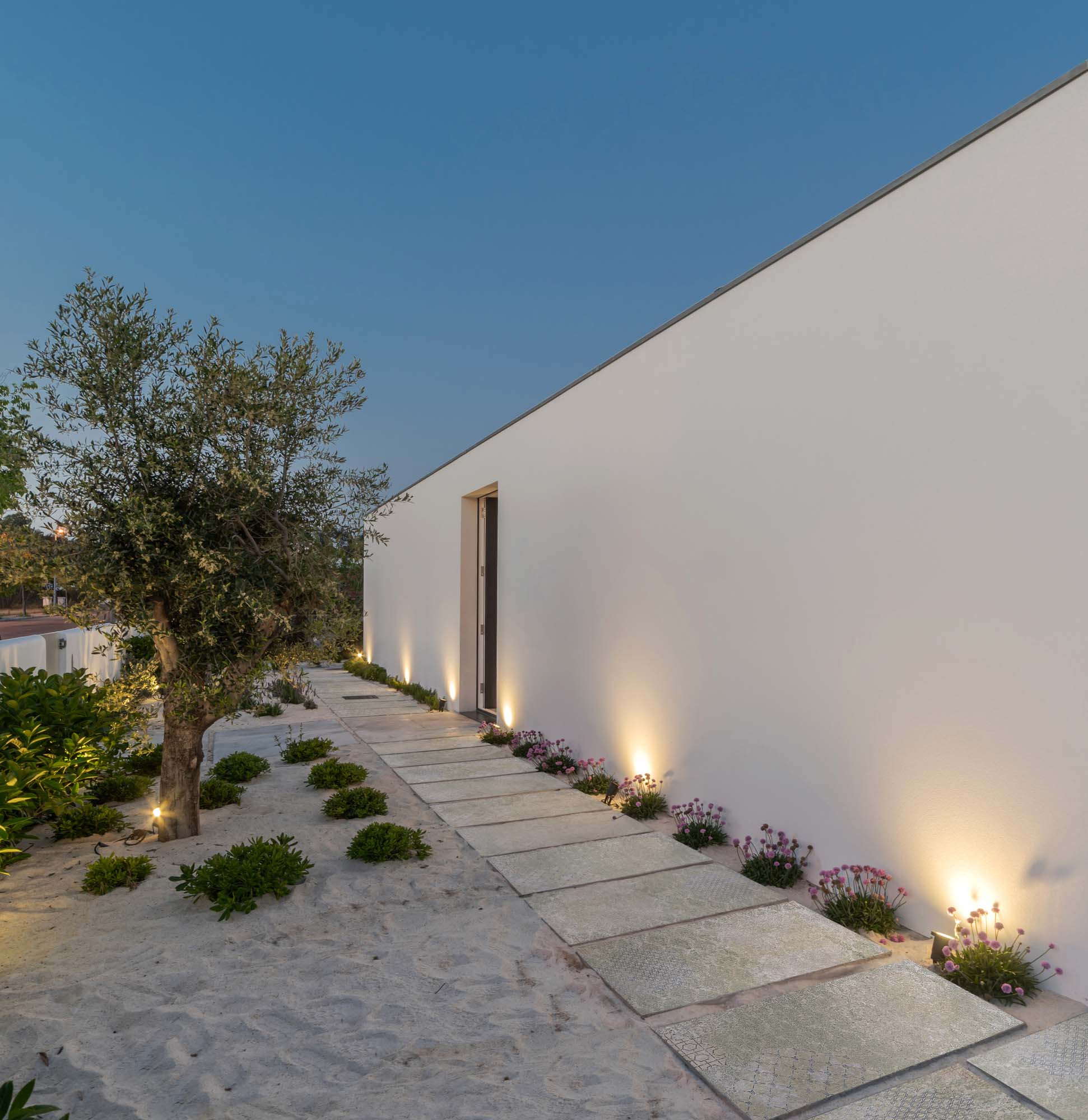 Bohemian
The latest garden floor designs
Outdoor garden tiles cover the ground in order to protect it and make it more attractive. And the fact is that the floor is also a very important part of the exterior decoration. In Aparici we have a wide variety of styles depending on the type, finish, texture...
Imitation wood outdoor flooring
Wood effect outdoor floors add warmth and charm to your garden area. They are reminiscent of a rural, cosy and traditional style. The rustic style is always in fashion, even more so now that we are looking to recover the origins, nature and essence. With the variety of designs that we offer at Aparici, you can combine the best of both worlds: the charm of the natural with the freshness of modern styles.
A good proposal is to use white tones as a base, such as Camper White Natural, which creates a luminous atmosphere, combining it with wood in lighter versions. This way you can achieve a more modern rustic atmosphere.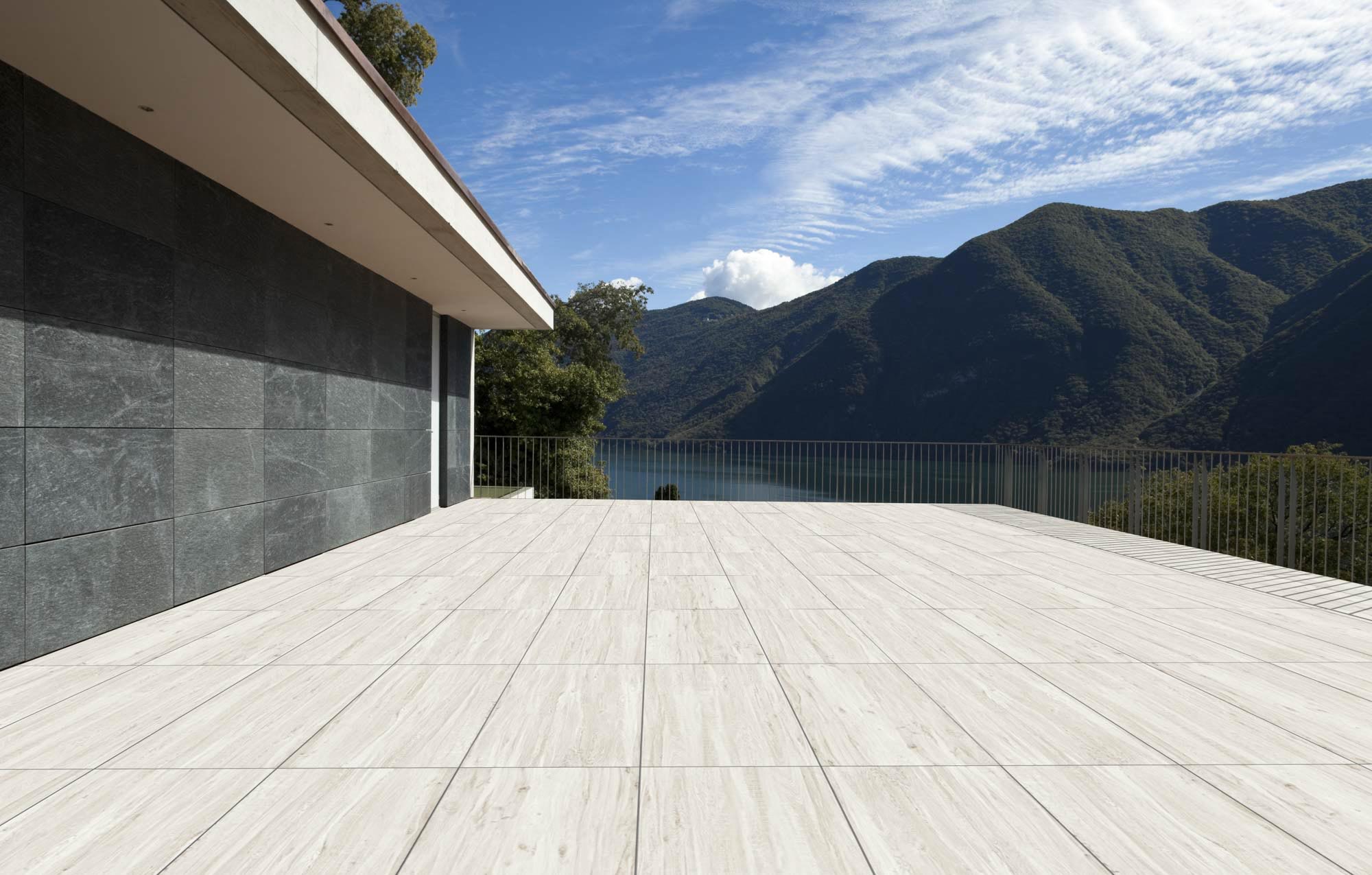 Camper
Imitation natural stone paving
Stone effect tiles manage to reinterpret the richness of natural stone with extreme attention to detail. This paving brings a modern touch thanks to the elegance of stone. The latest technical advances make it possible to play with a wide chromatic palette to cover garden exteriors with a mineral character. White, grey, beige and brown tones predominate in Aparici ceramic tiles.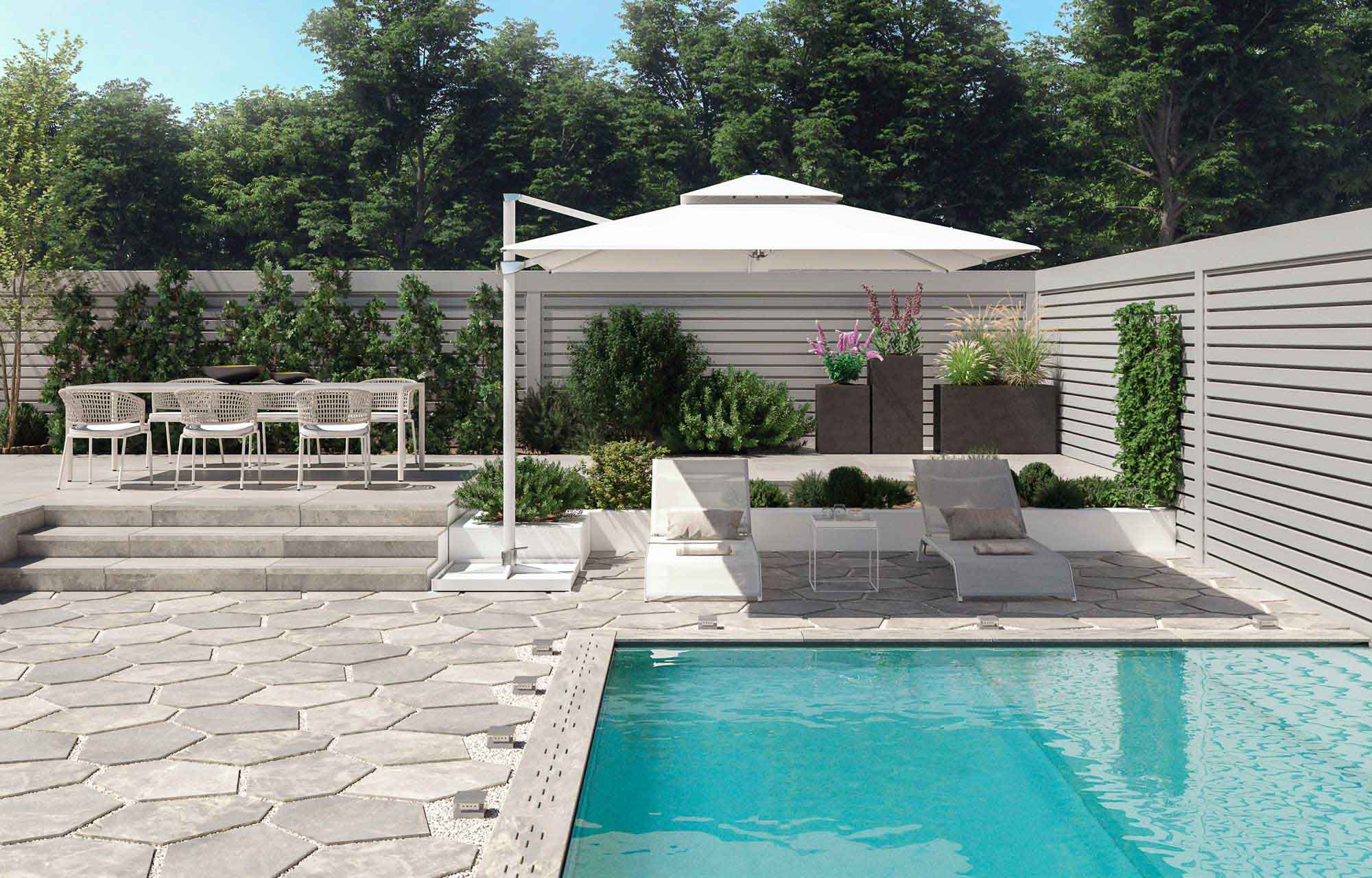 Dstone
Concrete effect tiles for the garden
Concrete floors adapt to any space thanks to their neutral tones and their contemporary character. The concrete effect tile is conceived as a timeless, elegant and balanced colour. Aparici's catalogue combines the most traditional designs with other more daring ones. Its choice is a guarantee of success due to its continuity and beauty, creating a clean and natural space.
Concrete effect tiles are usually associated with the urban style, which will never go out of fashion, making it a great choice when designing a timeless and versatile garden.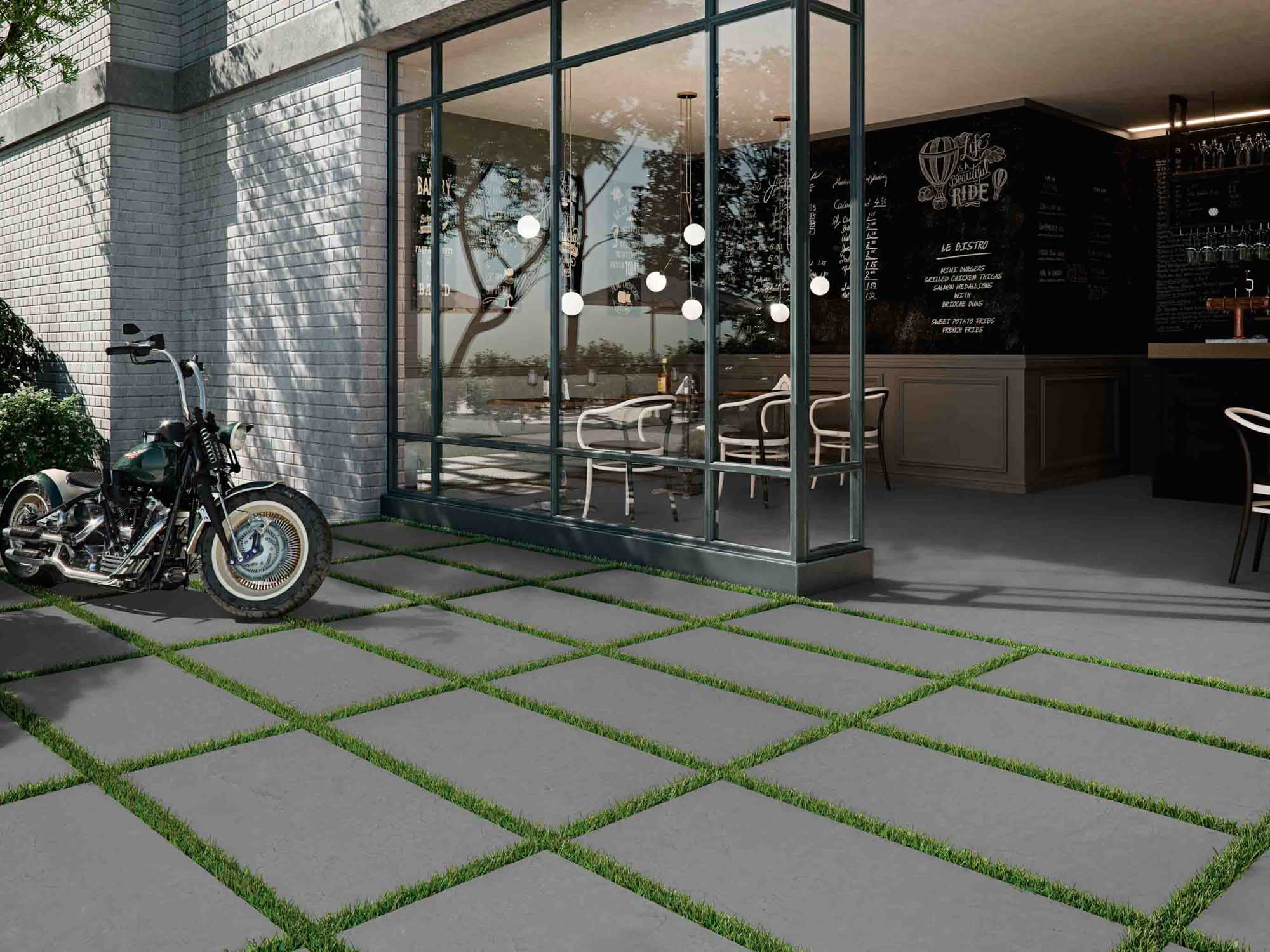 Cracked
As we have seen, the floor of your garden can reflect that unique personality thanks to the variety of paving that you have at your disposal. Getting an inimitable outdoor space is possible, do you dare to give a change to your garden? If you have any questions, Aparici will be happy to help you.