The choice of the most suitable kitchen flooring is sometimes a challenge, as it responds to several reasons. On the one hand, the intense use given to the space and the vicissitudes of the kitchen: liquid or food that spills, an accidental slip... It is also a room that is particularly exposed to humidity and temperature changes.

On the other hand, it should be taken into account that the kitchen floor is the base on which the rest of the elements will be laid, so its appearance is very important in defining the overall style of the kitchen. In short, when choosing the right flooring, we should opt for safe, durable materials that adapt to our aesthetic preferences.
Which floor should I choose for my kitchen?
There are different types of kitchen floors, each with its own peculiarities, advantages and disadvantages: do we want it to get as little dirty as possible, to be easy to maintain, to be easy to maintain? These are just some of the questions we have to ask ourselves.
We will now take a look at some of the most common types of kitchen flooring. The technical specifications of each of them will help us to choose the most suitable option.
Vinyl flooring for kitchens
Vinyl kitchen floors imitate different types of materials such as wood, stone or metal by means of an image printed on a vinyl surface. They are popular because of their value for money, their ease of installation and the fidelity with which they imitate the textures of the original surfaces.
However, although the material has improved over the years, vinyl can be easily deformed by heat and scratched. In addition, sunlight damages the print over time, a point to consider if the kitchen receives continuous natural light.
Laminate flooring
Laminate flooring is a popular choice for kitchens because of its resistance and durability over time. The most common are wood-look but there are other finishes such as those that imitate the design of marble. This is a much more economical solution than natural materials and also requires less maintenance.
However, one of their disadvantages is that they cannot be repaired, so if they are scratched, chipped or a joint is damaged, the whole piece has to be replaced. In addition, direct contact with water can stain the floor if it does not dry immediately and even damage it if the liquid seeps through the whole piece.
Porcelain tiles
Porcelain tiles are nowadays one of the most recommended options both for their variety of aspects and for their resistance. They withstand day-to-day activity to perfection and adapt to all types of kitchens, whether indoors or outdoors, large or small.
They are available in a wide range of designs that reproduce in detail the textures and patterns of each material: the grain, the wear, the natural colour variations... This allows us to design our kitchen according to our preferences.
Advantages of porcelain tiles
The technical advantages of porcelain tiles over other materials make them an almost tailor-made option for spaces such as kitchens.
Its easy cleaning and maintenance is one of its main attractions in a space that gets dirty easily.
Porcelain tile has almost no porosity, so it does not absorb moisture, stains do not stick and it resists spillage of water and other liquids that may be present in the kitchen.
The high resistance and durability of porcelain tiles are also very convenient features, given that kitchen flooring is subject to knocks, temperature changes and accidental scratches.
In addition, there are anti-slip finishes that improve slip safety.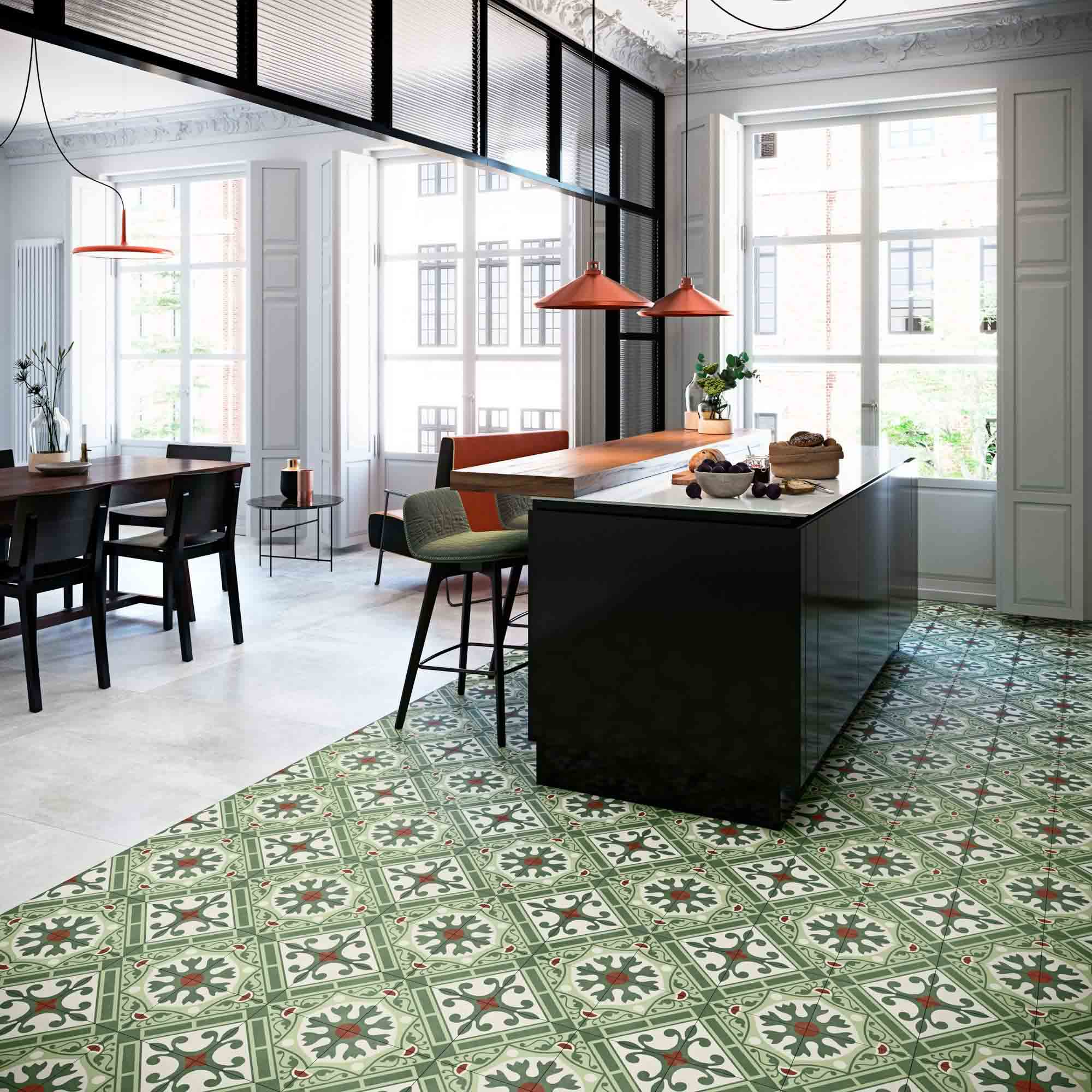 Altea
Porcelain tile designs for kitchen floors
The designs available are almost infinite: from marble or natural stone effect, to wood design, from concrete aesthetics to terrazzo. We can also find decorative pieces with geometric patterns and designs to highlight the kitchen floor... In short, a variety designed to adapt to as many different styles as possible.
Encaustic flooring for kitchens
The encaustic look porcelain tile brings back a classic and updates it with new designs and technical features that allow its application in kitchens as well. This floor tile simulates the old handcrafted designs and incorporates new ones, with different geometric and floral patterns or combinations of both. It brings colour, dynamism and a vintage style wherever it is installed.
A good example is our Alhambra collection, available in two versions with blue or green as the main colour. They are accompanied by other colours such as red and yellow that give life to very creative pieces.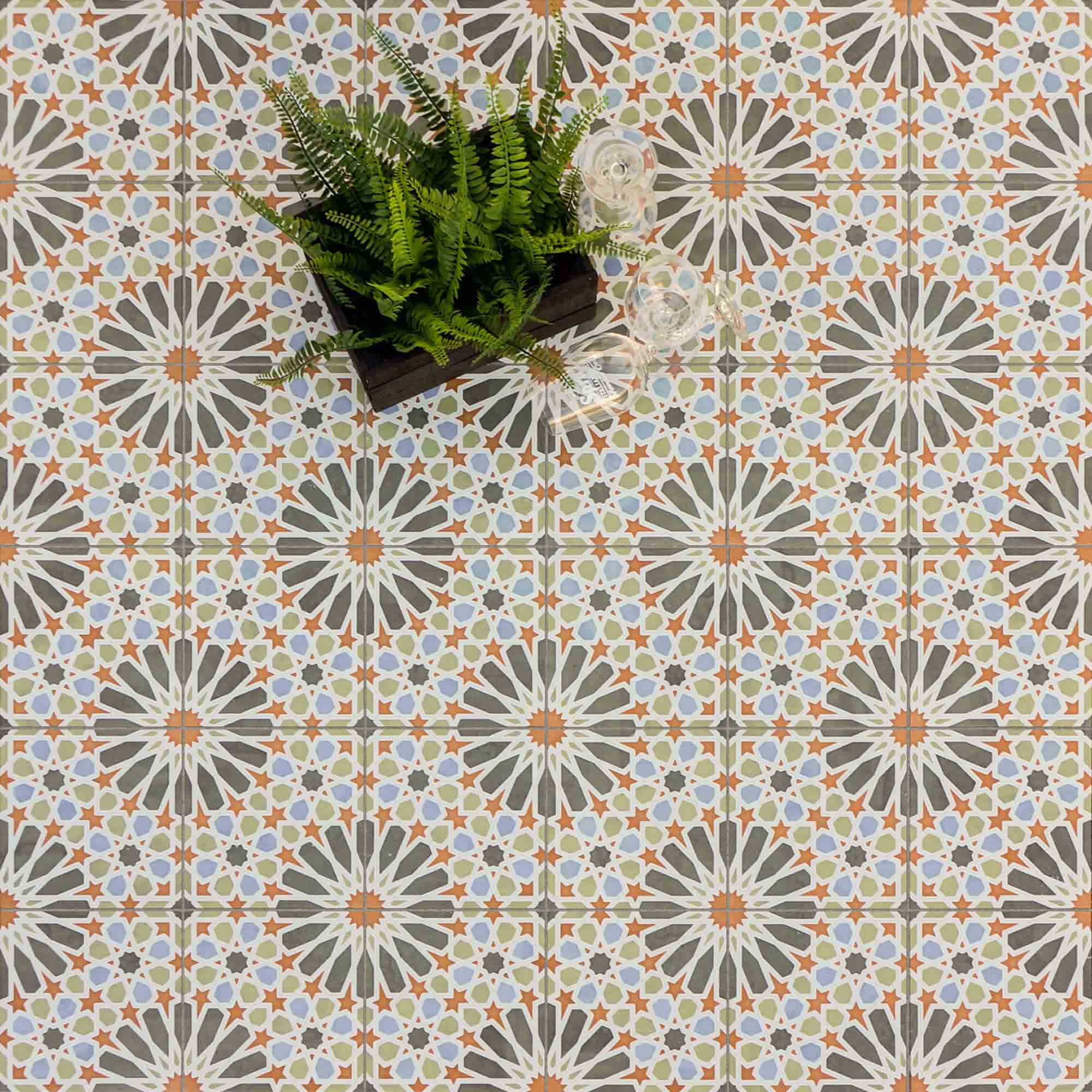 Alhambra
Wood effect porcelain tiles
Wood effect tiles perfectly reproduce the details of natural wood with all the advantages of porcelain stoneware. They can be installed on the kitchen floor to achieve a result very close to what we would get if we installed parquet, but without worrying about maintenance or being exposed to damp or splashes.
Porcelain tile designs realistically imitate natural woods such as maple, oak or teak with their characteristic veins and colours.
White floors for the kitchen
White floors are one of the most commonly used in any space and the kitchen is no exception. As it is a completely neutral tone, it combines with any element around it. In addition, it provides the sensation of hygiene and cleanliness that is characteristic of the colour white. Porcelain stoneware collections such as Studio have a homogeneous surface and an ivory tone suitable for all types of kitchens.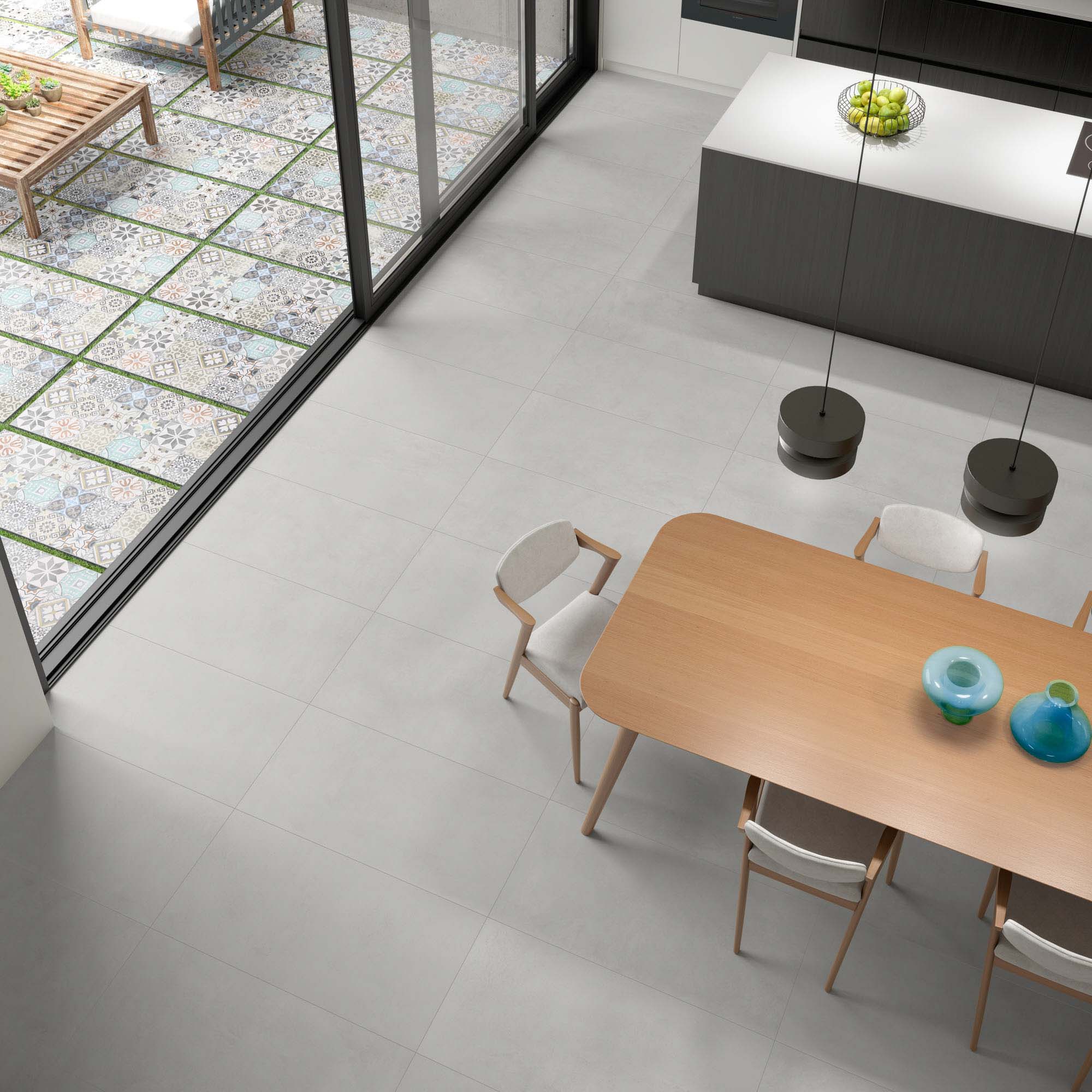 Studio
Kitchens with grey floors
Grey floors stand out for their versatility, elegance and timeless character. In addition, it is a shade that hides stains that may occur during cooking particularly well. As they are a neutral range, they adapt to all types of kitchens and can be darker or lighter depending on our preferences. Within the range of greys, concrete-type porcelain tiles stand out, such as the one in the Attila collection with an industrial air.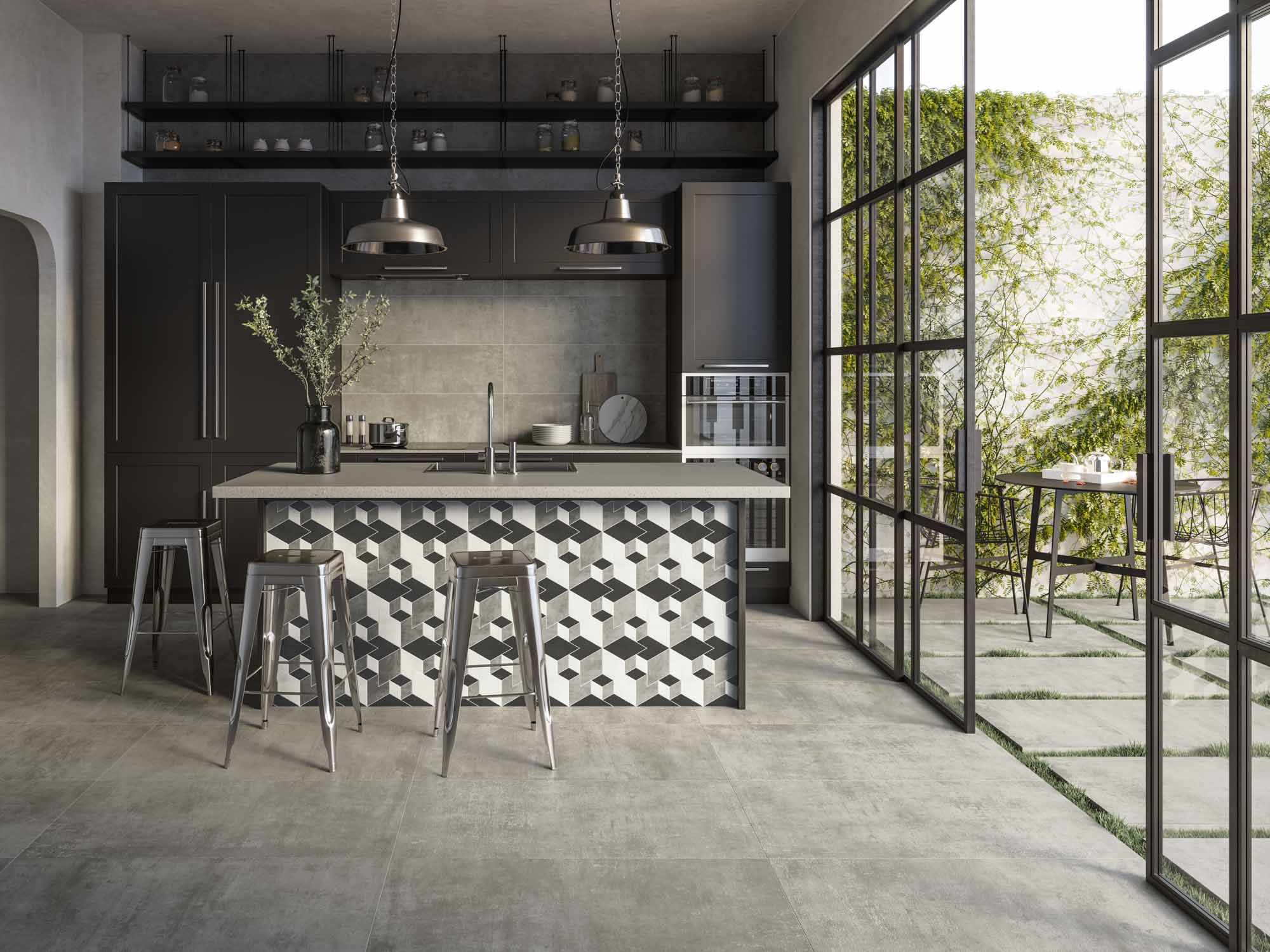 Attila
Flooring depending on the type of kitchen
Choosing a porcelain tile that suits our tastes is essential, but we must also take into account the characteristics of our kitchen. Factors such as size, lighting or whether it is open to the living room are important in making the right choice.
Flooring for small kitchens
For small kitchens or kitchens with little natural light, there is nothing like white or light-coloured floors. Porcelain tiles in these shades will increase the feeling of light and space. We will also be limited by the format, as in the case of small spaces it is always better to avoid intermediate sizes.
Porcelain tiles with a more homogeneous appearance, such as concrete tiles or more discreet stone tiles, will help us to avoid visually saturating the little space we have. Wood design porcelain floor tiles also gain prominence, as they provide warmth and their format, usually elongated, helps to increase the feeling of spaciousness.
Flooring for a kitchen open to the living room
If we have a kitchen that is open to the living room, we can opt for continuity and use the same porcelain tile in both spaces. This will help us to fully integrate the kitchen into the living room and, consequently, to create open-plan and larger spaces. However, it is recommended to reinforce safety with a non-slip finish in the kitchen area.
If we opt for contrast, we will visually delimit both spaces through the tiles. Here, creativity will be the protagonist: for example, we can combine a stone-type porcelain tile in the living room and a wooden tile in the kitchen. We can also use encaustic tiles to highlight elements such as the kitchen island or the dining table.