There is no doubt that the façade is one of the most important elements of any building. On the one hand, it plays an essential role in the design and appearance of the building. On the other hand, it withstands the weather and insulates the house from the outside. For all these reasons, one of the most important decisions when undertaking a project is to choose the right exterior façade tiles, both in terms of design and technical presentation.
In this article we will give you the keys to choosing the right cladding and explain the most energy-efficient types of installation.
And of course, we will reveal which are the most fashionable tiles for an exterior façade.
Advantages of porcelain tiles on façades
Thanks to technical advances, there are more and more types of façade cladding, 'technological' materials that have been replacing classic coverings such as stone or wood. Among these options that have been developed over the last few years, porcelain stoneware is undoubtedly one of the most widely used in all kinds of projects. What makes it so special? Let's take a look at some of its advantages:
Resistance. Undoubtedly one of the advantages of using porcelain tiles as façade cladding is its resistance to knocks, wind and the most adverse temperatures.
Impermeability. Porcelain stoneware is a very compact and non-porous material. Therefore, it does not absorb water, which is essential to maintain its structure and appearance even outdoors.
Safety. Not only water resistant, but also fire resistant. Porcelain tile is a fireproof material that does not burn or melt. It therefore contributes to increasing the safety of the project. In addition, it does not emit fumes that are toxic to man or the environment.
Lightweight. One of its advantages is its lightness, especially in the thinner models. It is a much lighter material than others such as stone, which means that it can be installed in many different ways.
Variety of designs. As you already know, porcelain tile can adopt almost any look and allows you to have the appearance of wood, natural stone, metal or cement without renouncing the presentations of the most advanced materials.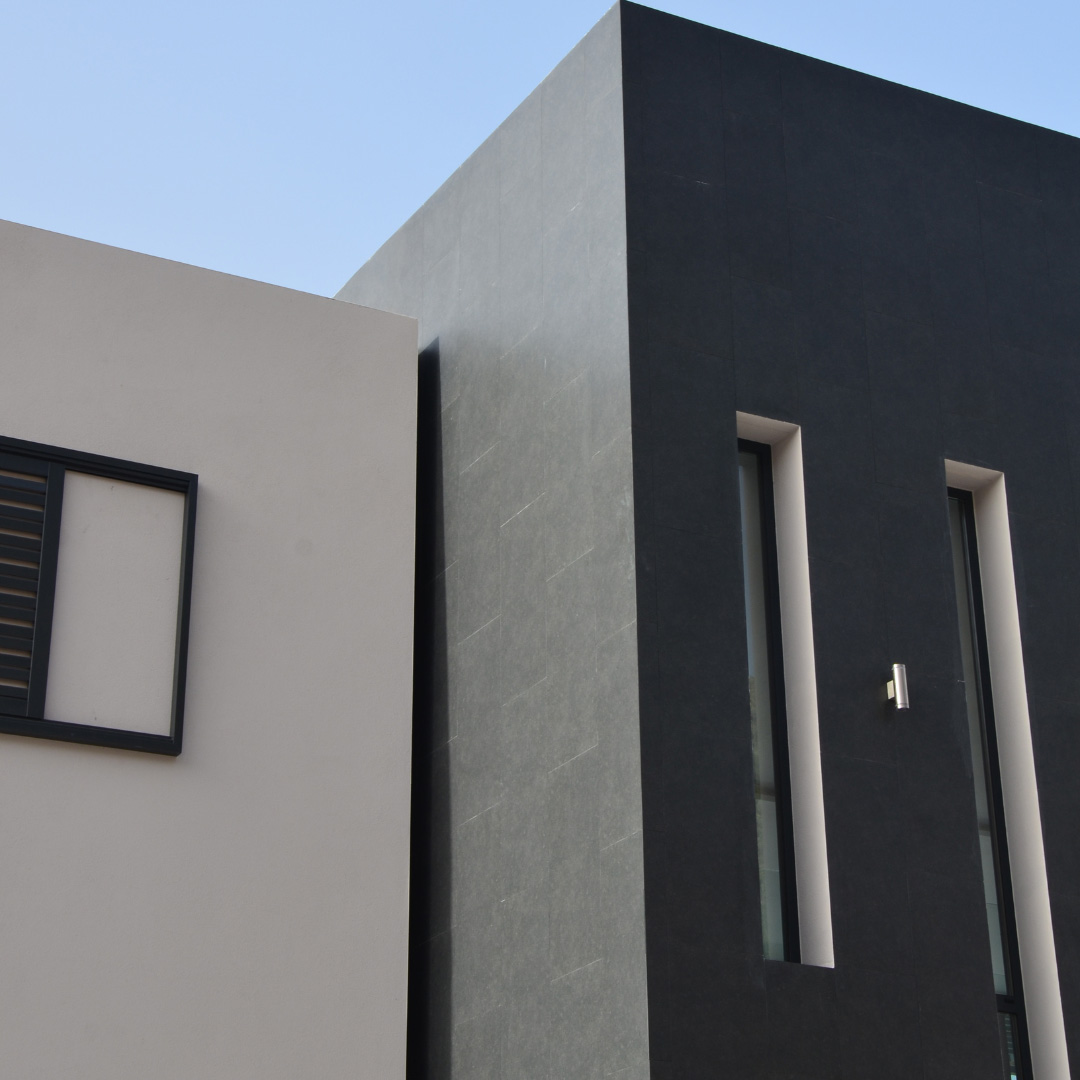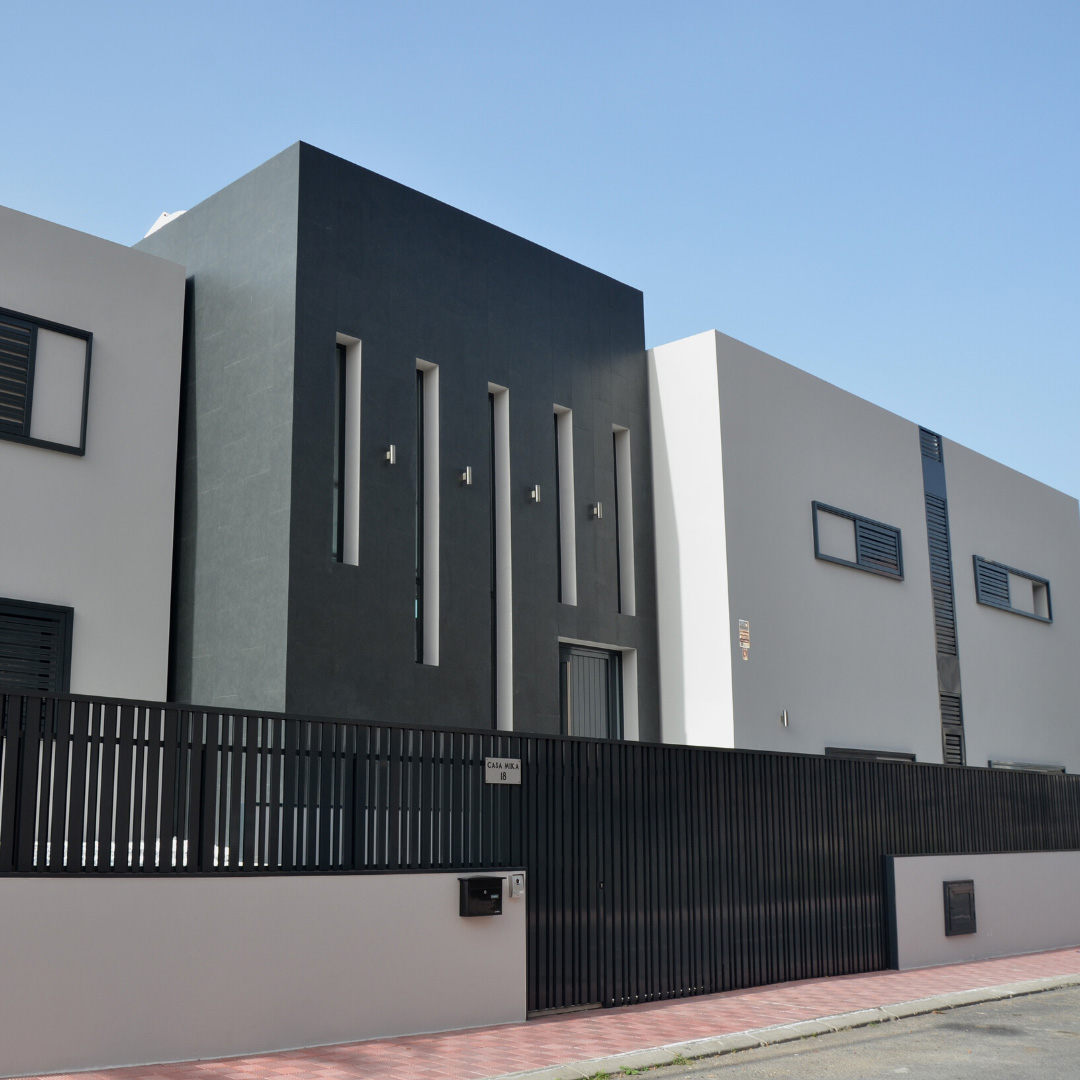 Types of porcelain tile facades
As we have seen, one of the great advantages of porcelain as a façade tile is its versatility. It can be installed in different ways, depending on the type of façade. Here are some of the most popular ones.
Traditional façade
The tiles are applied directly with mortar on the wall of the building and include anchors for greater security. They are quick to install, but less energy efficient as they do not have an air chamber or insulation system.
SATE façade
The SATE façade or external technical insulation system consists of the installation of insulating panels to form the enclosure wall of the home. This system can be completed with the installation of an exterior cladding and porcelain tile is one of the most commonly used.
In this energy-efficient system, the panels provide the necessary thermal and acoustic insulation. As for the cladding, in addition to contributing to the final design of the building, it provides the advantages of porcelain tiles: resistance, easy cleaning, durability...
Ventilated façade
This type of façade goes one step further, as a ventilated chamber is left between the insulation and the cladding. It is considered the most efficient system, as it eliminates thermal bridges, condensation and prevents damp.
It is undoubtedly the most popular system in large projects, both in residential and commercial architecture. It stands out for its low maintenance, for increasing the useful life of the façade and for contributing to improving its aesthetics. Not for nothing,
it is an enormously versatile system from a design point of view, as it allows porcelain tiles to be combined with other aesthetics and materials.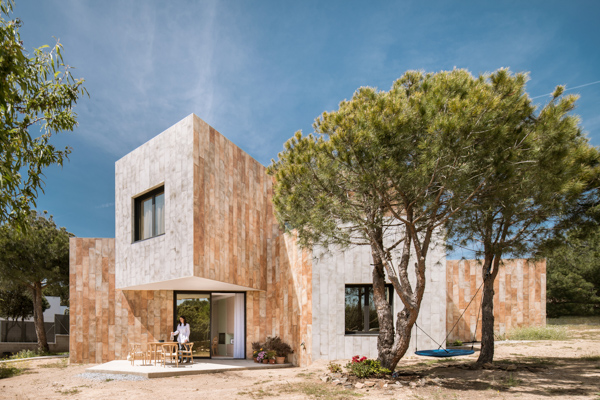 Modern façades with porcelain tiles
Now that we are familiar with stoneware tiles as exterior cladding and have chosen the type of façade, it's time to choose the porcelain tile looks to achieve a contemporary result in your renovation or project.
Stone facades with a contemporary look
Natural stone has been one of the favourite materials for façade cladding throughout history. Porcelain stoneware allows you to have and even update its aesthetics, but without the disadvantages of the original stone (high price, heavy material, fragility in some cases...).
Thus, imitation natural stone tiles for exteriors are a natural ally of the most modern exterior façades and allow a building to be integrated into its natural surroundings. Among Aparici's collections we find pieces that update the textures of stones such as slate, marble, travertine or quartzite.
Metallic cladding
Metallic effect tiles undoubtedly offer a groundbreaking look for your project if they are used as façade cladding. The oxidised or aged effect of some metals is the star of a collection of tiles that go far beyond the industrial style.
It is a versatile surface that exudes personality in both residential and commercial projects. In combination with other aspects of tile, it can accentuate the ornamental character of certain façade elements (balconies, columns...).
The texture of concrete for urban environments
In the hands of porcelain tiles, the texture of concrete becomes more nuanced and versatile. This type of wall tile is one of the most widely used in commercial architecture projects of all kinds because of its strong urban personality.
The neutral tones of concrete tiles make them one of the most versatile surfaces. In addition, large format slabs enhance the visual continuity of façades, which is highly appreciated in large architectural projects.
The warmth of wood on an exterior wall
The texture of natural wood never goes out of fashion. Its use in façades has been with us since practically the first buildings of mankind. Now, this organic, handcrafted look gains in versatility with porcelain tiles imitating wood. And its aesthetic also makes the leap to urban settings thanks to new shades such as whites and beiges.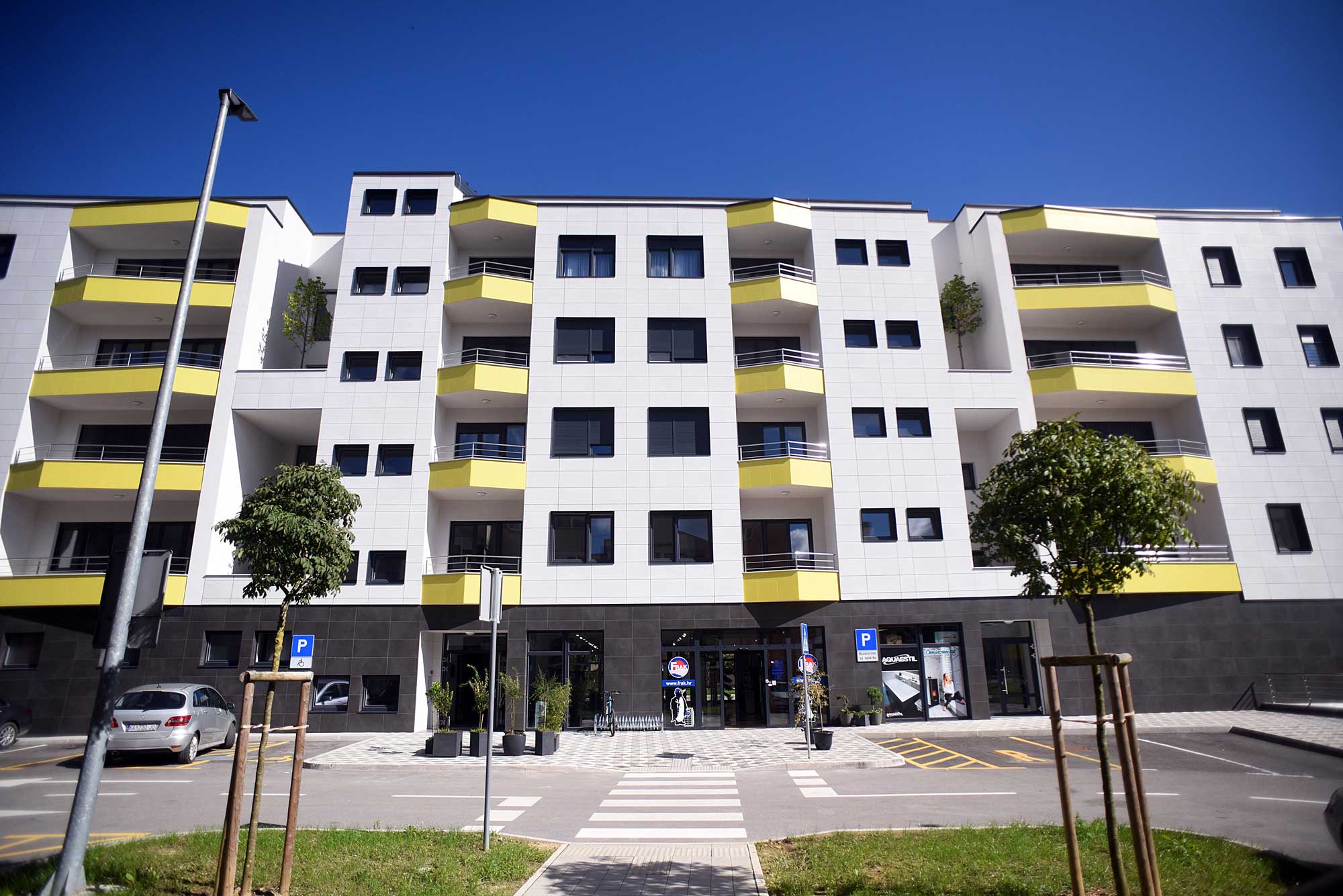 Trendy colours for exterior façade cladding
The colour of an exterior façade is undoubtedly one of the elements that contributes most to the overall aesthetics and personality of an architectural project: first impressions count! Thanks to the chromatic variety of porcelain tiles, we can opt for one of these trendy colours.
Whites and greys
White is synonymous with luminosity and one of the colours par excellence of the minimalist style. Whether in a commercial or residential building, the façade will look clean and bright. In addition, white tiles can be combined with other colours, such as black, for a timeless result.
Grey, on the other hand, is synonymous with sobriety and elegance. It is one of the most versatile colours, as its neutral character allows it to be combined with almost any colour. Among grey porcelain tiles, there are a multitude of aspects that can be transferred to the façade, from natural stone or marble to cement.
Beige and earth tones
Beige and earth tones are one of the most popular options when choosing the colour of a façade. Their natural and neutral character stands out, allowing the building to blend seamlessly into any environment. Synonymous with elegance, beige tiles can be combined with other earth tones (brown, ochre...) to achieve a more dynamic result.
Vibrant facades in blue and pink tones
If you want your project not to go unnoticed, you can start with the façade. Within the chromatic range of porcelain tiles there are vibrant and dynamic options that ooze personality. For example, pink tiles evoke Mexican architecture and go well with vegetation. Blue, meanwhile, is a highly versatile colour, as depending on the shade, it can convey serenity or stand out for its sober, modern character.