With the arrival of the good weather, the outdoor areas of the home become the main protagonists. Gardens, patios and terraces are full of life and invite you to enjoy life outdoors. That is why today we are talking about non-slip outdoor flooring and which are the best options so that design and safety always go hand in hand. If you are thinking of remodelling the outdoor spaces in your home, we advise you on the best material and on the looks that set the trend.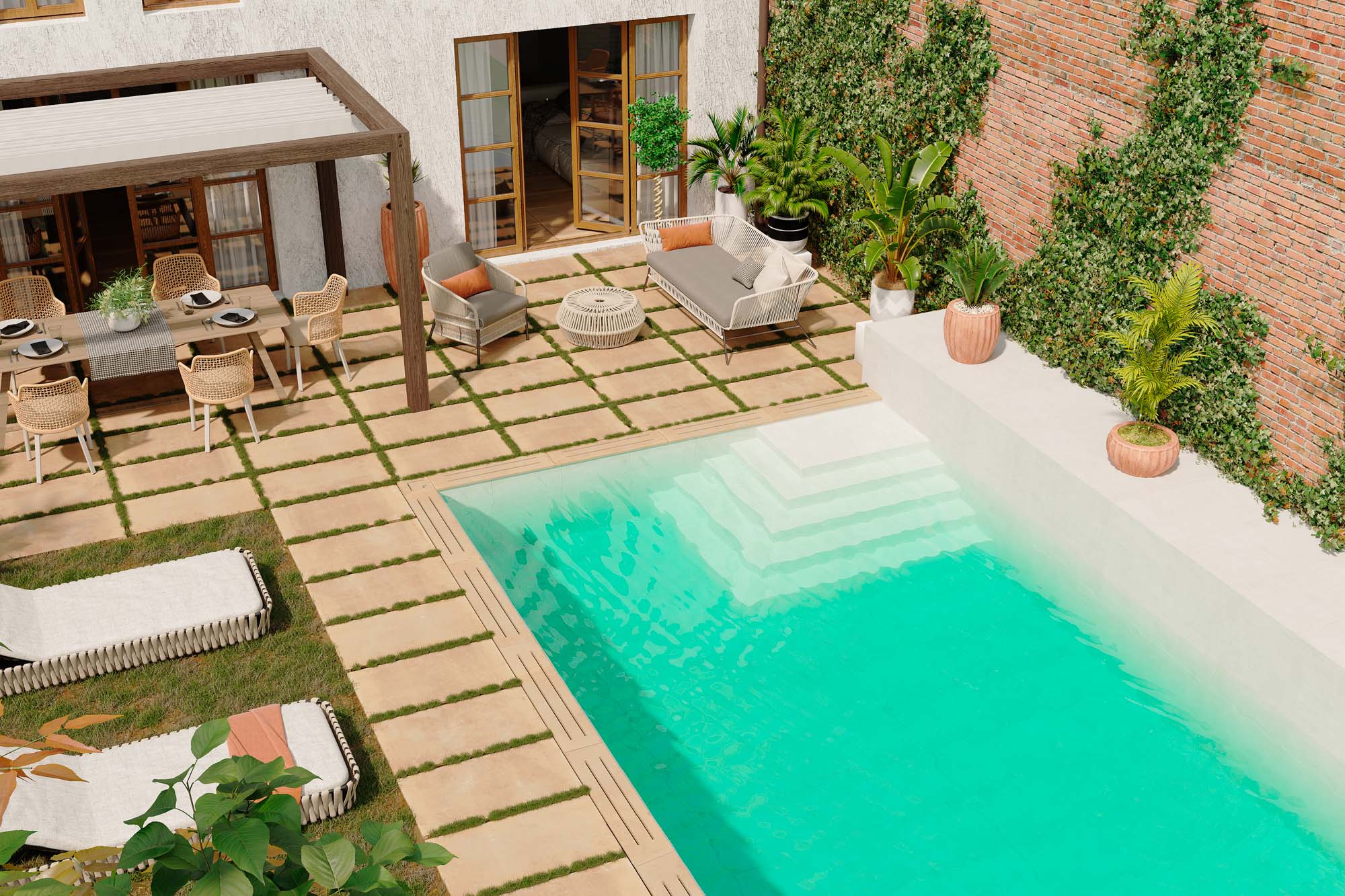 Cotto Collection
Types of outdoor slip-resistant floors
Nowadays there are many options for outdoor anti-slip flooring. Materials such as wood or natural stone still retain their charm and can be a valid option with the right treatment and conscientious maintenance. At the same time, other materials such as vinyl or non-slip rubber flooring are appearing as a result of technological developments. Nevertheless, porcelain stoneware is still the favourite of architects, interior designers and private individuals to pave the outdoor spaces of all kinds of projects. Let's see why.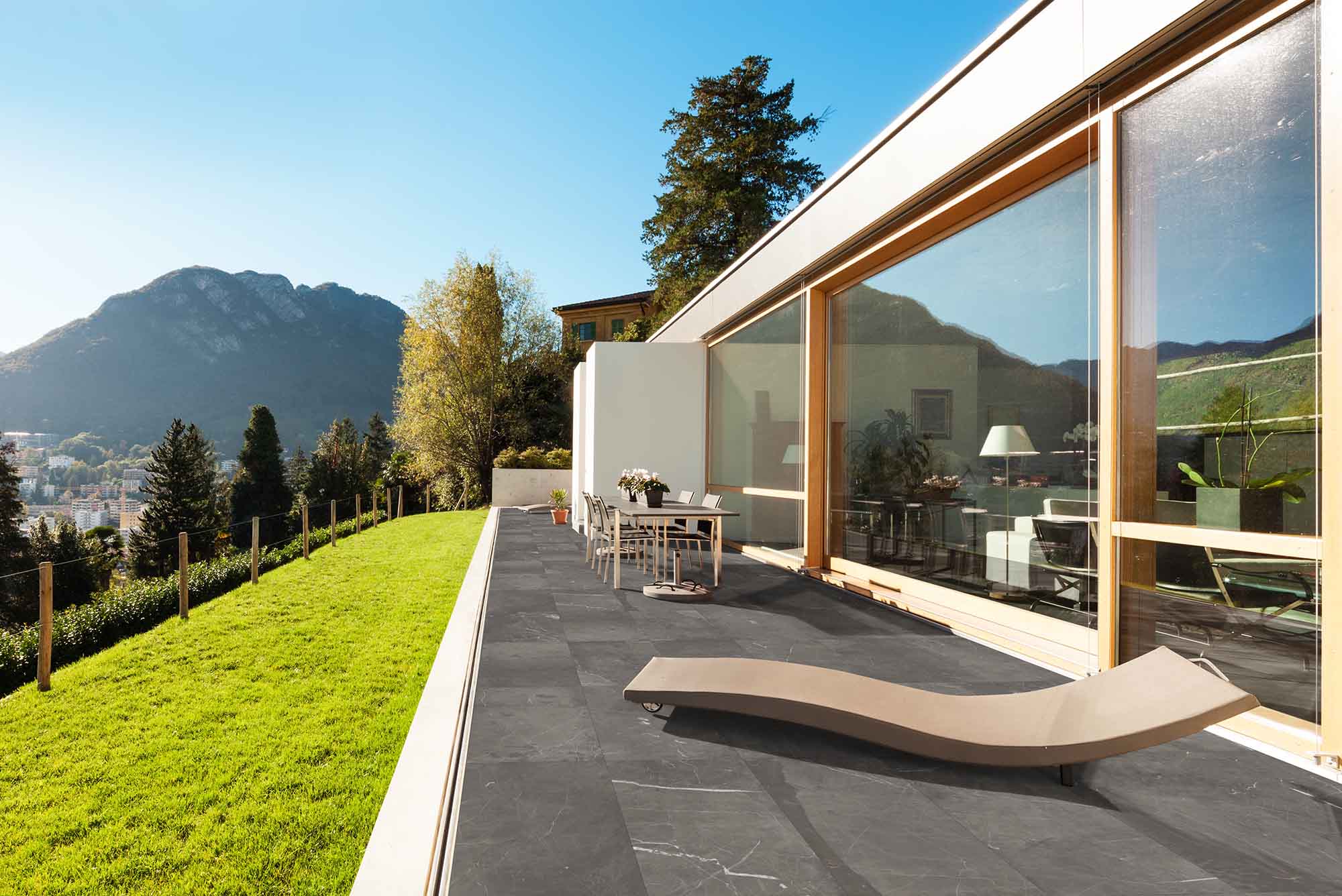 Dstone Collection
Porcelain tile, the best non-slip outdoor floor
There are many reasons to choose porcelain tile as the best non-slip outdoor floor. Its technical performance stands out from other materials. Thus, characteristics such as resistance to bending and sudden changes in temperature or its inalterability are fundamental in this type of space. Furthermore, the safety it provides in these environments is beyond any doubt, as Aparici's porcelain tiles for outdoor use have Class 3 anti-slip certification.
In addition to the technical advantages of porcelain stoneware, there is tremendous versatility. This material allows multiple applications thanks to its different installation systems. In addition, the variety of designs is almost infinite thanks to the wide range of aspects, from the most traditional ones such as stone or cotto to the most avant-garde ones, such as metal or concrete.

Corten Collection
Uses of non-slip floors
The 2 cm thickness of porcelain tiles for outdoor use allows for different ways of installation, either in the traditional way with adhesive, in raised floor systems or directly on materials such as gravel or grass. In this way, non-slip porcelain floor tiles adapt to all kinds of uses and spaces. Here are some of the most popular uses.
Anti-slip porcelain tile for terraces, courtyards and balconies
Undoubtedly, the most common use of anti-slip outdoor flooring is as paving for terraces, courtyards and balconies. Once again, porcelain stoneware is more than adequate for these types of spaces, helping to design safe areas that will stand the test of time with low maintenance. In the case of balconies, concrete-look porcelain tiles can be chosen to reinforce their urban character, while in courtyards it is common to use more rustic pieces, such as Cotto-look porcelain tiles. As for porcelain tiles for terraces, there is a wide variety of designs to suit the personality of the project.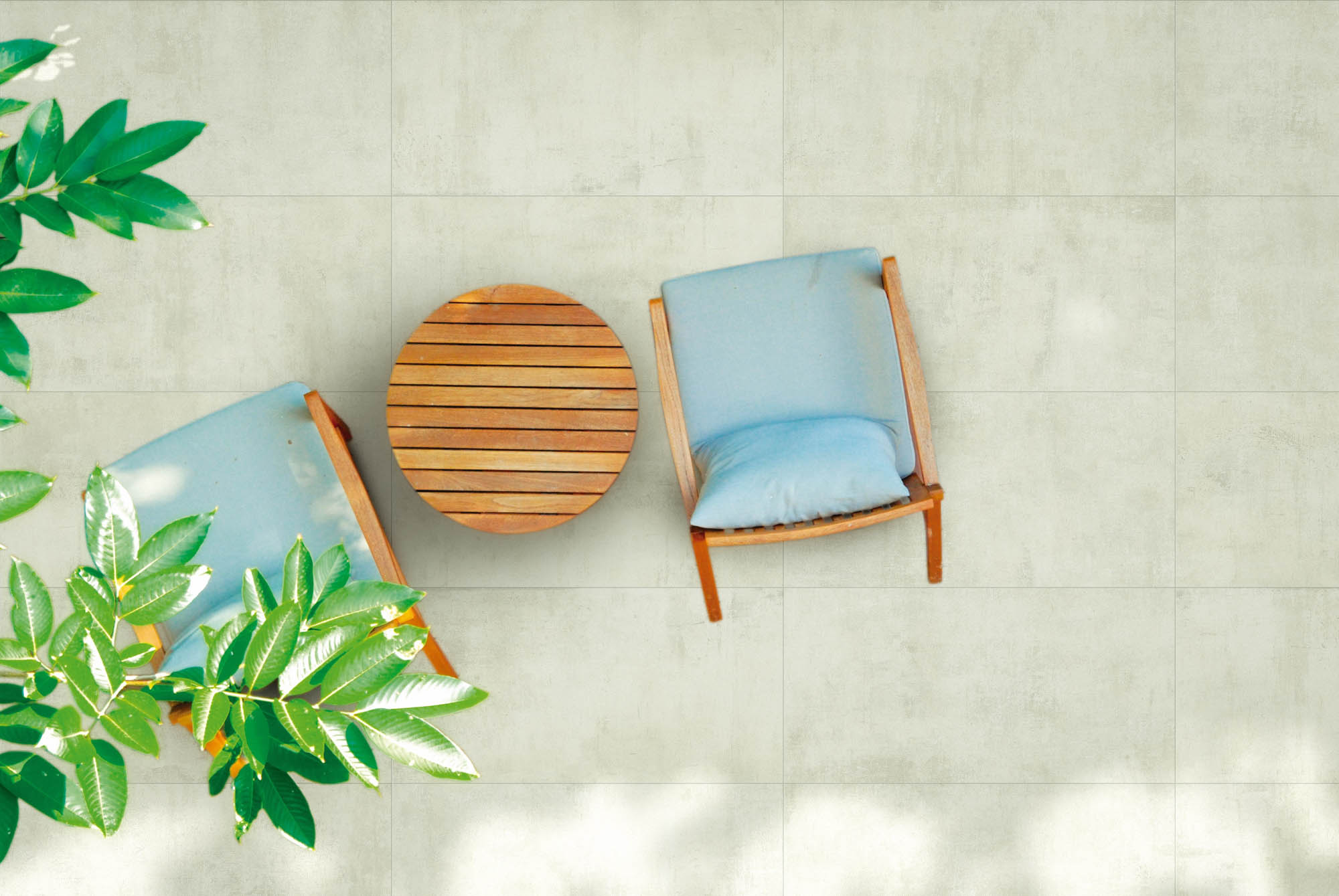 Attila Collection
Swimming pool edges and surrounds
Swimming pools are a challenge, as they require materials with very specific characteristics. In the case of porcelain tiles, they can fulfil a dual function. On the one hand, there are special pieces with a grid that allow drainage in the case of overflow pools. In this way, the same design can be used both for the edges and for the paving to be installed around the pool. What's more, the non-slip finish, resistance to impact and non-porosity allow porcelain stoneware to be used as a pool shell, achieving that characteristic infinity pool effect.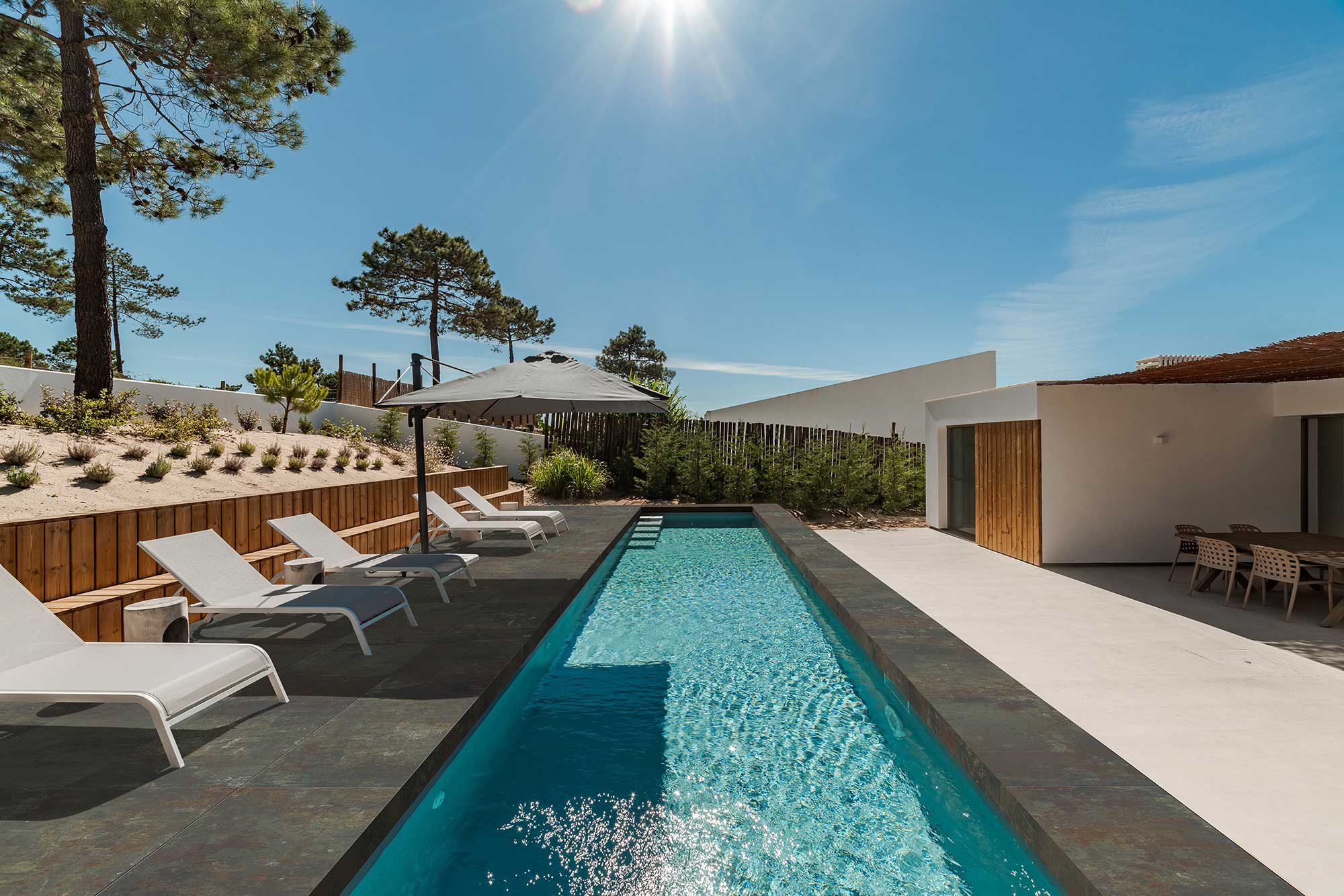 Harlem Collection
Natural paths and walkways
Laying 2 cm thickness anti-slip porcelain tiles on gravel or grass is a practical and versatile solution. However, before laying it, make sure that the ground is level and compacted. This installation system makes it possible to create walkways and paths in areas to integrate them both in a natural environment and in other architectural contexts. In addition, in the case of 2cm thickness anti-slip tiles, there are five exclusive shapes (trapezoid, hexagon, polygon, palm and arch) to enhance the decorative character of the paving.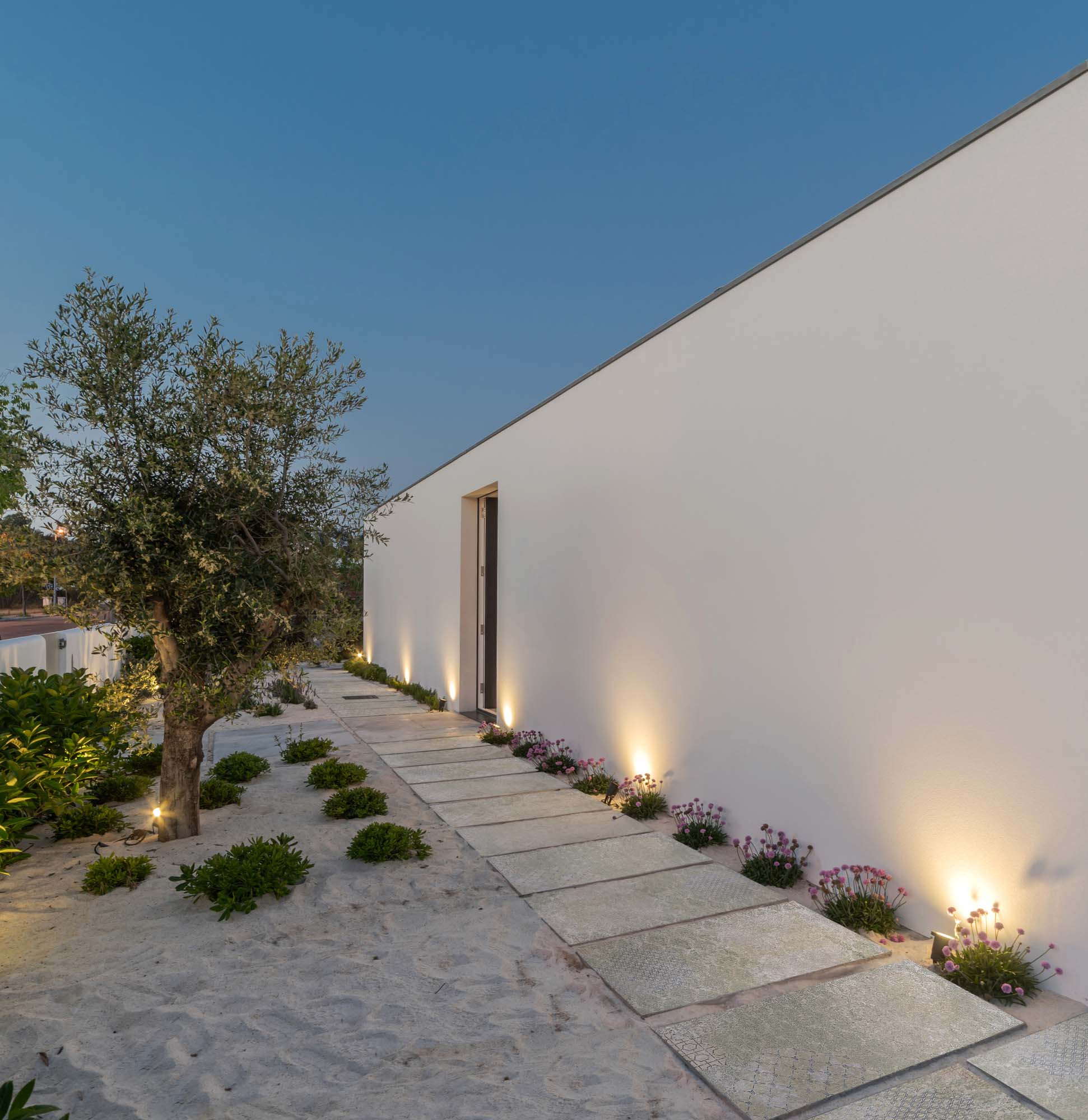 Bohemian Collection
Non-slip floor designs
In addition to its innate resistance and versatility in terms of applications, outdoor porcelain stoneware adds a wide variety of non-slip floor designs. Almost all Aparici ceramic looks are available in the 2cm thickness anti-slip version. In this way, they can be integrated into any project, regardless of its design and personality. These are some of the most popular porcelain looks.
Textile-effect anti-slip flooring
If there is one thing that characterises porcelain stoneware, it is its ability to adopt almost any look: can you imagine anti-slip outdoor flooring with the charm of carpets and other textile surfaces? With collections such as Carpet by Aparici, it is possible. This series of porcelain stoneware has pieces of 50x100cm and 2cm thickness and 16 different decorations to enhance the design of balconies, terraces and courtyards.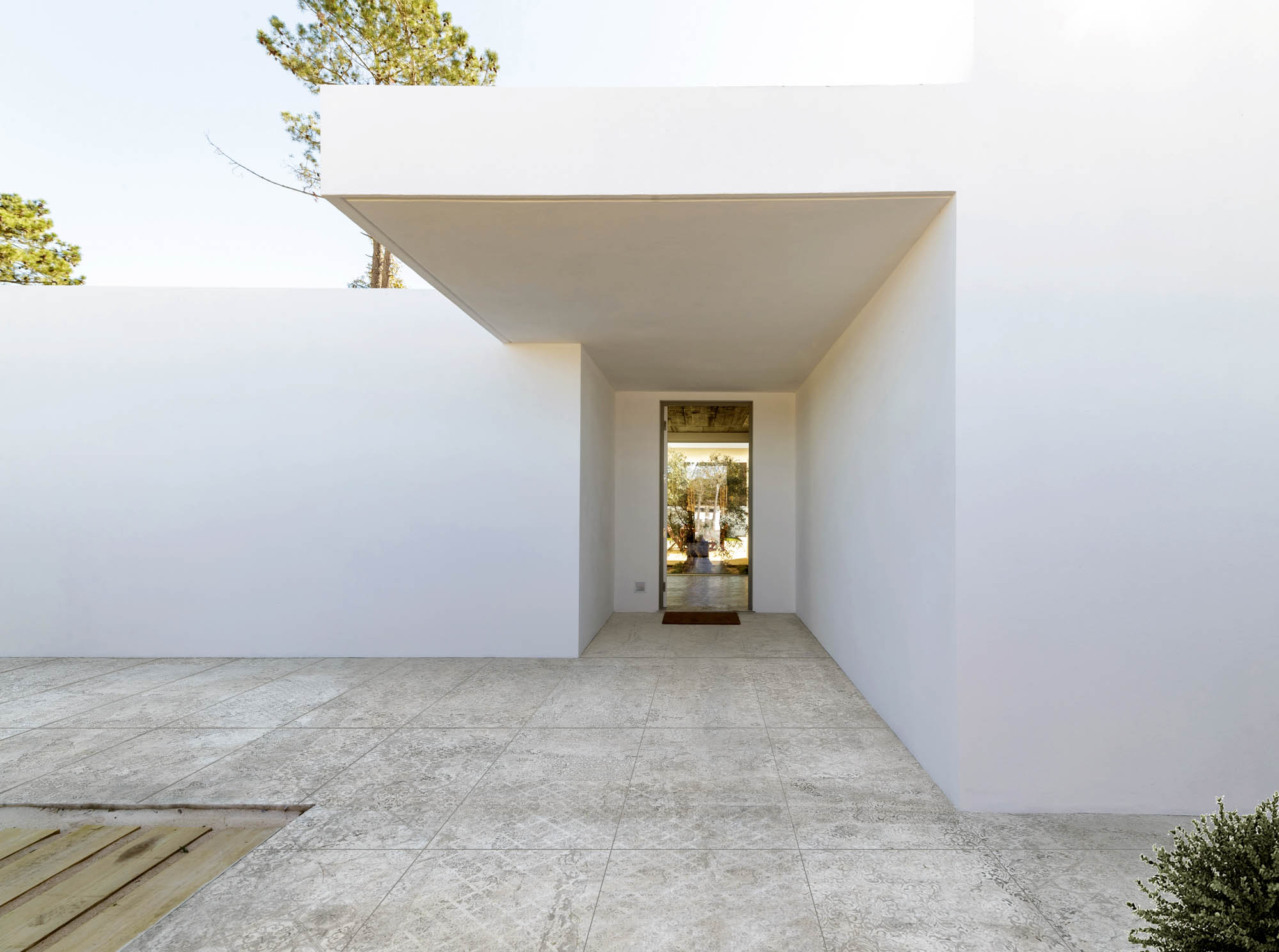 Carpet Collection
Non-slip floor with rustic appearance
The rustic look is one of the most demanded in outdoor spaces. Collections such as Cotto by Aparici update the aesthetics of classic terracotta tiles to create timeless spaces. It is available in Class 3 anti-slip finish and in 2cm thickness pieces. That much-loved rustic look can also be achieved with other natural stone-effect porcelain collections.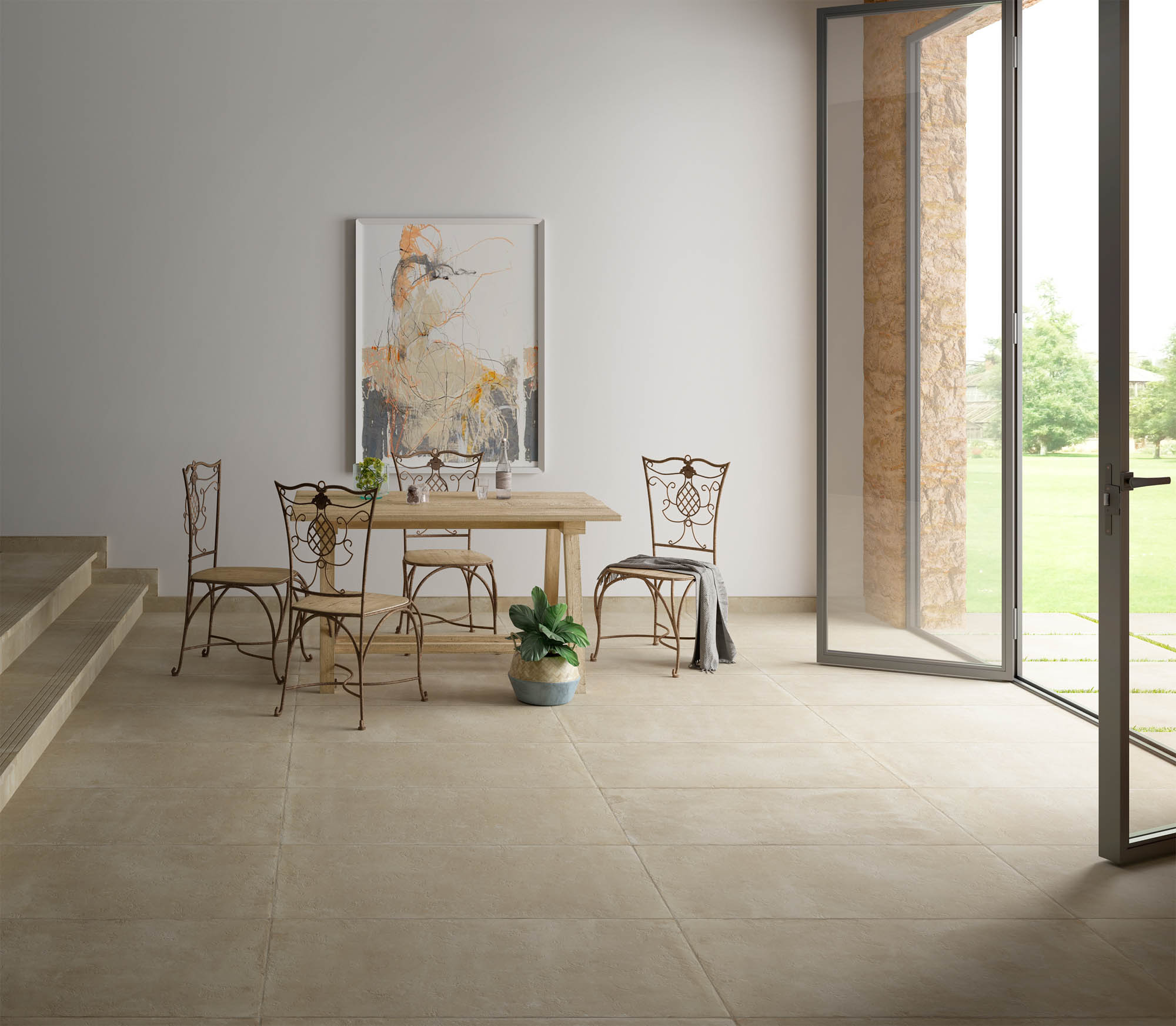 Cotto Collection
Non-slip wood look porcelain tile
Porcelain tiles can also be used to pave the outdoor spaces of an architectural project with the design of natural wood. Collections such as Camper are available in a non-slip finish. In addition, its three shades (White, Ash and Savanna) offer greater versatility in terms of design while maintaining the excellent technical performance of the material.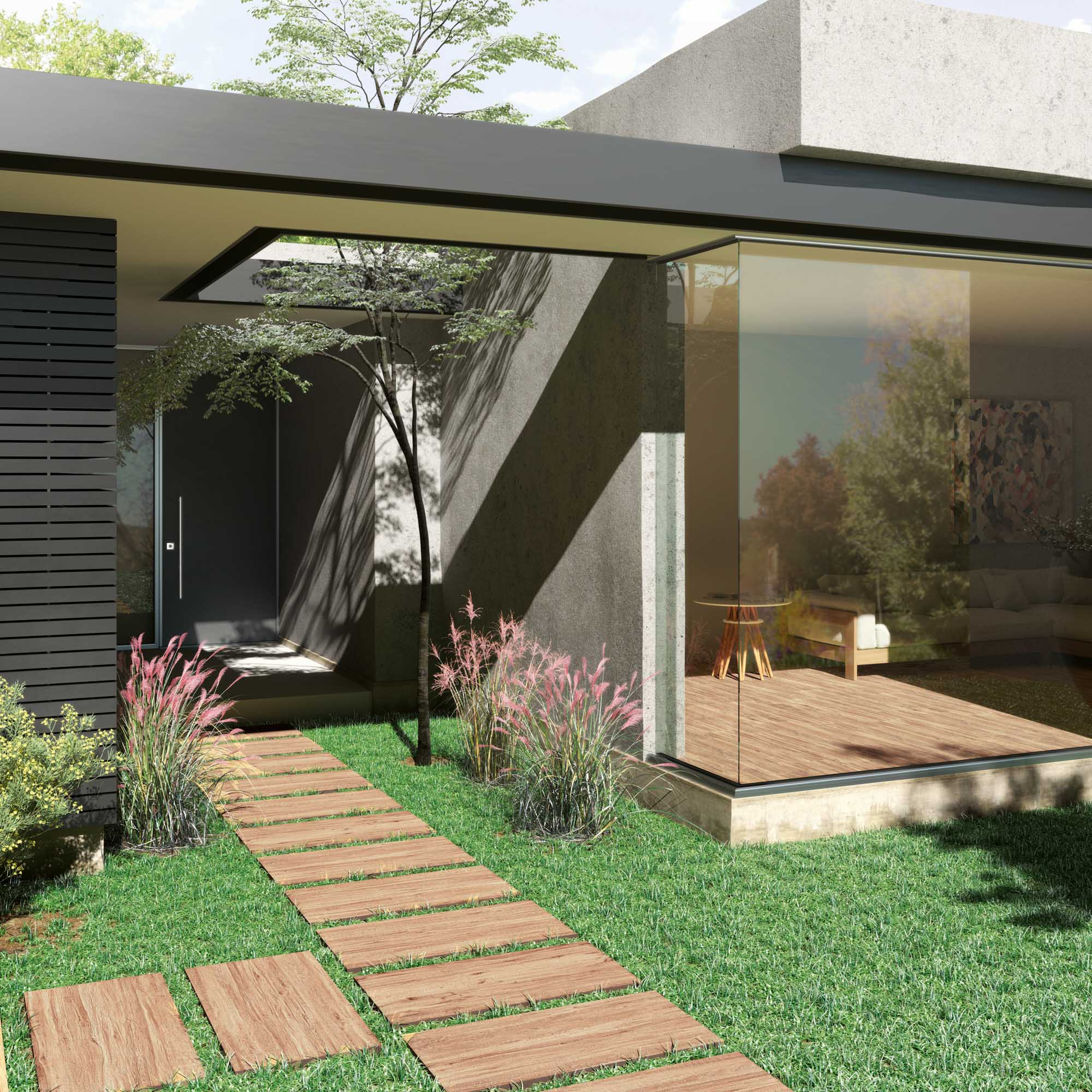 Camper Collection
Metal or concrete effect anti-slip flooring
From natural design to the most contemporary. Aparici's anti-slip collections include those capable of giving outdoor spaces a markedly modern personality, both in residential and contract projects. We are talking about metal-effect porcelain tiles, with winning collections such as Corten and its expressive rusty look or Metallic. And of course, the concrete design non-slip floor. In this case, the possibilities are even greater. Collections such as Cracked, with its worn effect, Brave or Studio stand out for their minimalist design and the versatility of their neutral tones.

In short, porcelain stoneware has established itself as the most complete alternative in terms of outdoor non-slip floors. If you are thinking of refurbishing the outdoor spaces of your home and are looking for the right flooring, do not hesitate to contact our advisors.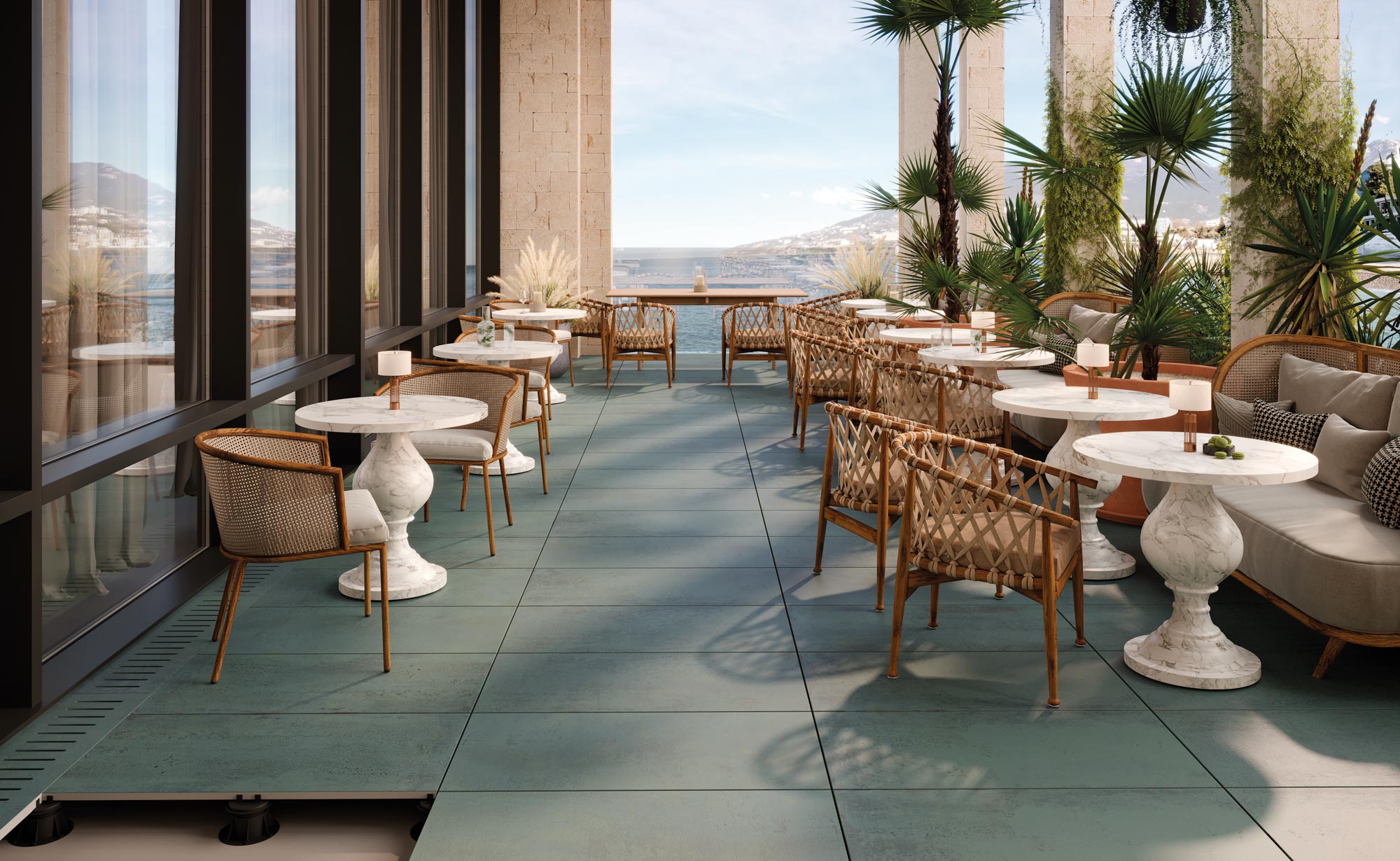 Metallic Collection
How to clean slip-resistant flooring?
First of all, you should bear in mind that slip-resistant outdoor floors are rougher. Therefore, they need specific care, as more dirt accumulates on them. It is therefore advisable to regularly remove leaves, dust and solid debris with a broom or blower. Another efficient option for cleaning this type of flooring is to apply high-pressure water, which will remove the most stubborn dirt.

In the event that stains have occurred, it is advisable to use a neutral detergent and avoid abrasive products that can damage both the tile and the grout joints. Finally, it is advisable to use microfibre mops, as they are more resistant and remove stains more effectively.

In short, porcelain stoneware has established itself as the most complete alternative in terms of non-slip outdoor flooring. If you are thinking of renovating the outdoor spaces of your home and you are looking for the right flooring, do not hesitate to contact our advisors.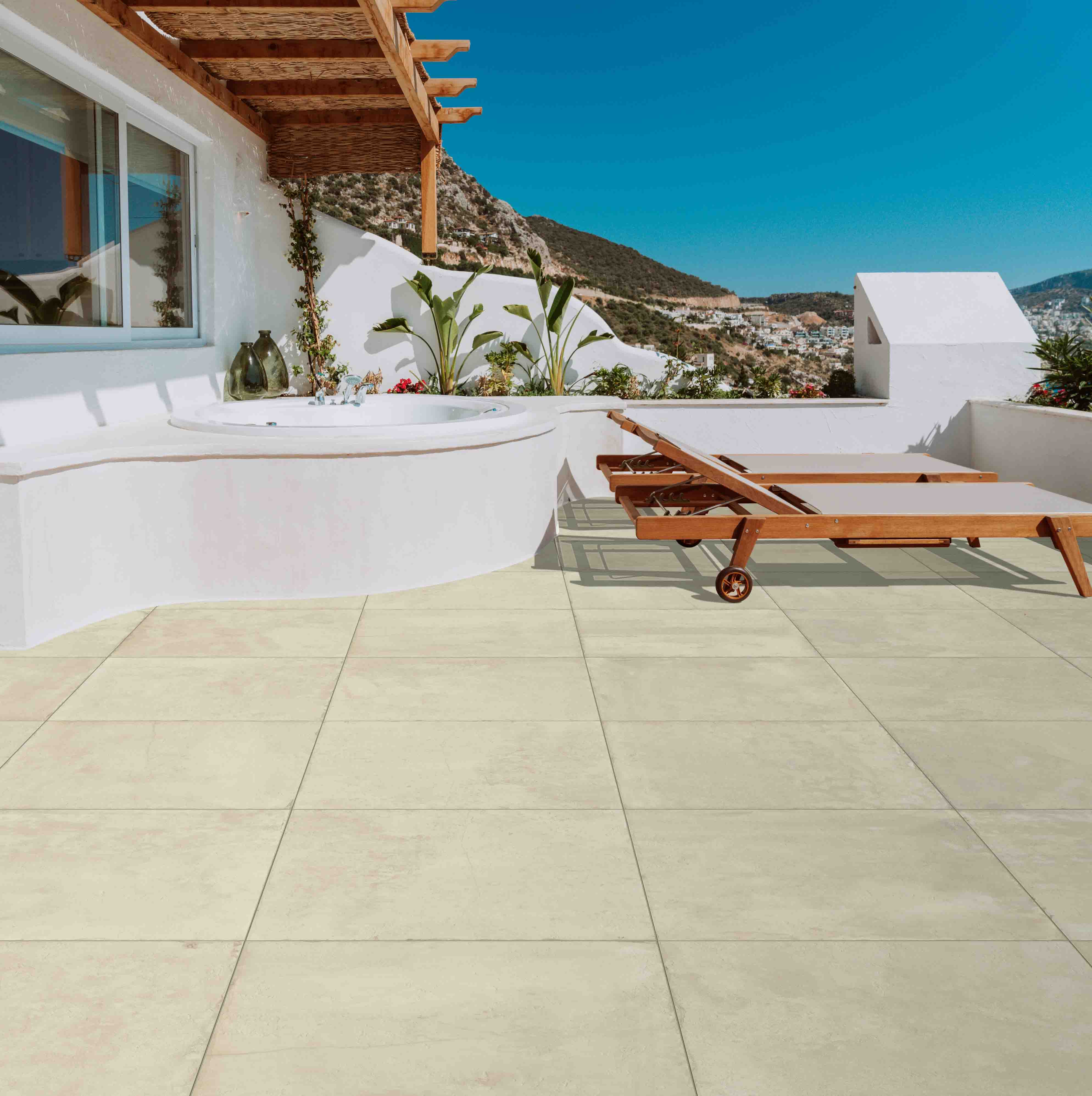 Terracota