At Aparici, we believe that every home has its own story, a narrative intertwined with design choices that make each space unique.
Miriam Alegría: More than an Influencer
Known online as @miriamalegria, she is a Spanish creator who has captivated her audience with a sincere and authentic approach to fashion, travel and lifestyle. But Miriam is much more, she began studying technical architecture, and although she left after a few years she found a great passion, interior design. Now she runs with her partner @calblancarural a "Rural Chic" style cave house in the Ricote Valley, Murcia.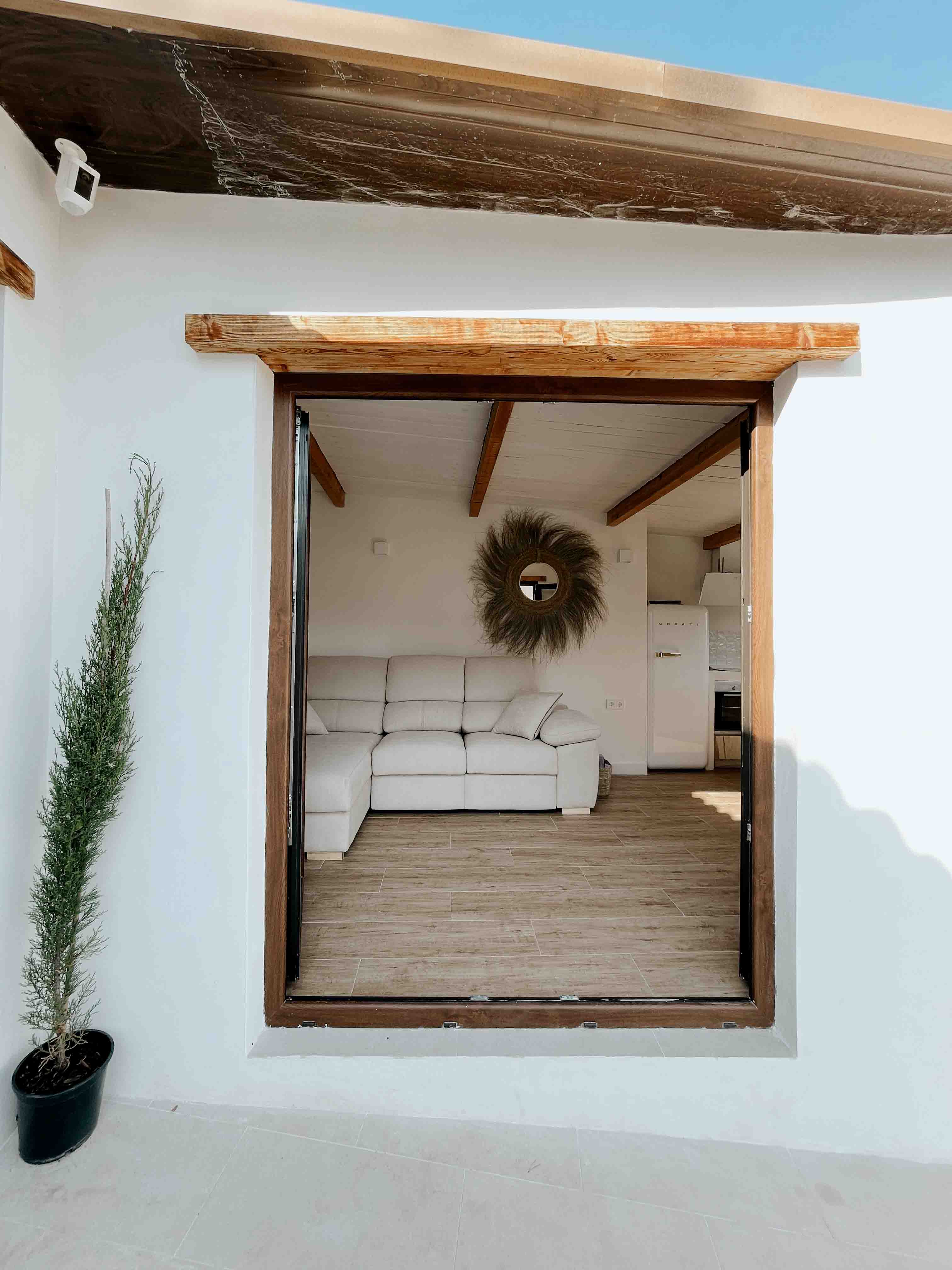 Renovation of the Cave House in Murcia
We delve into the renovation of Miriam Alegria's Casa Cueva in Murcia. We asked Miriam about the impact she hoped to make by choosing Aparici tiles for her home.
Question: We know that the Cave House in Murcia is a special place for you, how would you describe the overall ambience you wanted to achieve by renovating it with Aparici tiles?
Answer from Miriam Alegria: When we bought this house it was very neglected, we couldn't believe that this centuries old natural gem was not being looked after. We wanted to modernise the style and provide all the comfort that a holiday cottage deserves for tourism, but we had a challenge: not to lose the vintage essence and that rural touch that makes it unique.
We knew that the house had to have a wood effect floor, Branch Oak, which would bring warmth to our house, but we have two water areas, a small pool in the garden and a jacuzzi inside the cave. In addition, our cottage is rented to the public, so it was essential to find a high quality and very resistant floor. We started working hand in hand with the Aparici team and they recommended the floor that we have today, we are very happy! Even many customers and followers ask us about the floor because it is wonderful!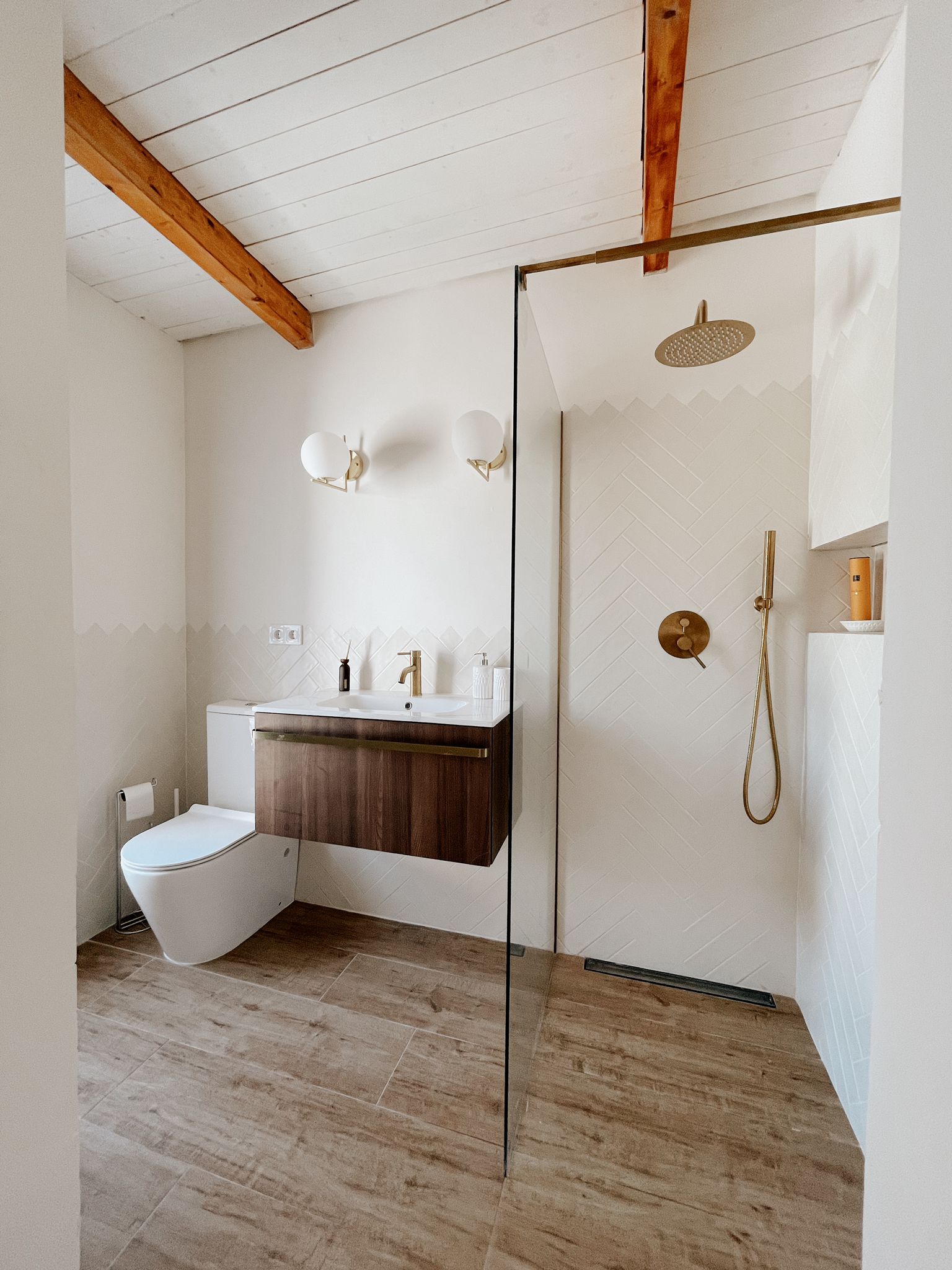 Question: Aparici tiles are known for their quality and versatility. Have you experienced any particular advantage in choosing these tiles for the Cave House?
Answer by Miriam Alegria: Definitely. Although we choose the visitors to our house very well, we know that nobody is going to pamper it as much as we do, that's why we were looking for a tile of the highest quality, and Aparici's is exceptional. For the bathroom we wanted to maintain the vintage aesthetic, creating a half herringbone tile wall. That is why we chose tiles from the Joliet collection in 7x30cm format. We chose them in nude white to provide light, as it is not a particularly large room. The installation was very easy even though it was herringbone, the quality of each piece made it very easy for us.
Question: In your experience, how have Aparici tiles influenced the functionality and daily enjoyment of your home?
Answer from Miriam Alegria: It makes your life easier! Imagine if they broke easily, or were not "clean", for us it was essential that our house was not only beautiful but also functional. We enjoy them every day, they are very easy to maintain and clean, a must for a holiday home! They add so much positively to the holiday experience.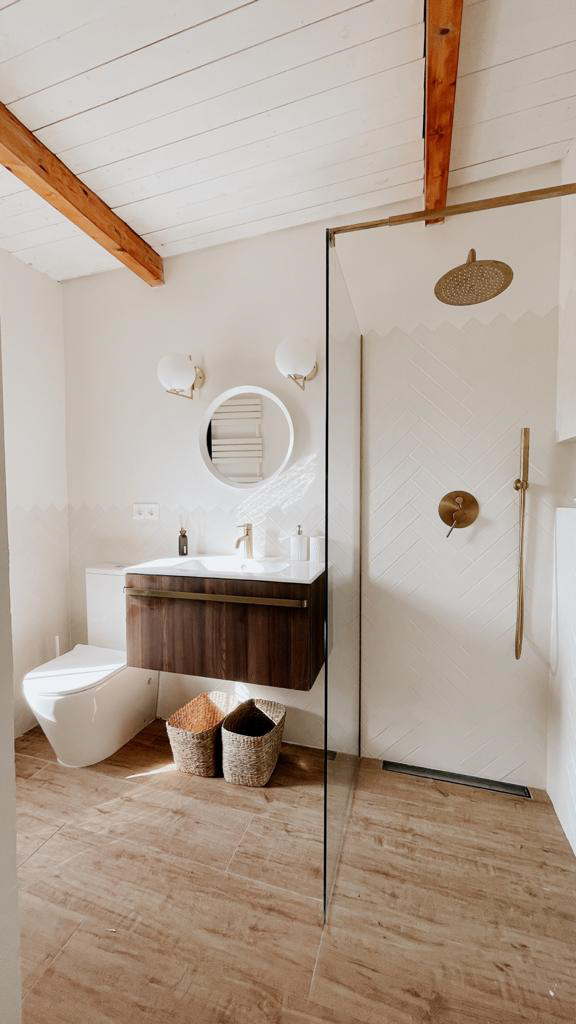 Question: Do you have any advice or suggestions for those who are considering renovating their spaces with Aparici tiles?
Answer from Miriam Alegria: First of all, don't skimp on these materials, they are the ones that will accompany you in your life project, and really, knowing that you have something of the highest quality you will avoid many future problems.
As a second piece of advice I would add that you should explore the different Aparici tile collections and take the time to find the ones that really suit your style and vision - it's a difficult task! because they have so much variety, and they are all ideal.
For me, everyone's home is a reflection of our soul, that's why I try to take care of it and use the best. Aparici and its materials will really make a difference in the daily living experience.
Question: How have Aparici tiles responded to exposure to water and humidity in a Cave House, where these conditions can be a challenge?
Miriam Alegria's answer: Superb! Aparici's Branch Oak wood effect porcelain floor has proven to be resistant to exposure to water and humidity, even in a Cave House. Our visitors and ourselves walk around with wet feet on a daily basis - it's as good as the first day! That's why we will always have Aparici in our homes, it gives us peace of mind in terms of durability.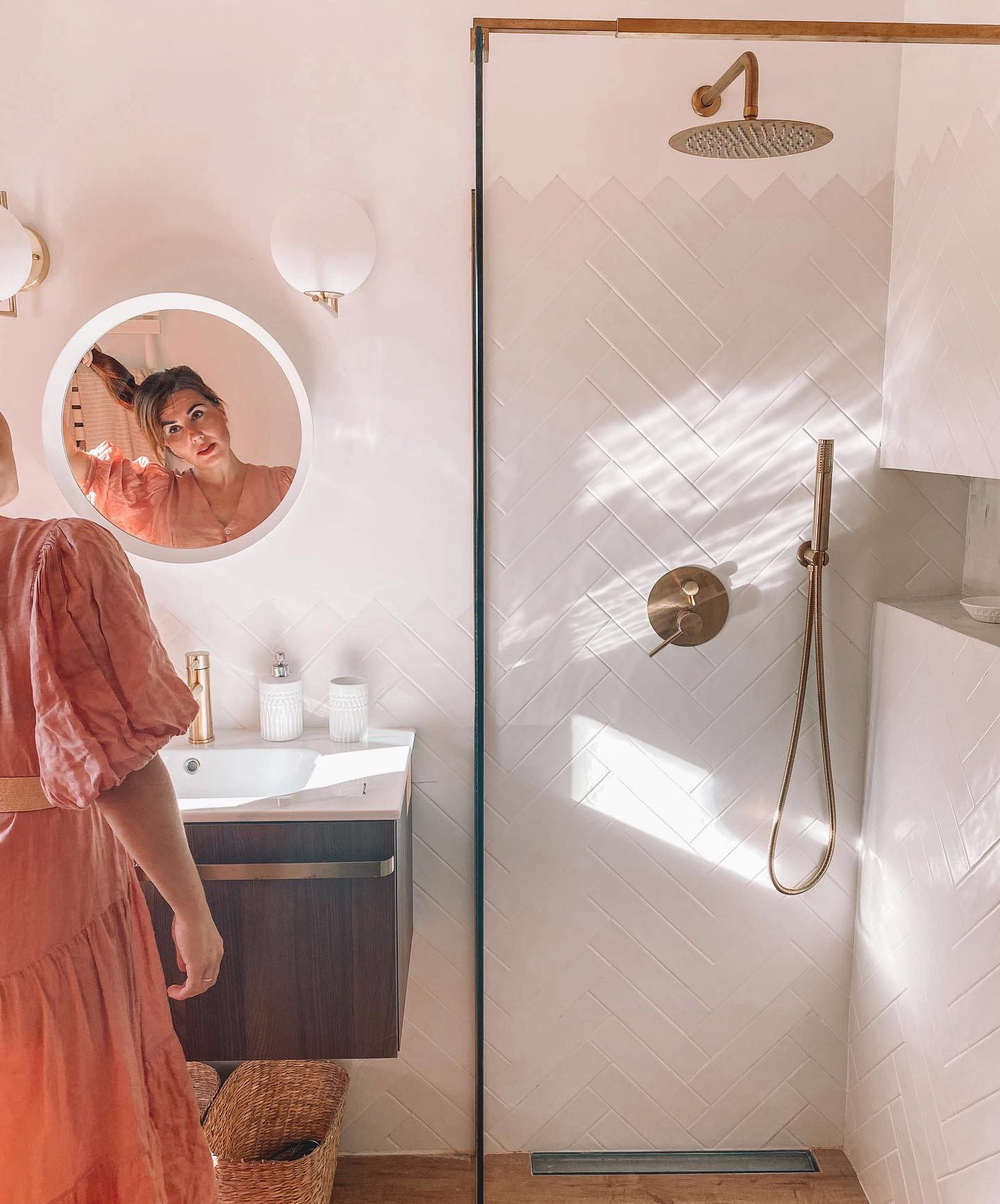 Question: After this experience, would you recommend Aparici tiles to others looking to renovate their homes?
Answer from Miriam Alegria: I would definitely recommend Aparici tiles to anyone looking to renovate their spaces. Their design and quality are brutal, and they have proven to be a choice that really transforms an environment, as we have experienced in @CalblancaRural, our cave house in Murcia.
Question: Do you have any future projects in mind where you would consider using Aparici tiles again?
Miriam Alegría's answer: Yes, we are restoring a family house in the orchard, also a hundred years old. It is a house full of meaning, belonging to my husband's grandparents. It is very special because it will be the house where we will increase our family and where we will live. As I said before, we want Cerámicas Aparici to be always with us, so we are already working with their design team to make it part of our home.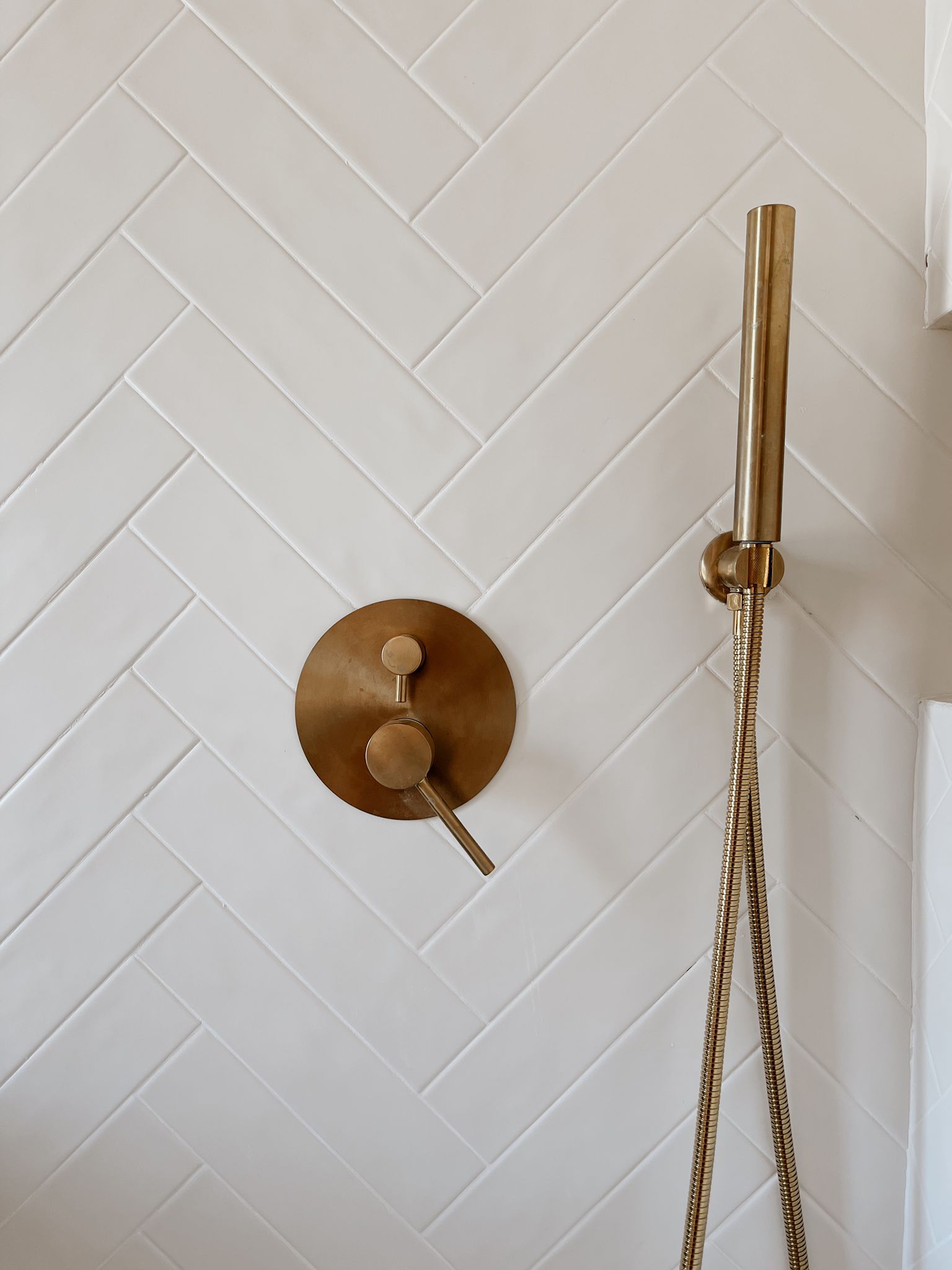 A Story of Personal Transformation
Miriam Alegria's Casa Cueva in Murcia is now a testament to how Aparici tiles have contributed to the creation of a home full of warmth, light and style. Each design choice has positively impacted her daily life and brought her holiday retreat to life.