Summer is here and at Aparici we know one thing for sure: whoever has a terrace has a treasure. Outdoor spaces are becoming increasingly important in a home and, fortunately, we can enhance their design and comfort regardless of their size.
That's what we want to talk about today, how to achieve a charming small terrace without the need to use a lot of elements.
With these tips you will create a cosy space where you can rest, relax, enjoy a light dinner or even receive friends and family. Less is more!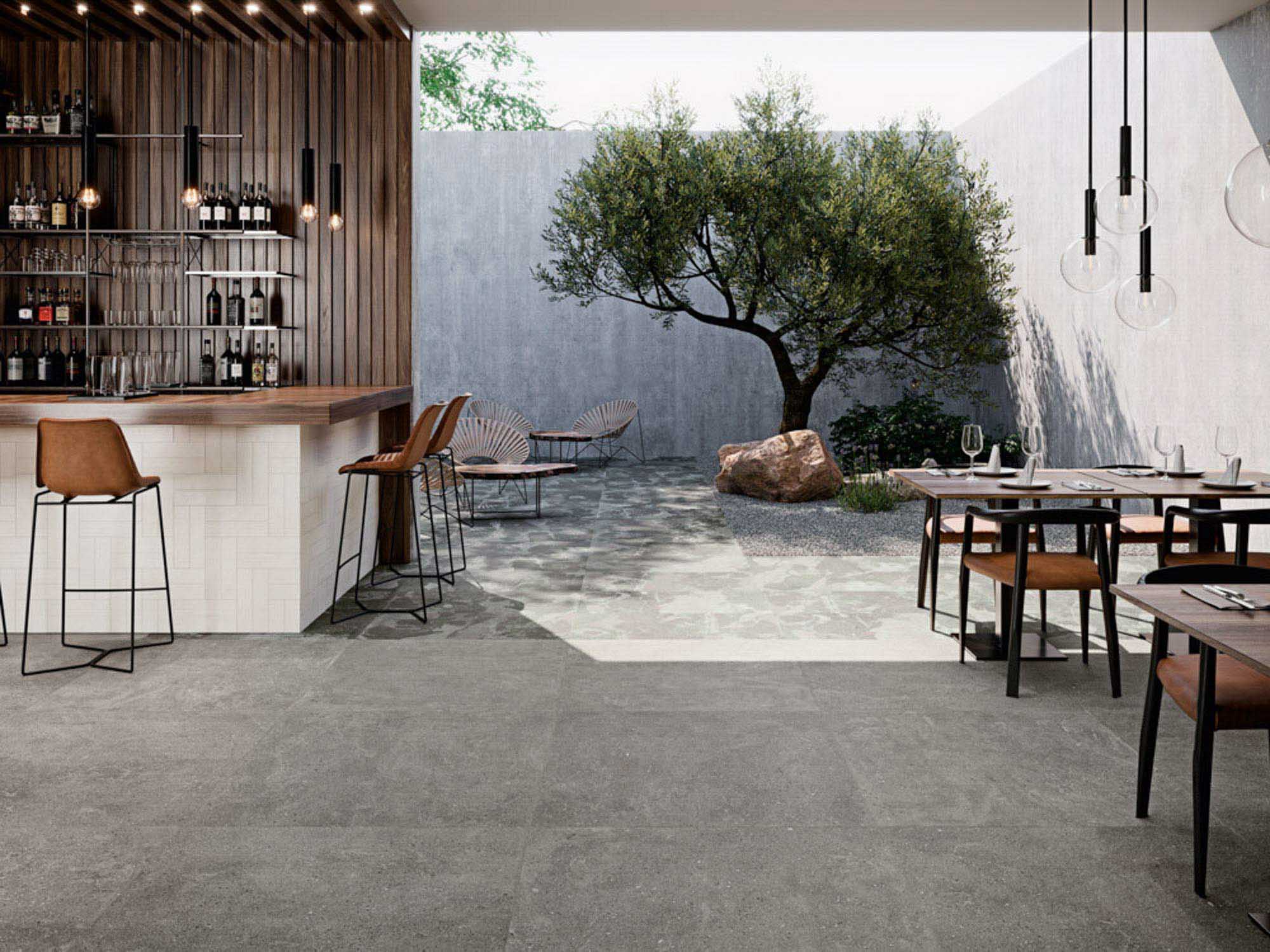 Lithops
The resurgence of urban terraces
The COVID-19 pandemic changed, in many ways, the way we live. Those months of confinement ended up turning terraces into a luxury within a home. Today, the feeling of freedom and disconnection they provide is still a highly coveted commodity.

Many people have realised that if they have a small terrace, they can turn it into a cosy, natural and charming space with little effort. All it takes is a little creativity and clever decorating tricks to make that outdoor space an oasis in urban life.

Corten
Ideas for decorating your terrace
The right decoration is the key to making the most of the space. First of all, we must think about what we are going to use the space for: to have breakfast, to read, to relax... Depending on the use, we can start decorating the terrace with the style that best suits our needs.
Turn your small terrace into a chill out area
Size is not an impediment for you to be able to enjoy your moment of relaxation. If you want to turn your terrace into a chill out area, all you need is a hammock or an armchair to create a relaxing space.
Add a small side table to place your favourite tea or drink on while you enjoy your moment of disconnection. Cushions and textiles will make the space even more comfortable and cosy.
Vertical garden or mini urban vegetable garden
A green and natural area will fill your terrace with life. To make the most of the space you can choose to install a vertical garden. The option on a wall with a wooden lattice is a good choice, because it will allow you to hang small pots from it.
If the size of the terrace allows it, you can even install a mini urban vegetable garden with aromatic plants or small vegetables. A set of pots grouped together or suspended from the ceiling are also your allies for decorating small terraces. They also help to improve and purify the air quality.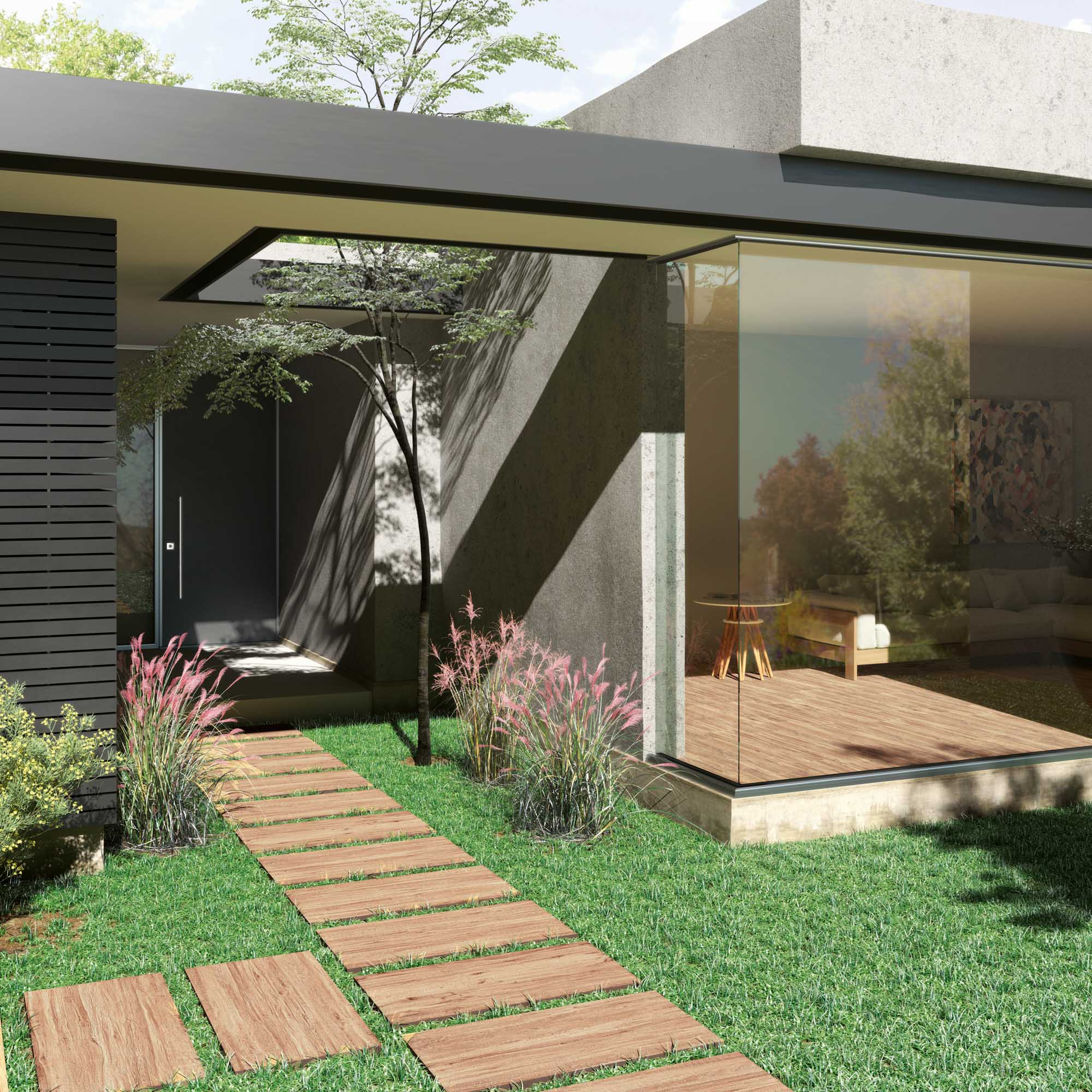 Camper
Barbecues or outdoor kitchens
Barbecues and small outdoor kitchens are a perfect tool for planning meals and dinners in our outdoor space. Nowadays there are many functional options for small terraces: gas barbecues, charcoal barbecues, compact barbecues, folding barbecues... you just have to choose the one that best suits your needs.
Lighting and shaded areas
Lighting is a key point in an outdoor space. A simple way to illuminate small terraces is to add some garlands. You can place them around the perimeter of the terrace and create a pleasant and relaxing space. There are different options, battery operated, plug-in or solar powered. You can also add candles or lanterns to give that special and personal touch to your charming terrace.
When you have a terrace, you want to make the most of it at any time of the year. Awnings are essential to enjoy your small outdoor area without giving up space. Depending on the size, you also have the option of small pergolas that will protect you from the sun, wind and rain so that you can use your terrace in any season.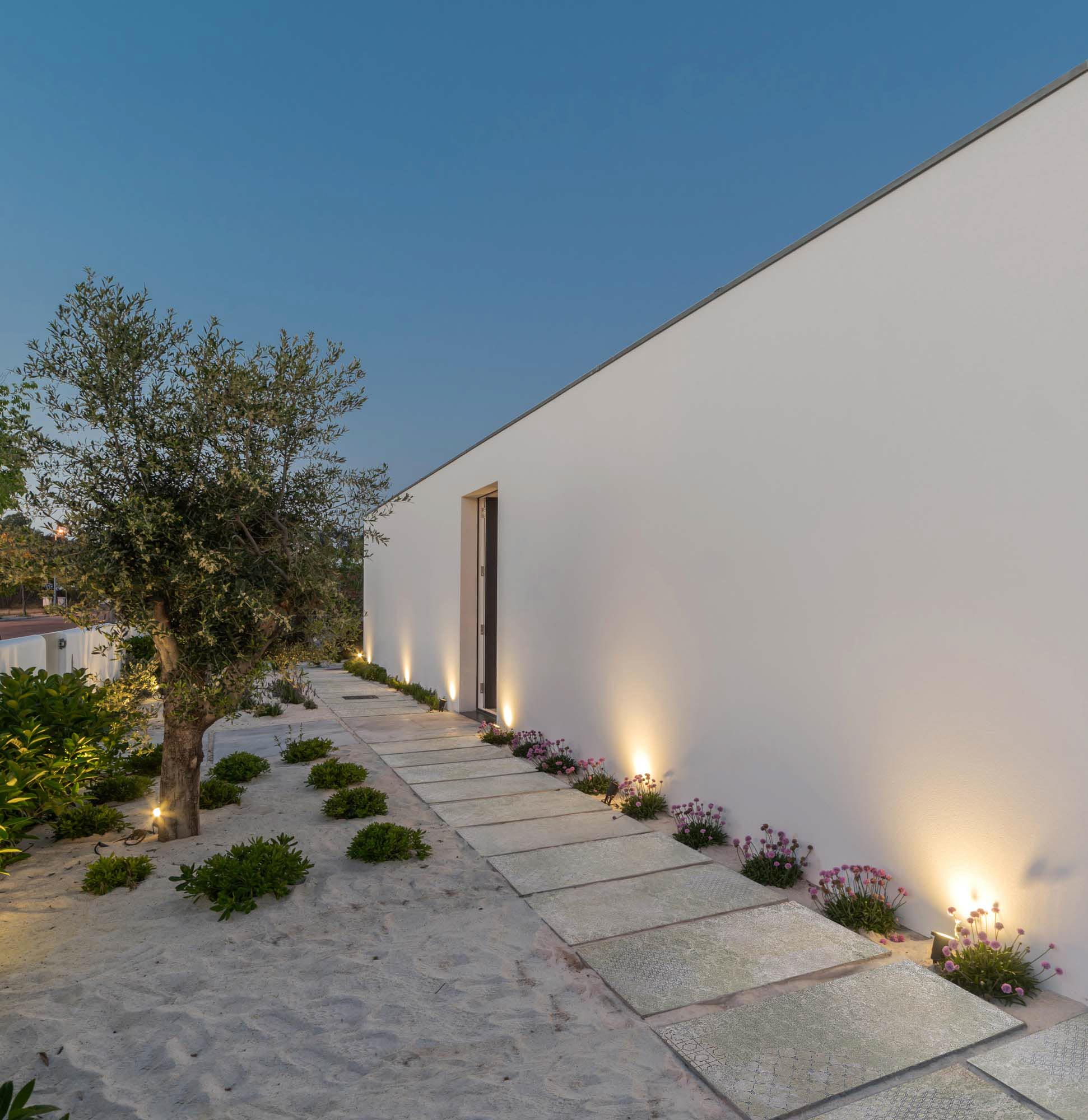 Bohemian
Types of flooring for an urban terrace
The flooring for outdoor terraces is a surface with a great impact on the overall aesthetics of the space. The first thing to bear in mind is that it is a space exposed to weather conditions (rain, sun, humidity...). Therefore, when choosing the flooring for the terrace, you must take into account the style as well as its technical characteristics and ease of maintenance.
Wooden floors
Wooden floors are one of the most commonly used in small terraces, as they stand out for their warmth and contribute to generating a much-appreciated feeling of comfort. They are also resistant to rain and humidity and easy to clean. However, it must be taken into account that in order to maintain the appearance of the wood as the first day it requires exhaustive care with specific products.
Artificial grass
In urban environments it is increasingly common to install artificial grass flooring on terraces. It provides a pleasant feel and a refreshing look, but has a number of disadvantages that need to be taken into account. It is a type of flooring that is difficult to keep clean and deteriorates easily, which means that it has to be replaced within a short period of time.
Porcelain terrace flooring
Porcelain tile is undoubtedly the most versatile flooring for an outdoor terrace. Its low maintenance and ease of cleaning are combined with other factors such as its variety of formats, colours and looks. This is why more and more people are choosing to install porcelain tiles on all types of terraces.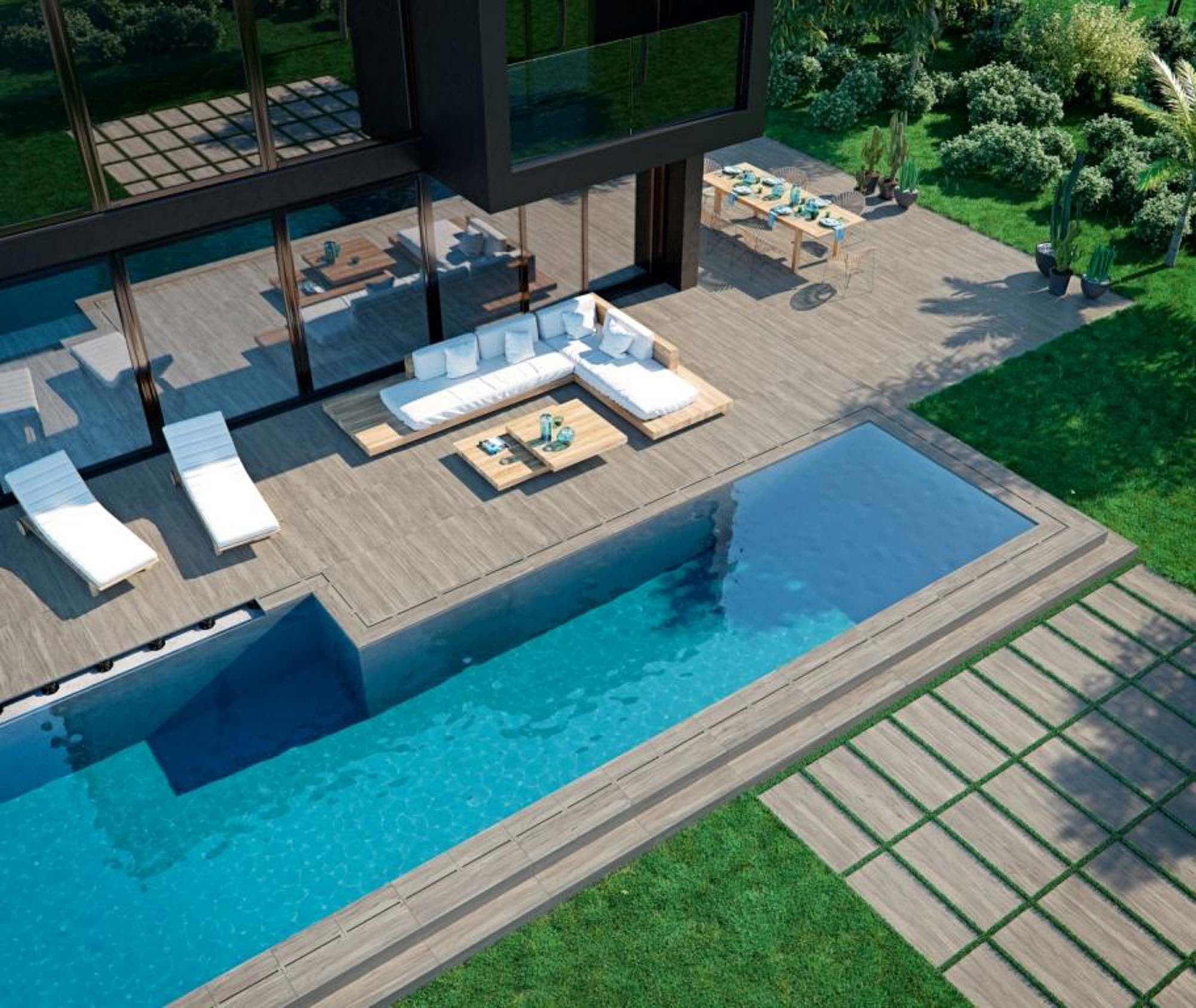 Camper
The best porcelain tiles for terraces
If we are talking about the best option for paving an urban terrace, the most recommendable is porcelain flooring, as it offers the most favourable technical characteristics. These include high resistance to extreme temperatures, both hot and cold, and to adverse weather conditions. If you decide to install a porcelain floor on your terrace, it is very important to opt for the non-slip finish, which offers the extra safety necessary in outdoor spaces.
Likewise, the wide variety of designs and aspects makes porcelain flooring adaptable to any outdoor terrace, regardless of the personality you want to give it. Here are some of the trendy looks for 2023.
Porcelain wood design
Wood-effect porcelain tiles successfully overcome any limitations that natural wood presents. This flooring evokes nature and allows us to achieve cosy and comfortable atmospheres, without renouncing the resistance and durability of this material.
Wood effect ceramic floors are a safe bet that will bring comfort to the smallest terraces. Thanks to the great advances in manufacturing, the aesthetic possibilities offered are multiple. The Aparici catalogue is an example of the chromatic range of wood design ceramic or porcelain floors, with shades ranging from the darkest and most natural browns to beiges, greys and even whites, such as Camper White with 2cm thickness.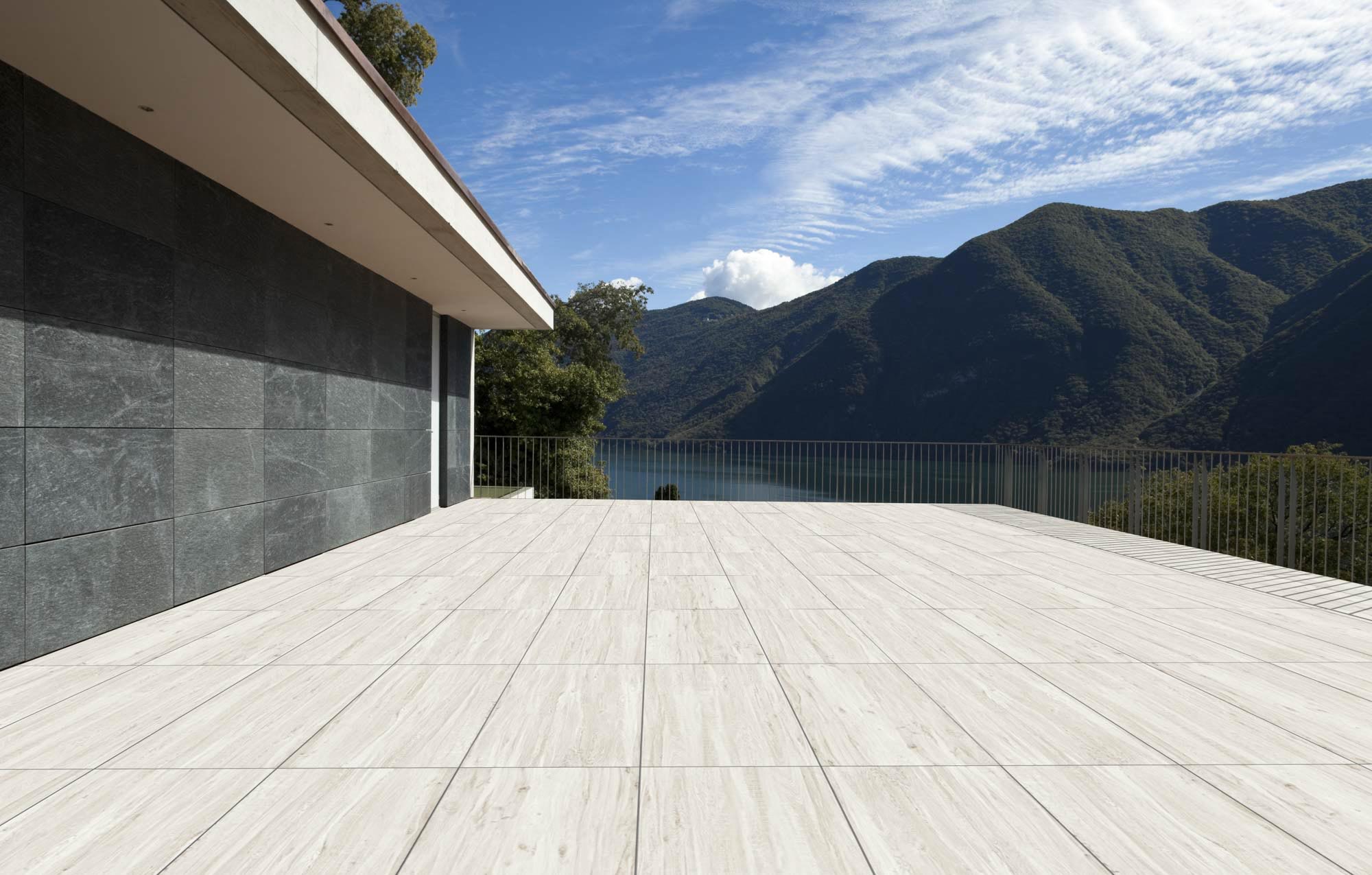 Camper White
Encaustic flooring for the terrace
Encaustic paving for your outdoor terrace completely transforms the space with originality and personality. It is the ideal option if you want to go for a vintage look without losing sight of the technical advantages offered by a material such as porcelain stoneware.
Among Aparici's hydraulic collections, Altea stands out, suitable for outdoor flooring. Its pieces update the most classic aesthetics thanks to the use of exotic and vibrant colours. In short, a safe bet for shaping a small terrace with unquestionable urban charm.
Renewing the rustic style with terracotta or textile effect tiles
Porcelain floors are also the best option if you are looking for a modern rustic style on your terrace. In this sense, tiles that imitate terracotta tiles stand out. Collections such as Cotto combine the artisanal appearance of hand-moulded terracotta with the latest technological advances.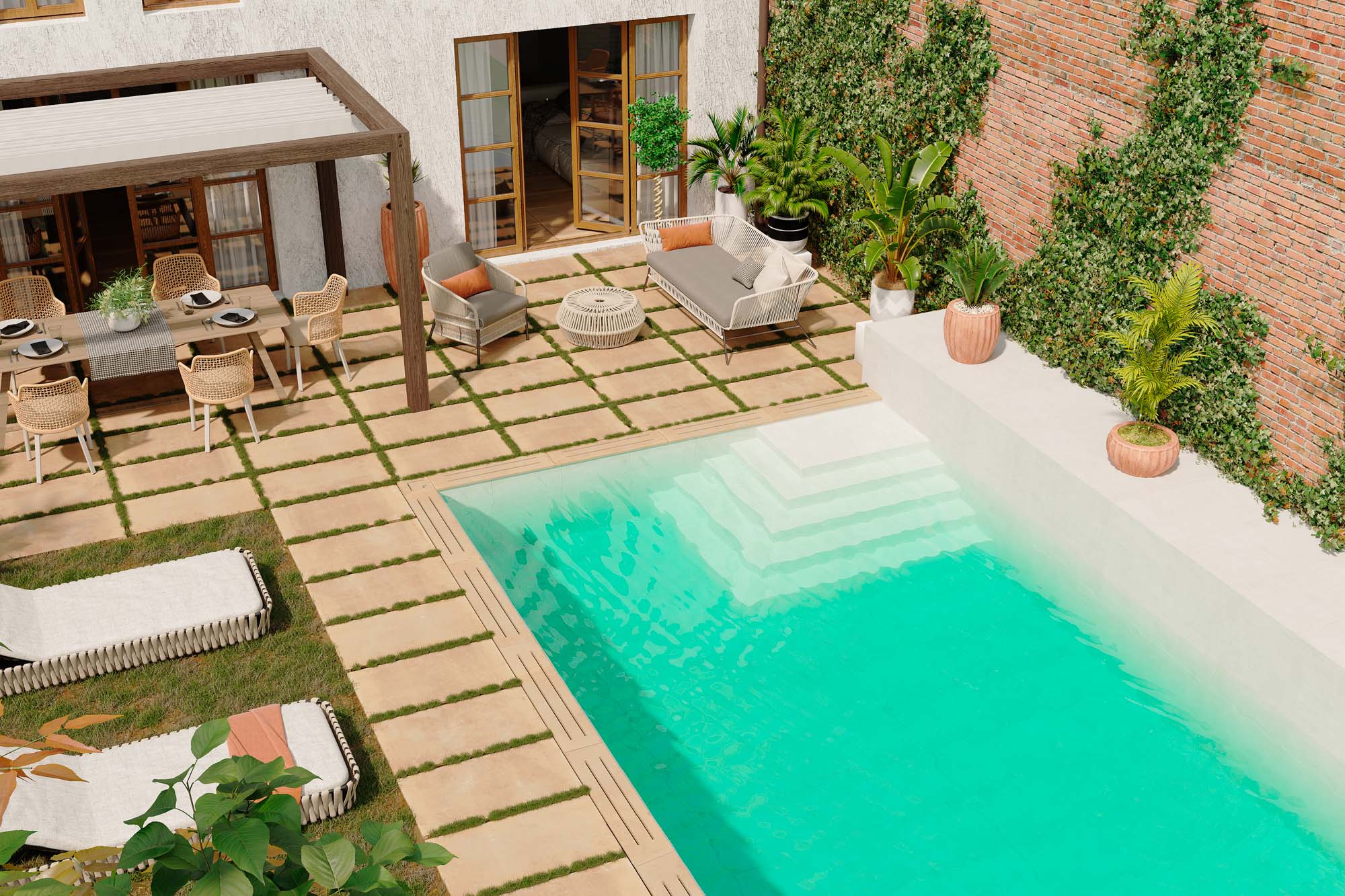 Cotto
Another popular option is to use textile-effect tiles, which stand out for their warmth and decorative power. Collections such as Carpet allow you to bring a homely feel to terraces and outdoor living spaces.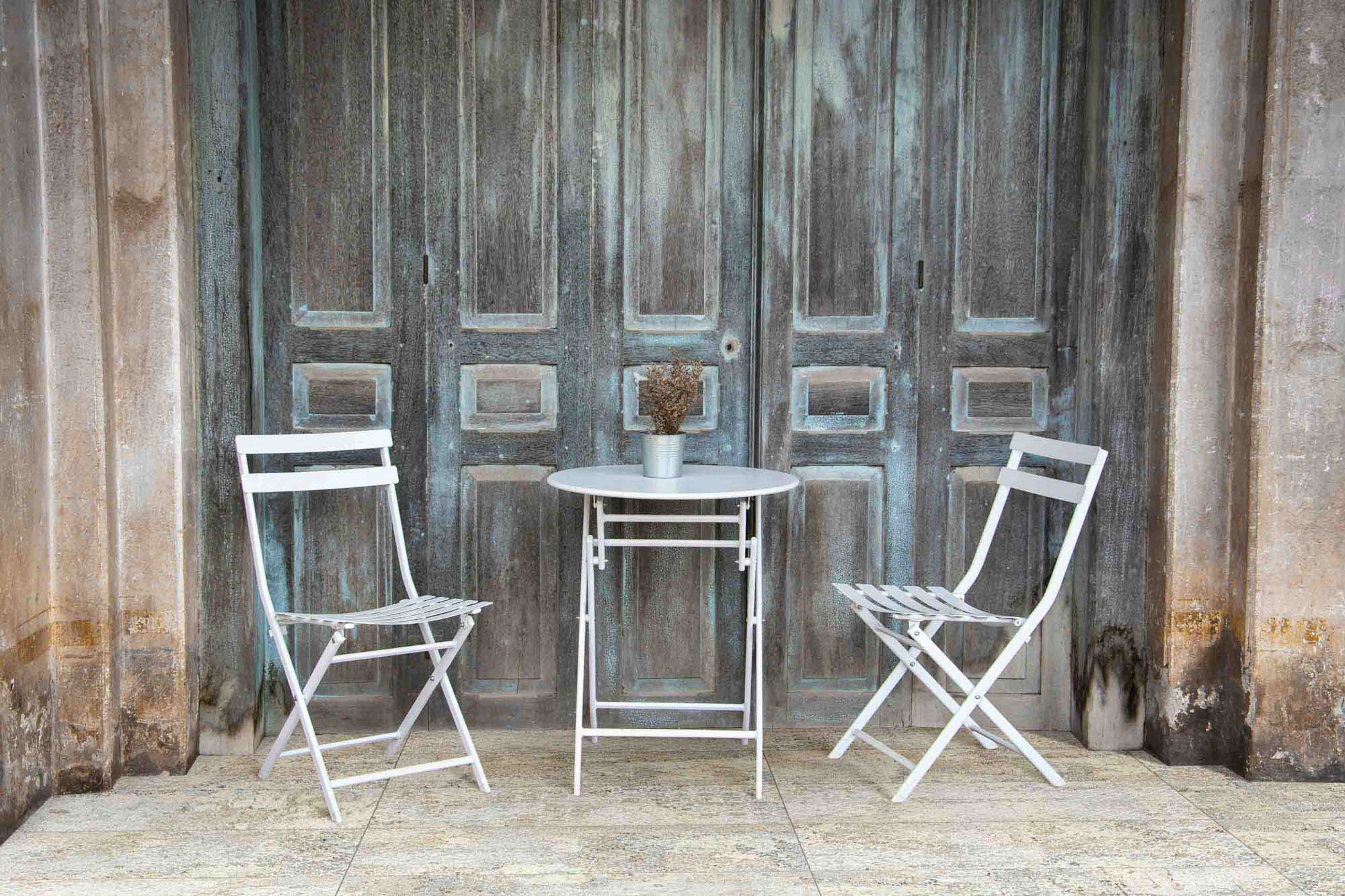 Carpet
As we have seen, shaping a small terrace that is as functional as it is charming is possible if you know how to choose the use we want to give it and select the right materials. If you have any doubts, Aparici will be happy to help you.