In the world of interior design and construction, innovation never stops. Every day, new ways are discovered to enhance the aesthetics and functionality of our spaces. Pre-cut porcelain tiles are a perfect example of how creativity and technology merge to provide us with surprising decorative solutions.
If you want to know exactly what pre-cut porcelain tiles are and how they can beautify your home,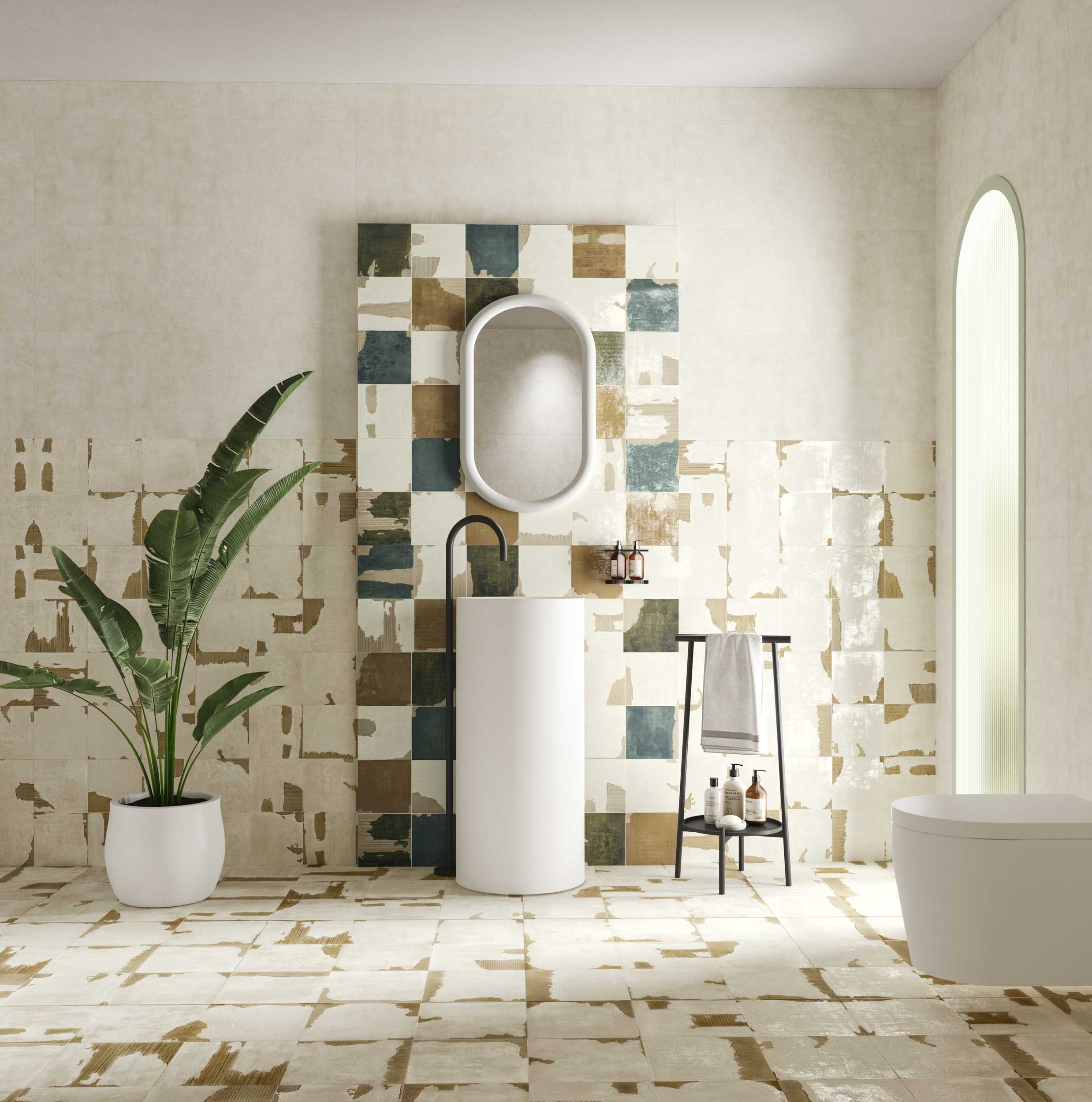 Carton
What are pre-cut porcelain tiles?
Pre-cut porcelain tiles are porcelain ceramic tiles with a technical design that incorporates precise cuts on their surface. At Aparici we have used this technique to design tiles in a wide variety of types and patterns, such as terrazzo effect, encaustic or concrete effect. In addition, it is important to note that all Aparici pre-cut tiles are available in a standard 60x60 cm format, with an internal pre-cut of 20x20 cm, which facilitates installation and offers multiple design options in a single product.
Concrete effect porcelain with pre-cutting
Concrete effect is another style that has gained popularity in modern interior design. Concrete effect pre-cut porcelain tiles mimic the texture and appearance of concrete, making them an interesting choice for industrial or contemporary spaces. These tiles bring a fresh, urban look that can transform your walls and floors.
Terrazzo style pre-cut tiles
The terrazzo effect is a trend that has made a strong comeback in interior design. Terrazzo pre-cut porcelain tiles capture the essence of this classic design, with their distinctive mix of marble and glass fragments. These tiles bring a touch of elegance and texture to your walls or floors, and can be a wonderful choice for a contemporary kitchen or living room.
We see this in the Terrazzo collection, an innovative proposal in the world of ceramics that encapsulates the essence of a classic material and brings high aesthetic versatility, sustainability, durability and the ability to add visual texture to spaces. This is thanks to its colours, design and, of course, its 60x60cm format with the visual effect of a 20x20cm piece thanks to its pre-cutting.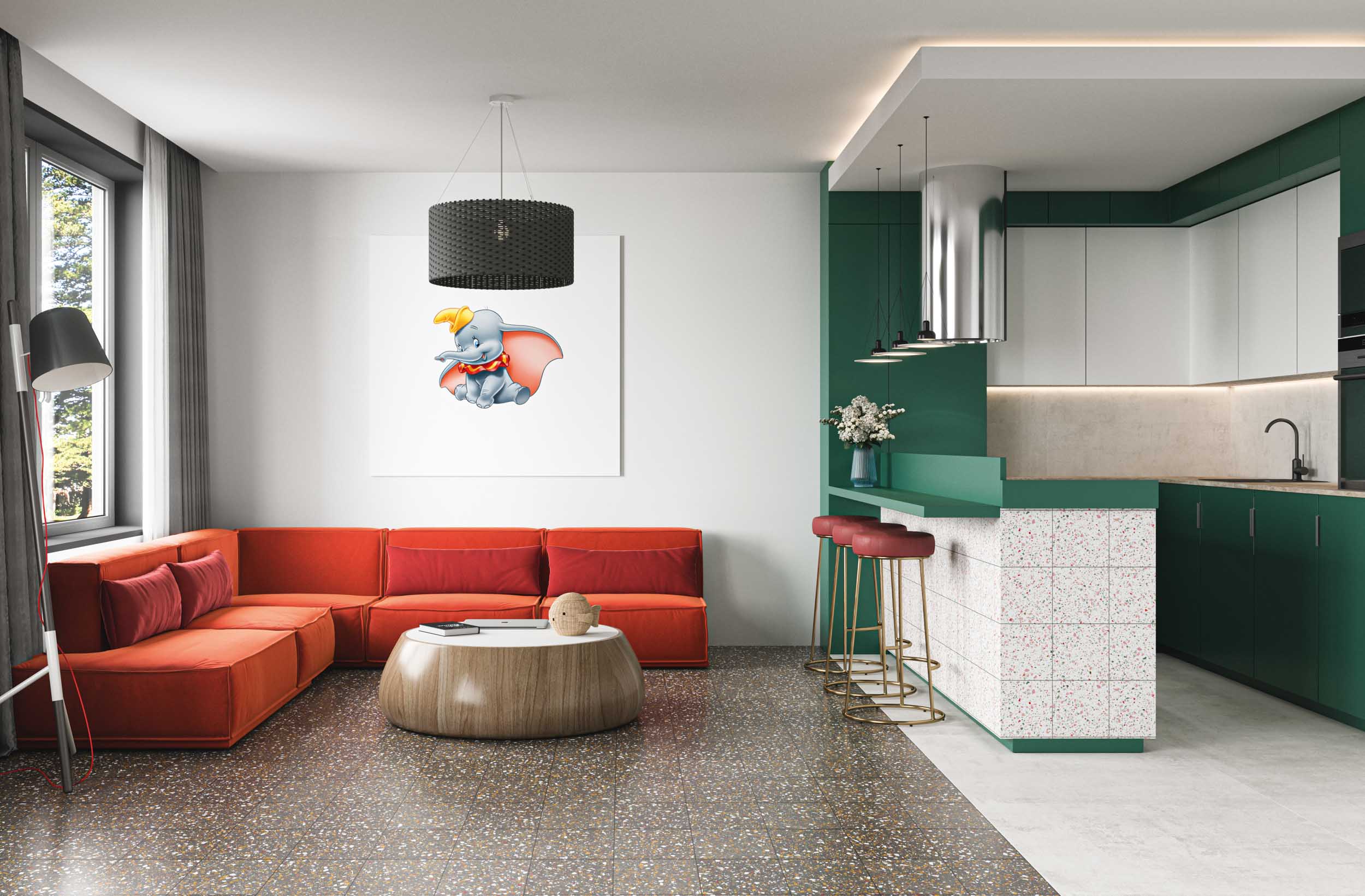 Terrazzo
Decorative tiles with pre-cut 20x20cm
Decorative style pre-cut porcelain tiles offer a wide range of designs to suit any taste. From bold geometric patterns to delicate floral motifs, these tiles allow for limitless customisation. The Altea collection, for example, is one of Aparici's
best known pre-cut collections for its colourful and fun decorative patterns, in five different designs, plus its various pre-cut bases. Collections such as Bondi, Sao Luis, Tawriq or Alhambra are good examples of decorative pre-cut tiles that you can discover in our catalogues with a high decorative capacity.
Pre-cut encaustic tiles
Encaustic tiles are known for their rich history and aesthetic appeal. Encaustic style pre-cut porcelain tiles capture the essence of these traditional tiles. Their intricate patterns and vibrant colours add a touch of nostalgia to any space, making them ideal for vintage or bohemian style decors.
In this case, Vienna and its nine tile designs in 60x60cm with 20x20cm pre-cut would be the best example of a encaustic tile with this effect. It is a series whose decorative patterns truly represent the touch of "Gründerzeit" architecture and Art Nouveau.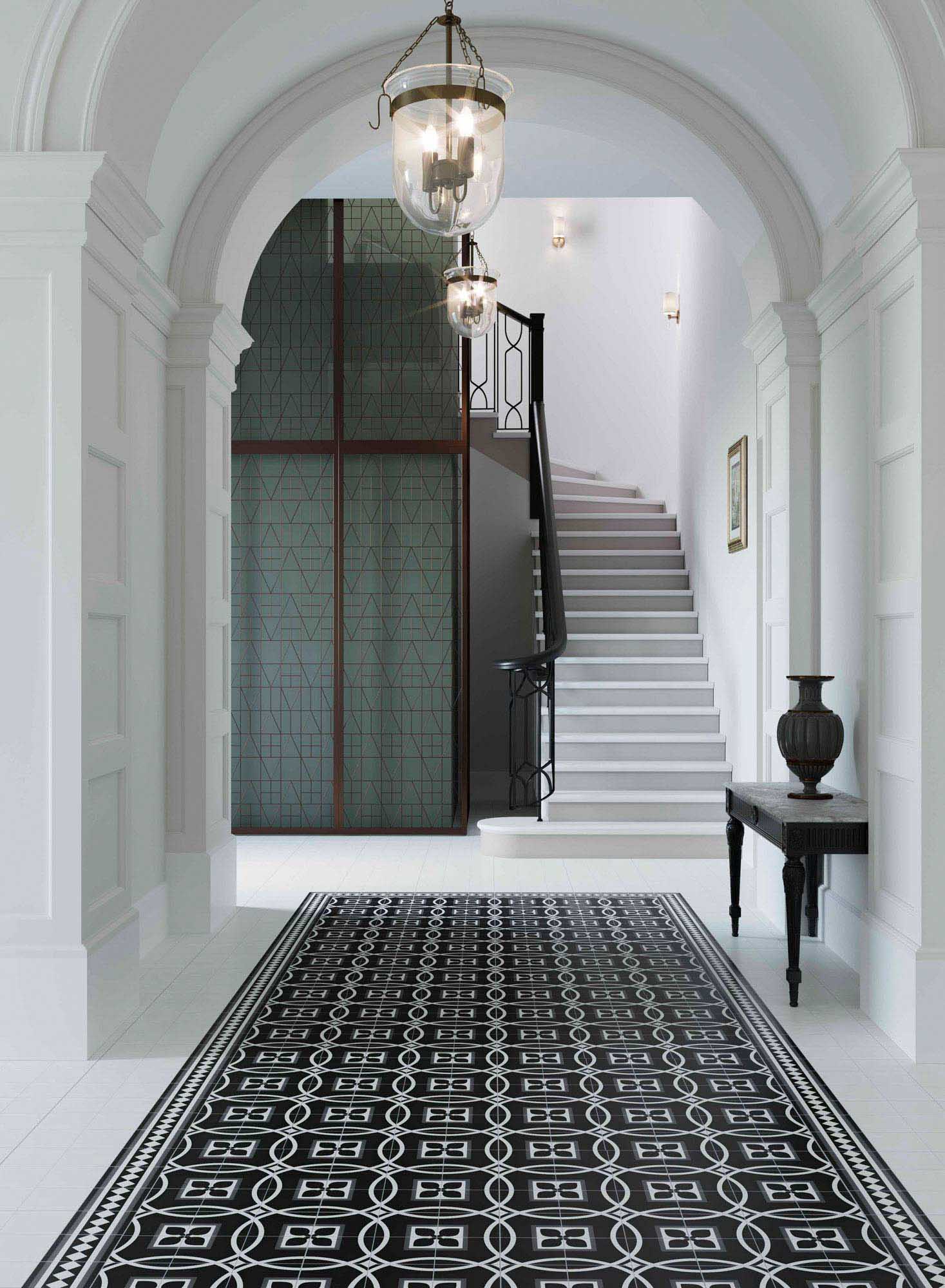 Vienna
White pre-cut tiles: always on-trend
The simplicity and elegance of white tiles are timeless. White pre-cut porcelain tiles offer a blank canvas for your creativity. You can combine them with other colours and decorative elements to achieve any style you desire, from minimalist to rustic.
Terracotta effect pre-cut tiles: warm rusticity
If you are looking to add a touch of warmth and rusticity to your spaces, terracotta effect pre-cut tiles are the perfect choice. These clay effect pre-cut porcelain tiles capture the essence of terra cotta and add warmth to any environment. Aparici's Terracotta collection features a unique selection of designs that will transport you to a Mediterranean atmosphere. Its pre-cut tiles, in 60x60 cm format with an internal pre-cut of 20x20 cm, make installation simple and versatile. From kitchens to terraces, Aparici's Terracota collection offers a wide range of options.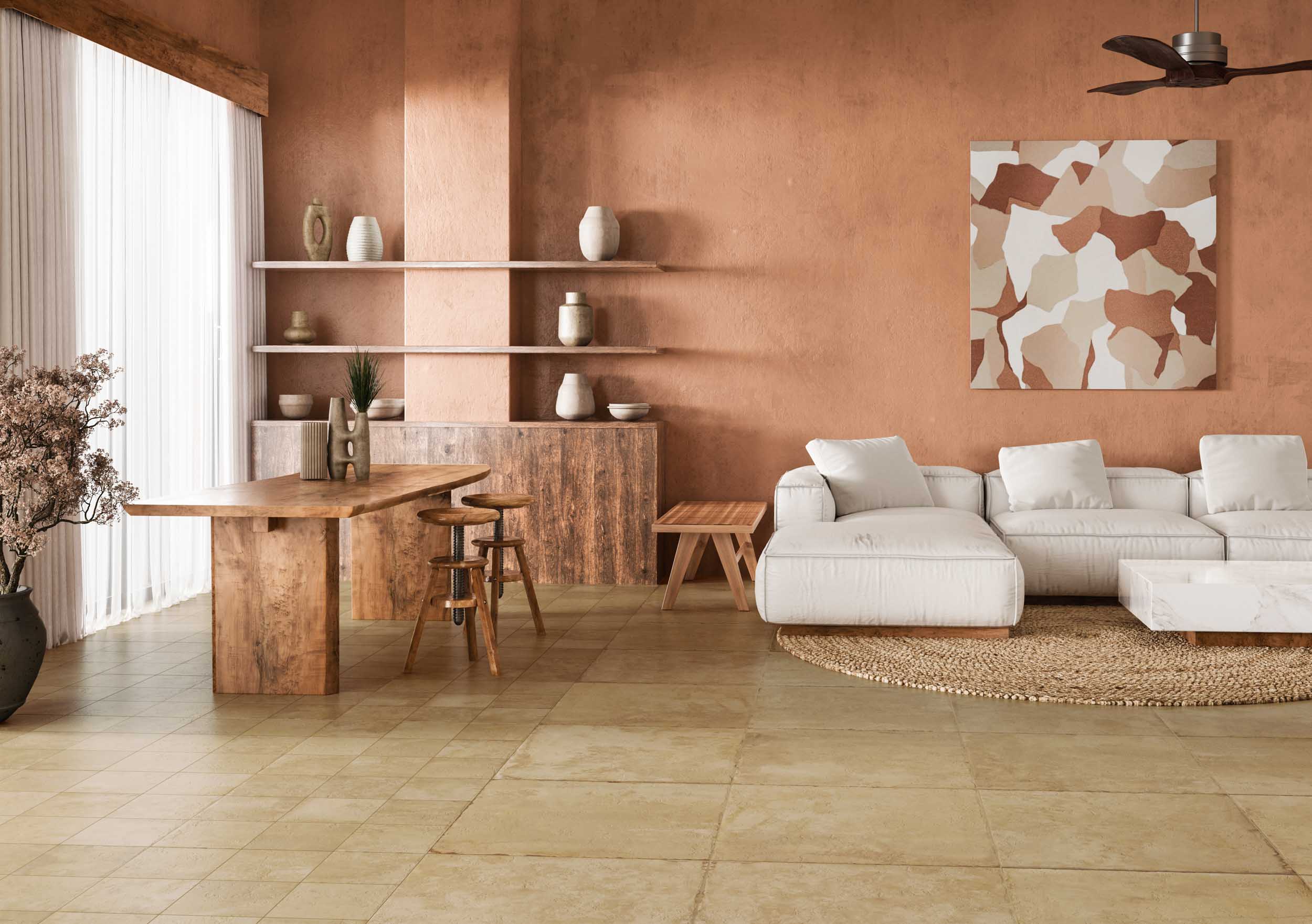 Terracota
Decorative advantages of porcelain tiles with pre-cutting
Pre-cut porcelain tiles offer several decorative advantages. Firstly, their pre-defined design allows for easier and faster installation, which can save time and money on your project. In addition, their wide variety of decorative styles gives you the freedom to explore your aesthetic preferences without limits.
Trend in pre-cut porcelain tiles
The trend for pre-cut porcelain tiles continues to grow. More and more designers and homeowners are choosing this option for their renovation and construction projects. The versatility and aesthetic appeal of these tiles make them a smart choice for those looking to create unique and visually striking spaces.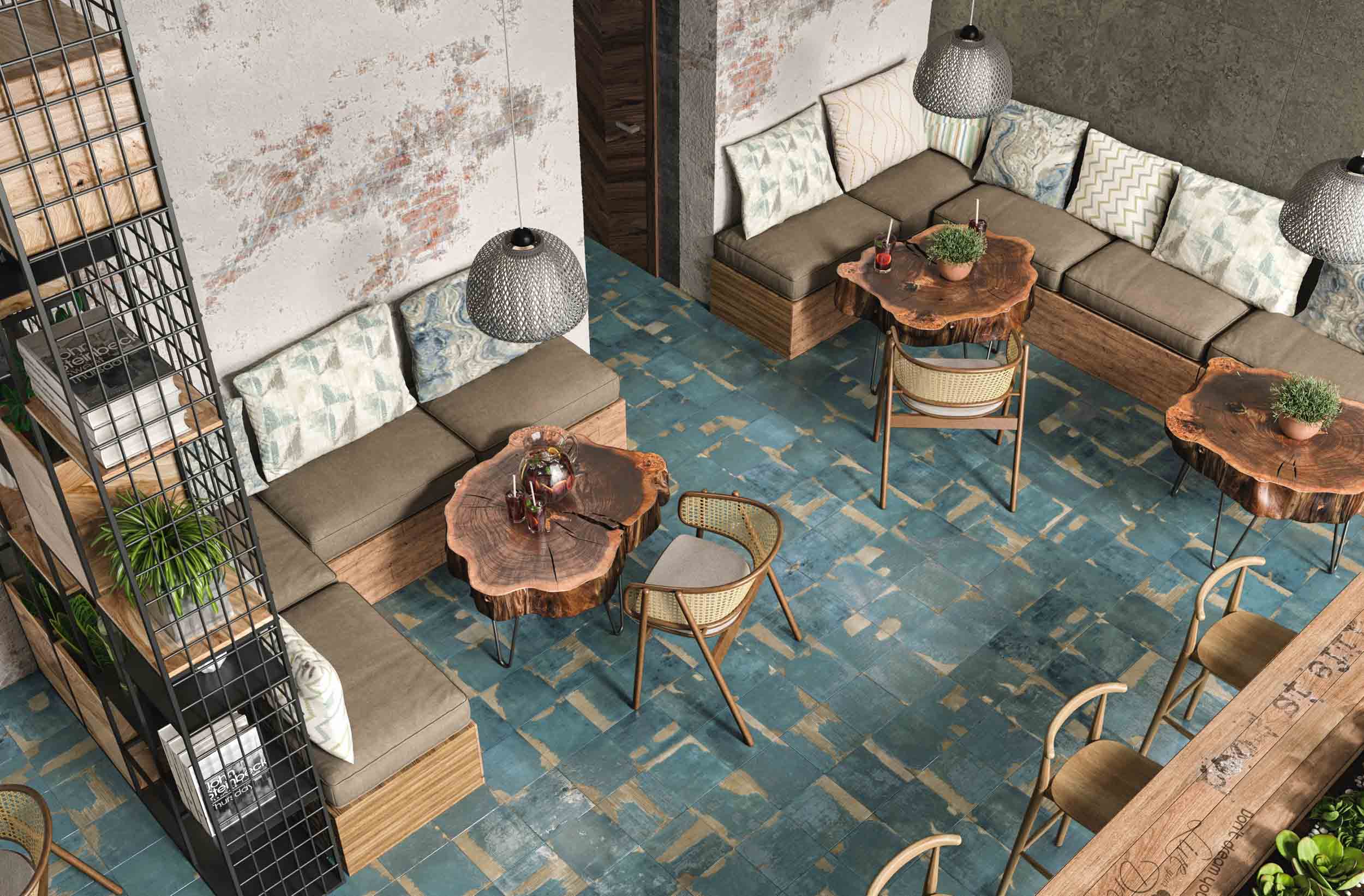 Carton
How to use pre-cut porcelain tiles in your project
Now that you are familiar with the various decorative styles of pre-cut porcelain tiles, it is important to know how to integrate them into your interior design or construction project. Here are a few suggestions:
Cosy living rooms
Concrete-effect tiles are perfect for living rooms. They give an industrial and modern look. Combine with leather and wood furniture to create a warm and cosy feel.
Stylish kitchens
If you're designing a kitchen, pre-cut porcelain tiles in a terrazzo style can add a touch of sophistication. Combine these tiles with modern worktops and furniture for a contemporary look.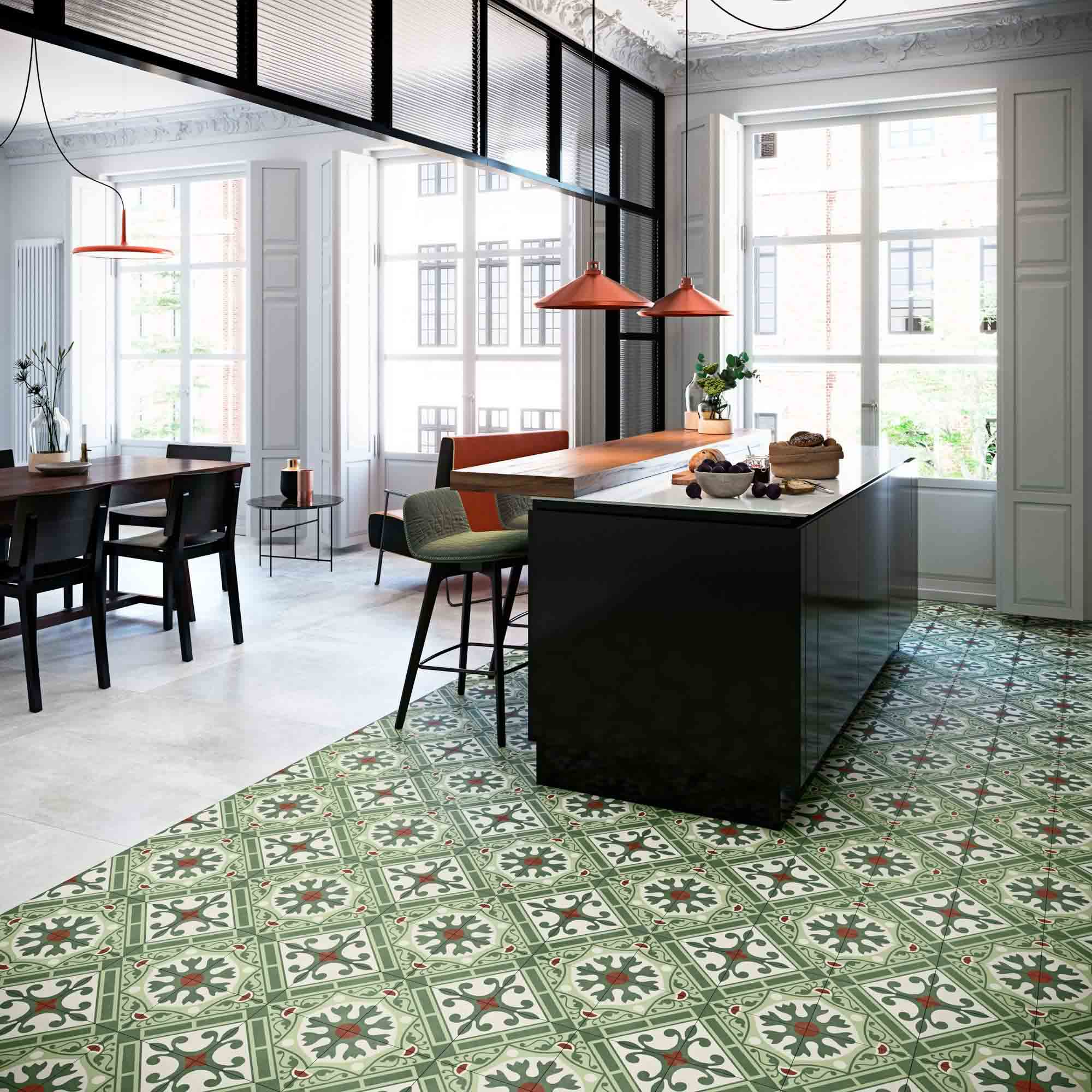 Altea
Elegant bathrooms
Porcelain tiles with pre-cut tiles in encaustic style are ideal for bathrooms. They add a vintage and artistic touch, creating a unique ambience. Complement with accessories in gold or silver tones.
Bedrooms with personal style
If you're looking for a versatile option for bedrooms, white pre-cut tiles are a smart choice. You can decorate your bedroom according to your personal style and easily change it over time.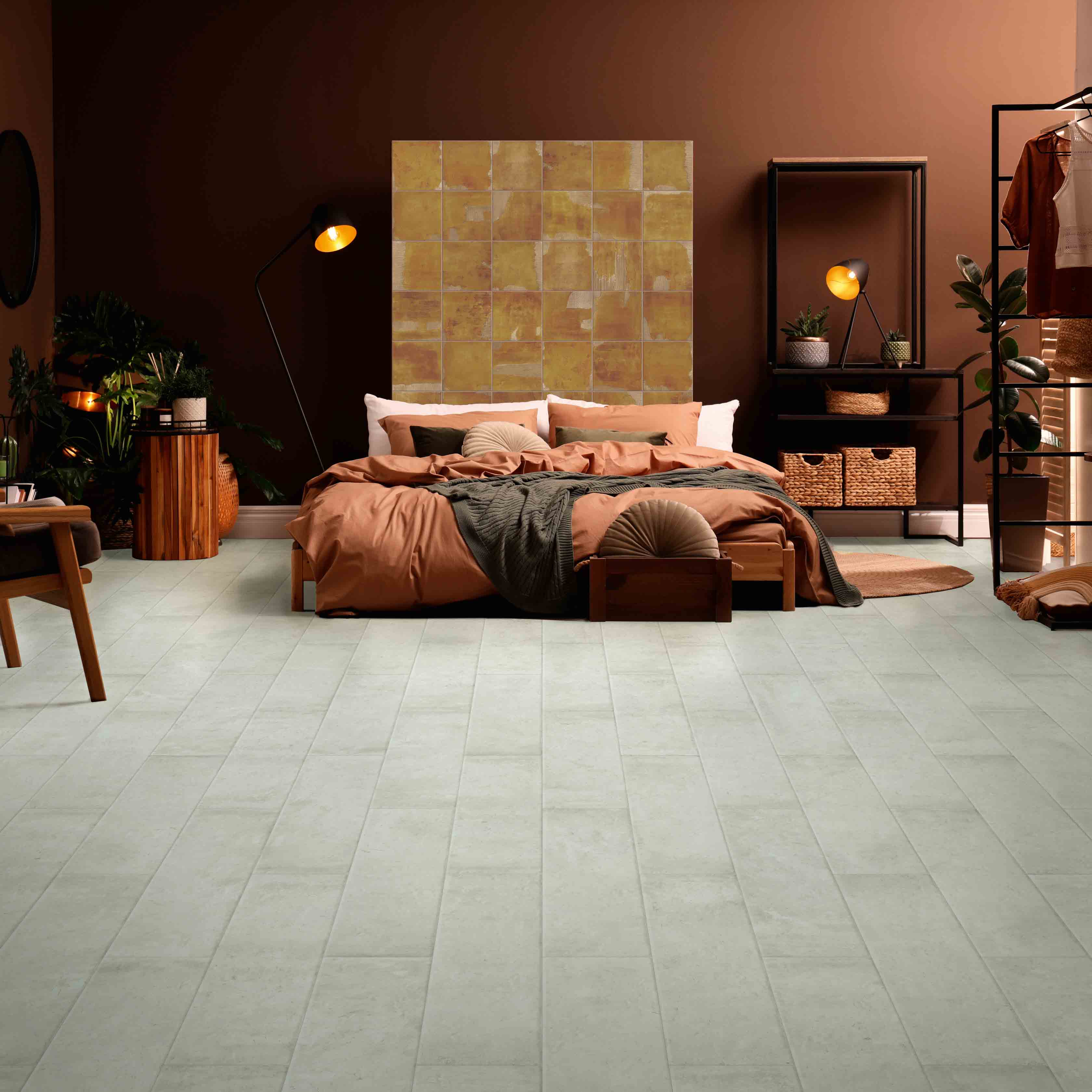 Carton
Tips for grouting pre-cut porcelain tiles
When you decide to use pre-cut porcelain tiles in your project, don't forget the grouting process. Here are some simple tips to ensure that everything goes smoothly:
1. Choose the right grout
Do not use cement to bond pre-cut tiles. Cement does not bond well because of the shape of the cuts. Instead, use an epoxy resin-based grout in water, especially if the tiles are in wet areas.
2. Recommended options
We suggest two grout options:
Kerakoll Fugalite grout: Although it can be a little tricky to use, this type of grout gives a strong bond, is stain resistant, waterproof and repels bacteria. Just remember to dry it well and wipe it off with water when you're done.
Kerakoll Fugabella Color grout (resin and cement): This option is easier to handle, but is only suitable for dry, not wet areas.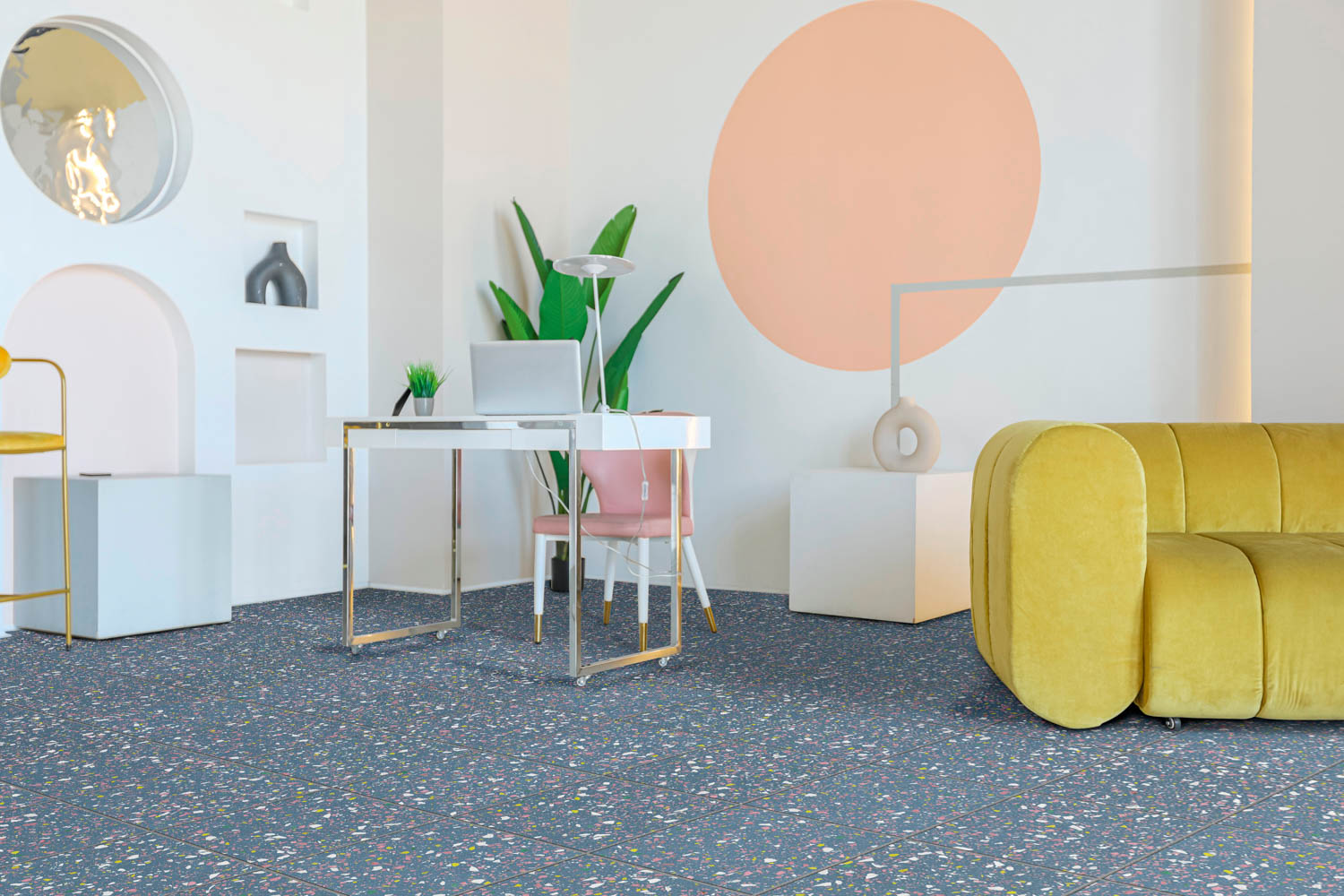 Terrazzo
Tips for grouting:
Cleaning and Drying: Before applying the grout, make sure that the cuts or pre-cuts are completely clean and dry. If dust or dirt is present, the grout will not adhere properly. Make sure the pre-cut space is thoroughly dry before grouting.
Correct Mixing: When mixing the water with the grout, make sure the mixture is not too runny. It should be thick enough to adhere well to the cuts and joint, not too runny.
Drying Time: Allow the grout to dry thoroughly in the cuts before wiping it off. Then clean with water and a sponge.
Grout Remnants: If grout remains on the surface of the tiles, use a grout cleaner to clean them completely.
Product Instructions: Follow the instructions for the product you are using. Generally, the application of Fugabella grout is similar to Fugalite, but the drying time of Fugalite is shorter.
Final Drying Time: It is important to allow the product to dry for several hours after application. You can wipe it off with a soft sponge and water if you wish to remove excess grout. Full grout strength is achieved in approximately 24 to 48 hours, depending on environmental conditions.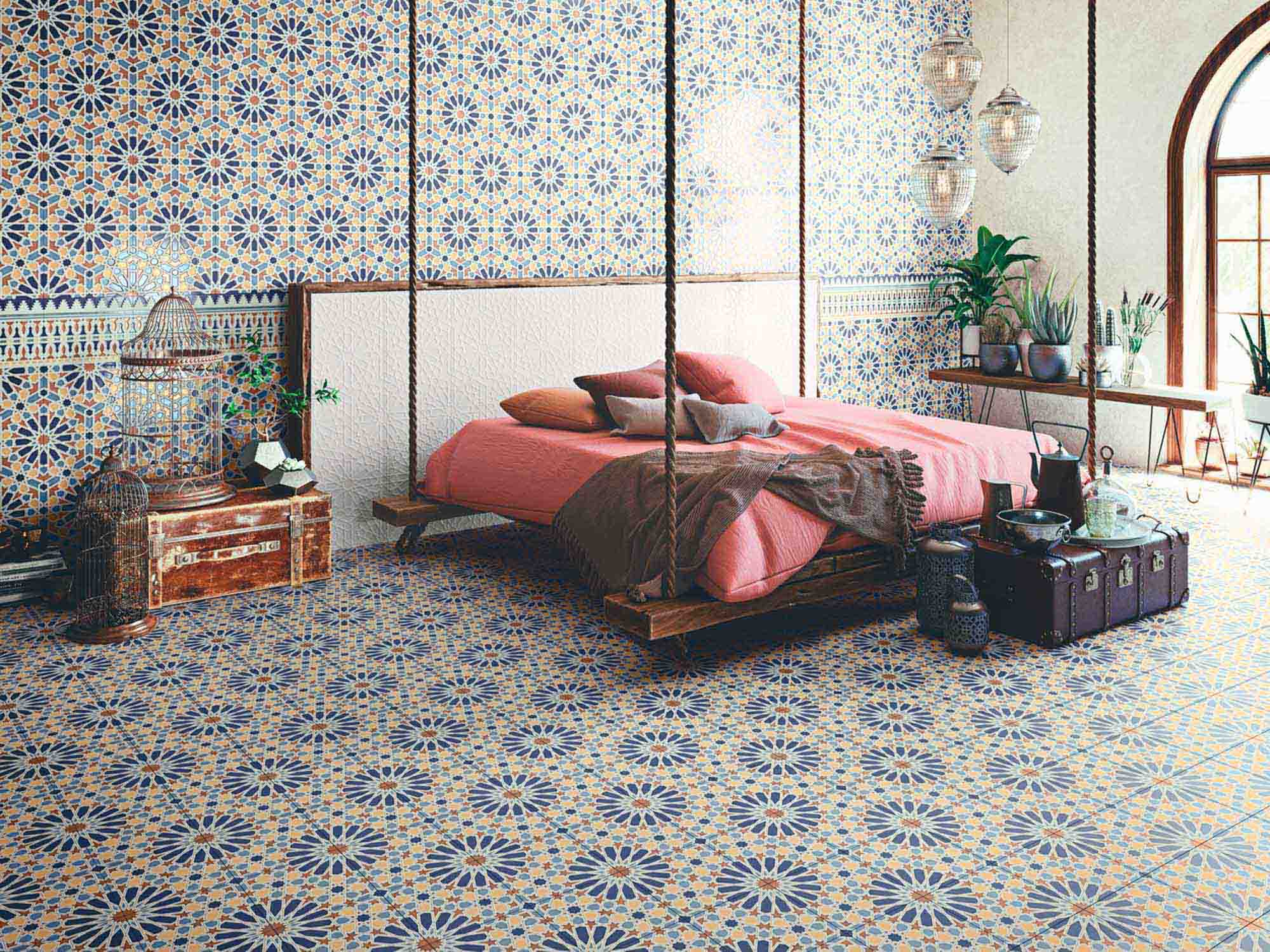 Alhambra
In short, pre-cut porcelain tiles are an exciting option in the world of interior design and construction. Their wide range of decorative styles, such as terrazzo effect, decorative, encaustic, white and concrete effect, allows for exceptional customisation. In addition, their ease of installation and growing trendiness make them irresistible to those who wish to transform their spaces.
If you are wondering how to improve the aesthetics of your home or project, don't hesitate to consider pre-cut porcelain tiles. Their beauty and versatility will give you endless possibilities for creating the space of your dreams.
With these tips and examples of decorative styles, you're ready to explore the world of pre-cut porcelain tiles and transform your spaces in stunning ways. Bring your creativity to life and begin your journey to a more beautiful and functional home!