Choosing tiles for white kitchens is key to achieving a unique and personal design, as the versatility of this colour allows us to create an elegant and original space. Do you want to achieve an ideal space where you will spend hours cooking and enjoying exquisite dishes? In this article, we will give you ideas on how to combine tiles for modern white kitchens.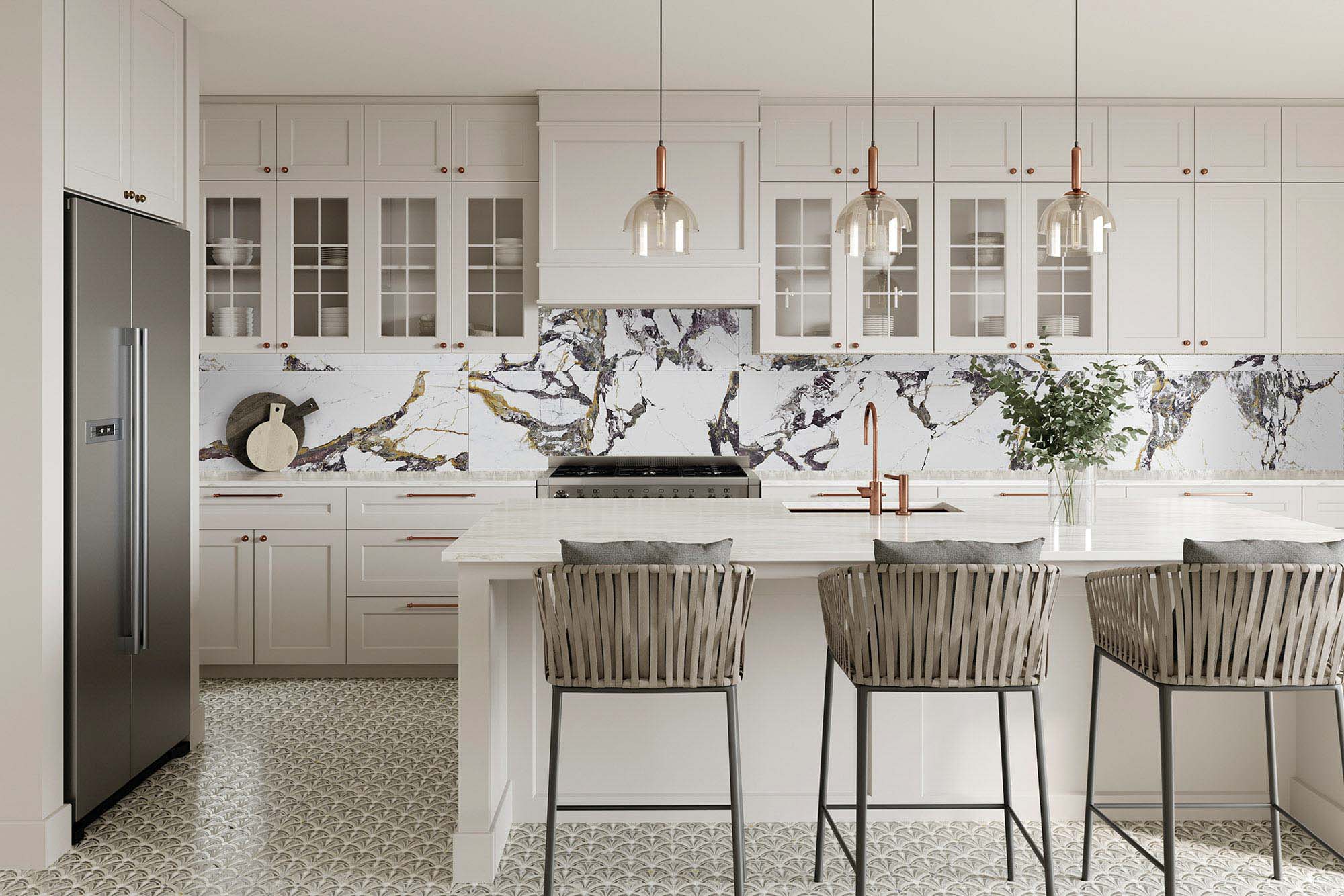 Sutton & Sunderland
Types of white kitchens
When it comes to designing a kitchen, white is one of the most popular colours because it provides spaciousness and luminosity, and also because it fits in with any style. A white kitchen can be minimalist, modern, rustic... the possibilities are endless because it starts from a very versatile base.
Small white kitchens
A small white kitchen can be just as functional as a larger one, and with a little organisation, you can have room for everything. Without a doubt, the colour white is your ally in this case. The ability of light-coloured tiles to reflect light, whether as flooring or cladding, makes any space seem larger.
Modern white kitchens
Modern white kitchens never go out of fashion. Even if trends change, white will always be present thanks to its clean and minimalist look. Having this colour as a base colour allows you to combine it with some metallic objects, such as a stainless steel worktop, for a modern style.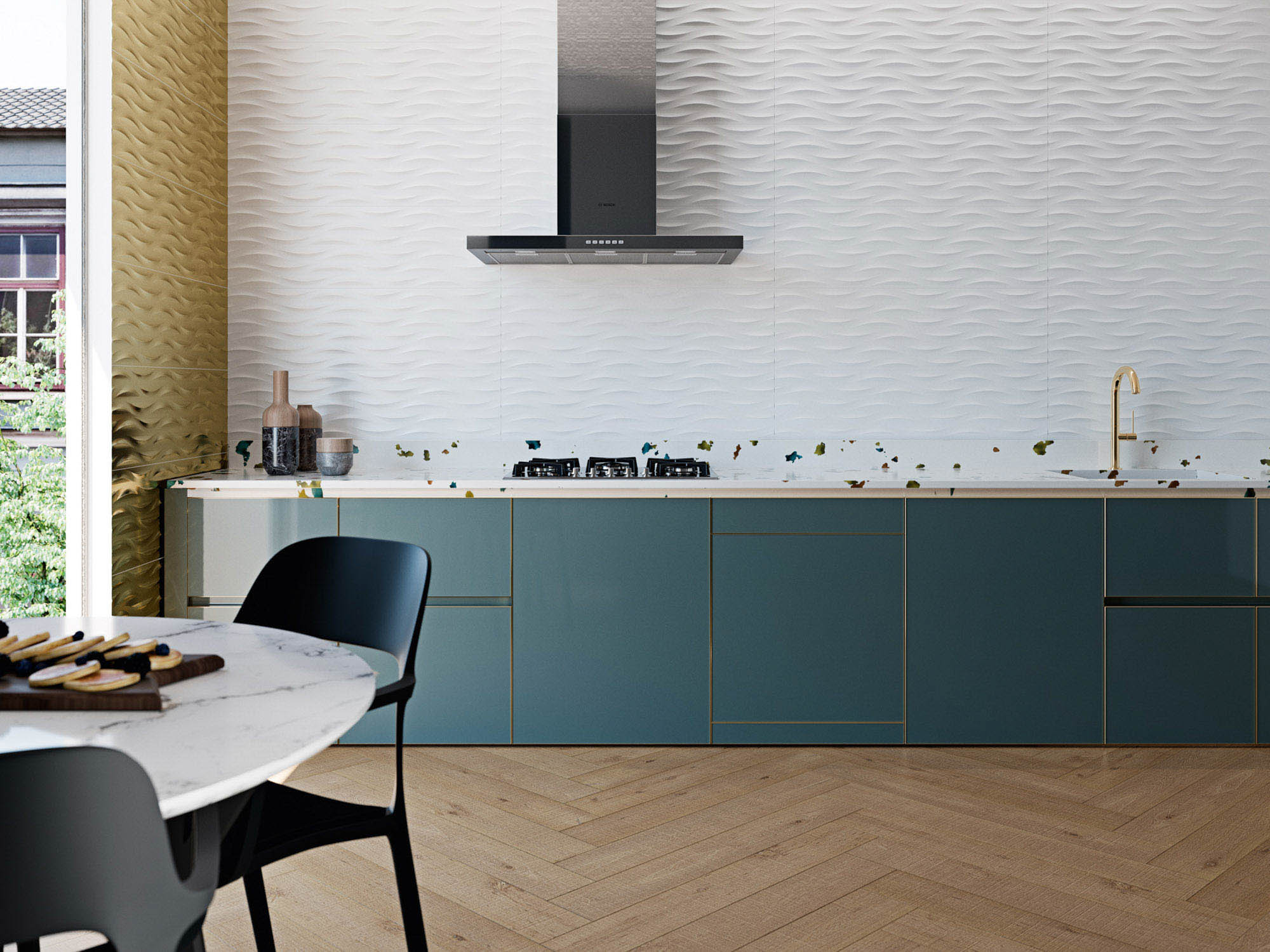 Glimpse & Norway
Nordic kitchens
White is a fundamental colour in the Nordic style, which is characterised by warm decoration, simplicity and luminosity. Nordic kitchens create a perfect space in which the feeling of home is unequalled. All this thanks to the combination of white tiles with natural materials such as wood or textiles such as cotton or linen.
Rustic white kitchens
White can also be the predominant colour in a rustic style kitchen. If we opt for this colour in fronts, doors and other furniture elements, we can combine it with organic textures that provide warmth. Clay or wood effect porcelain floor tiles are an ideal option to update the rustic style also in kitchens.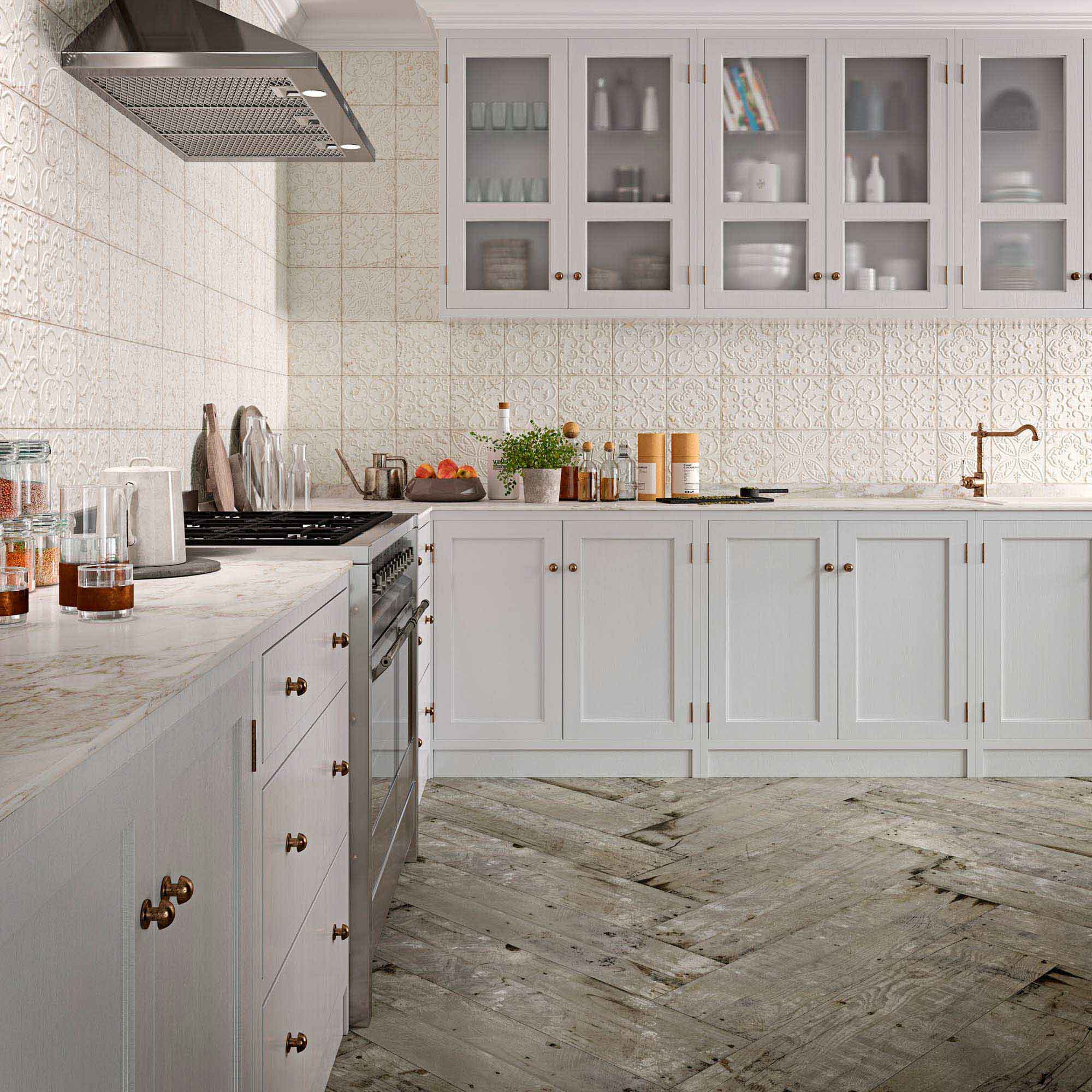 Aged & Rafter
Which tiles to put in a white kitchen
As we have seen, tiles are the best allies to achieve an optimal and beautiful space with white as the protagonist. However, there are a series of essential characteristics that tiles must have in order to fit in this space:
Glossy tiles have the ability to reflect light and give a greater sense of spaciousness, making them the best option for small kitchens. On the other hand, matt finishes offer a more contemporary look and bring more serenity and naturalness to the room.
Size. Choosing the tile format according to the size of the kitchen is fundamental. Large format tiles for white kitchens give the sensation of visual continuity and help to create brighter and more hygienic spaces.
Porcelain flooring stands out for its high resistance to temperature changes and knocks. They are also low-maintenance and easy to clean, ideal qualities in a space where stains are common.
Porcelain tiles for modern kitchens offer extra confidence. Slip resistance is necessary in kitchens, creating a safe environment without altering their design.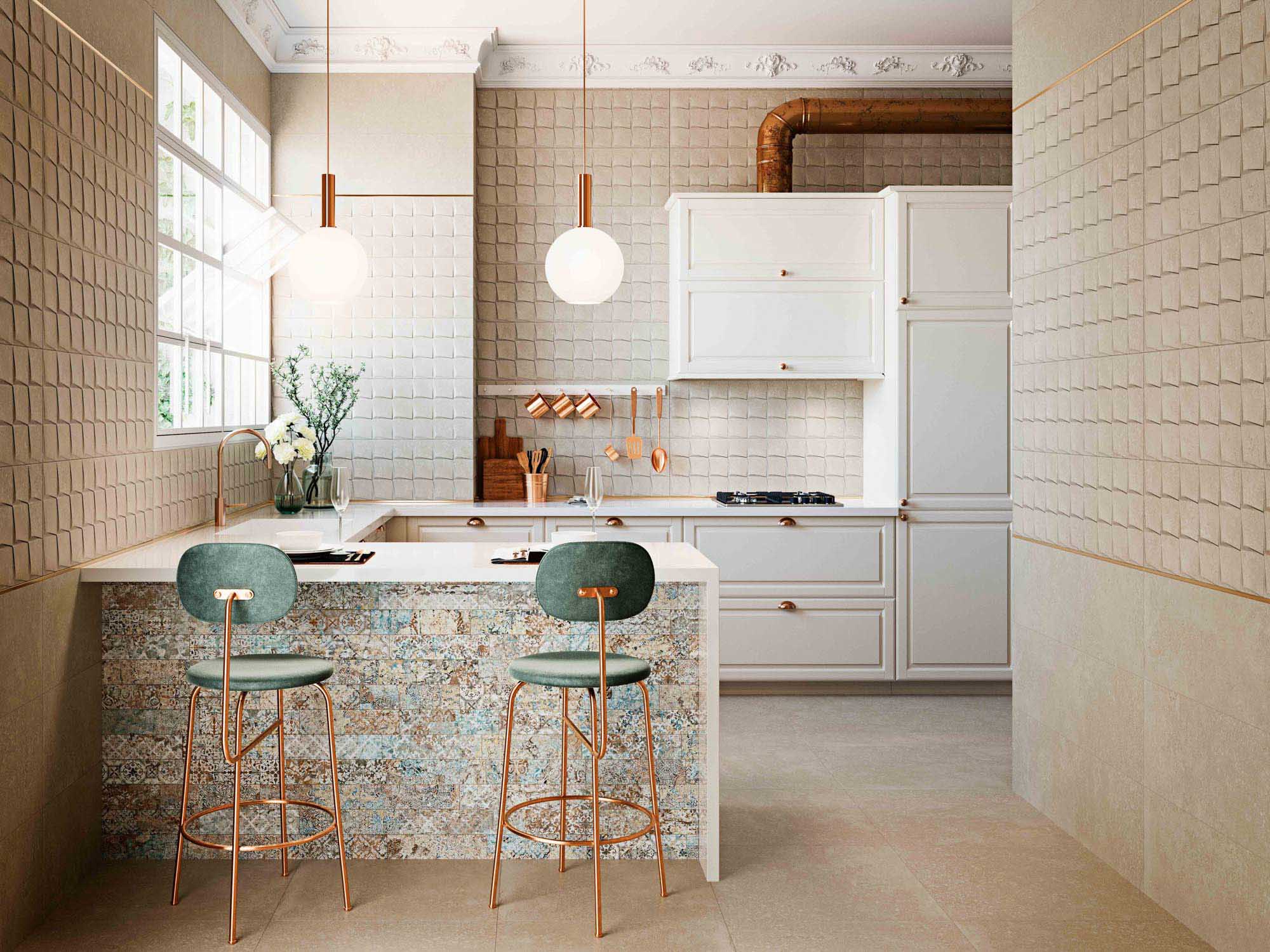 Carpet & Ronda
Porcelain tiles for white kitchens
In short, porcelain tiles for white kitchens meet all the requirements for a safe and functional space. In addition, with the variety of styles and colours that we offer from Aparici, you can choose from multiple options:
White tiles for a total look
If we opt for white tiles for kitchens of the same colour, we will enlarge the space, a very interesting effect, especially in small kitchens. The single-colour trend allows other elements such as electrical appliances or the worktop to take centre stage. Even so, white tiles can add personality depending on the finish and appearance.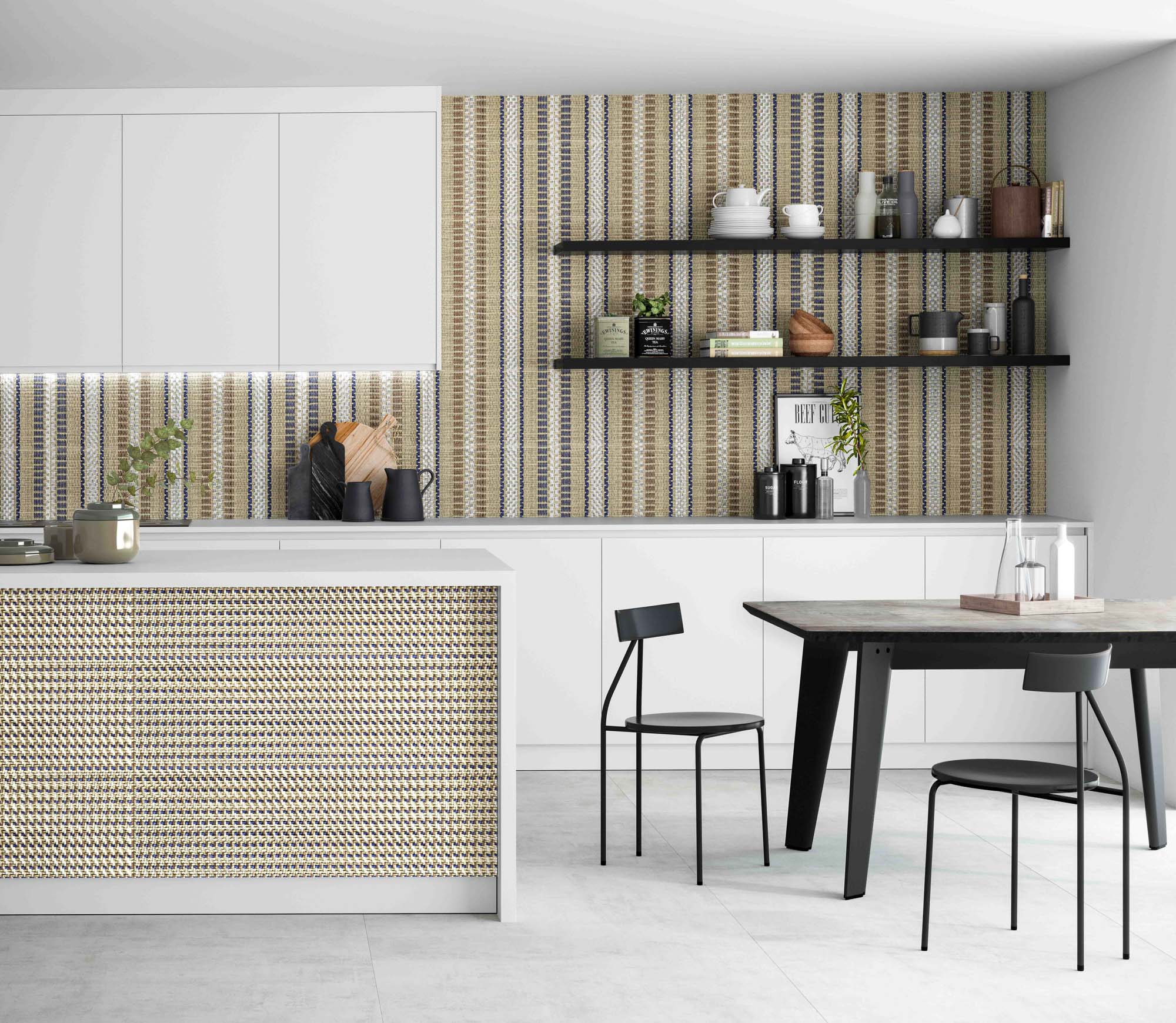 Wiker
White kitchens with wood effect tiles
A rustic or Nordic-style white kitchen is easy to achieve thanks to wood-effect porcelain tiles. This material is capable of conveying warmth and appreciation for craftsmanship thanks to its careful design. In Aparici you have a wider chromatic variety, such as Rafter in beige, which allows you to innovate and give a new look to the more traditional rustic style.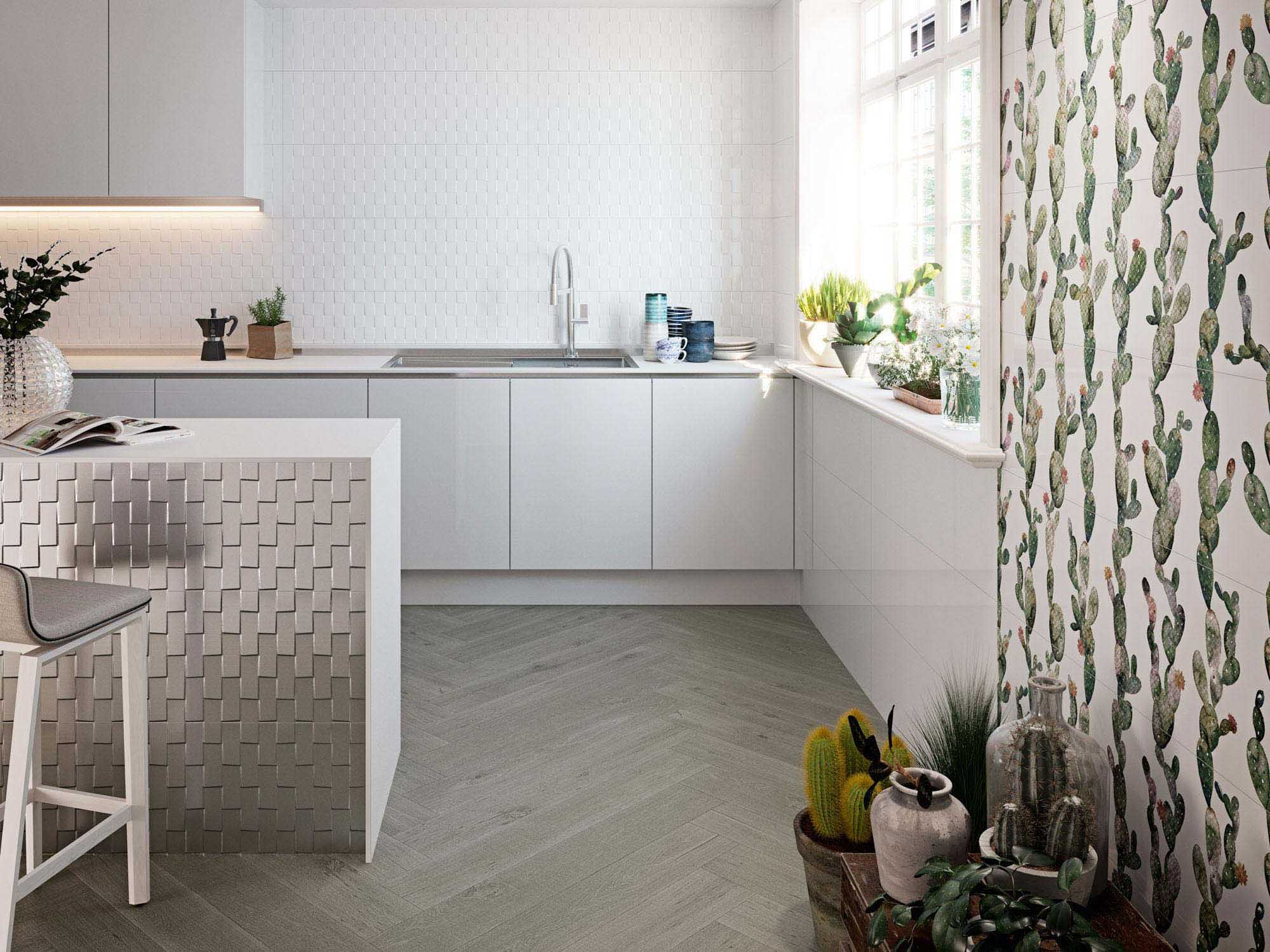 Glaciar & Norway
White kitchens with encaustic tiles
Encaustic floor tiles for white kitchens have personality, originality and vintage charm. The variety of designs brings dynamism and authenticity. Combining white furniture and worktops with hydraulic tiles creates a unique contrast thanks to its decorative power while allowing the surface to stand out through its mosaics and patterns.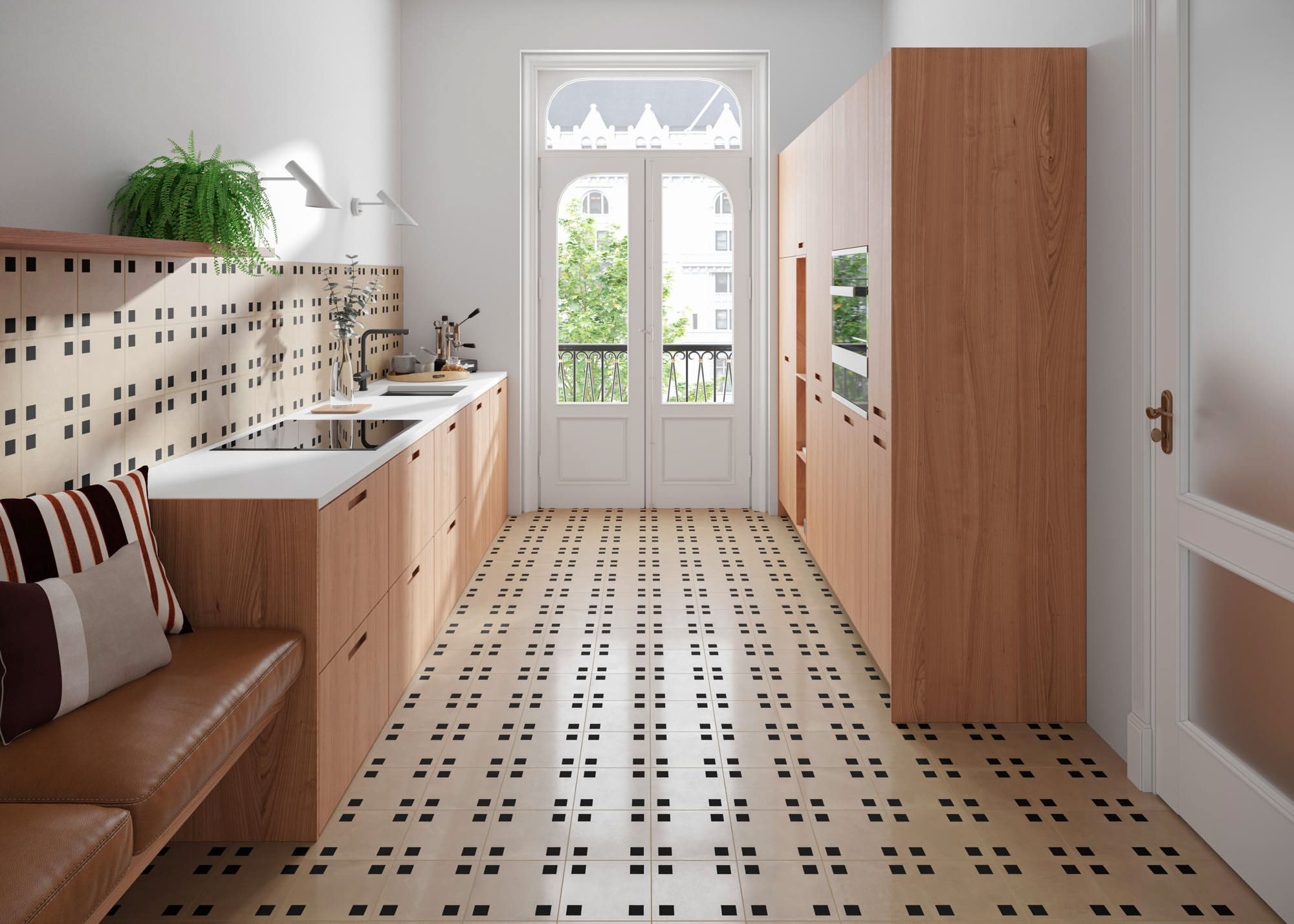 Danube
White kitchens with grey floors
Flooring in grey tones is one of the most fashionable complements in white kitchens. Thanks to the variety of aspects of porcelain tiles, we can achieve the most varied results. For example, using imitation stone tiles in grey tones will allow you to create a traditional kitchen aesthetic while giving a modern and elegant look. If you want to reinforce the natural style, combine them with other natural textures such as wood.
On the other hand, if you are looking for a more contemporary look, one of the best options are our concrete effect tiles. They are elegant and, in combination with white, give a modern feel as soon as you enter the kitchen.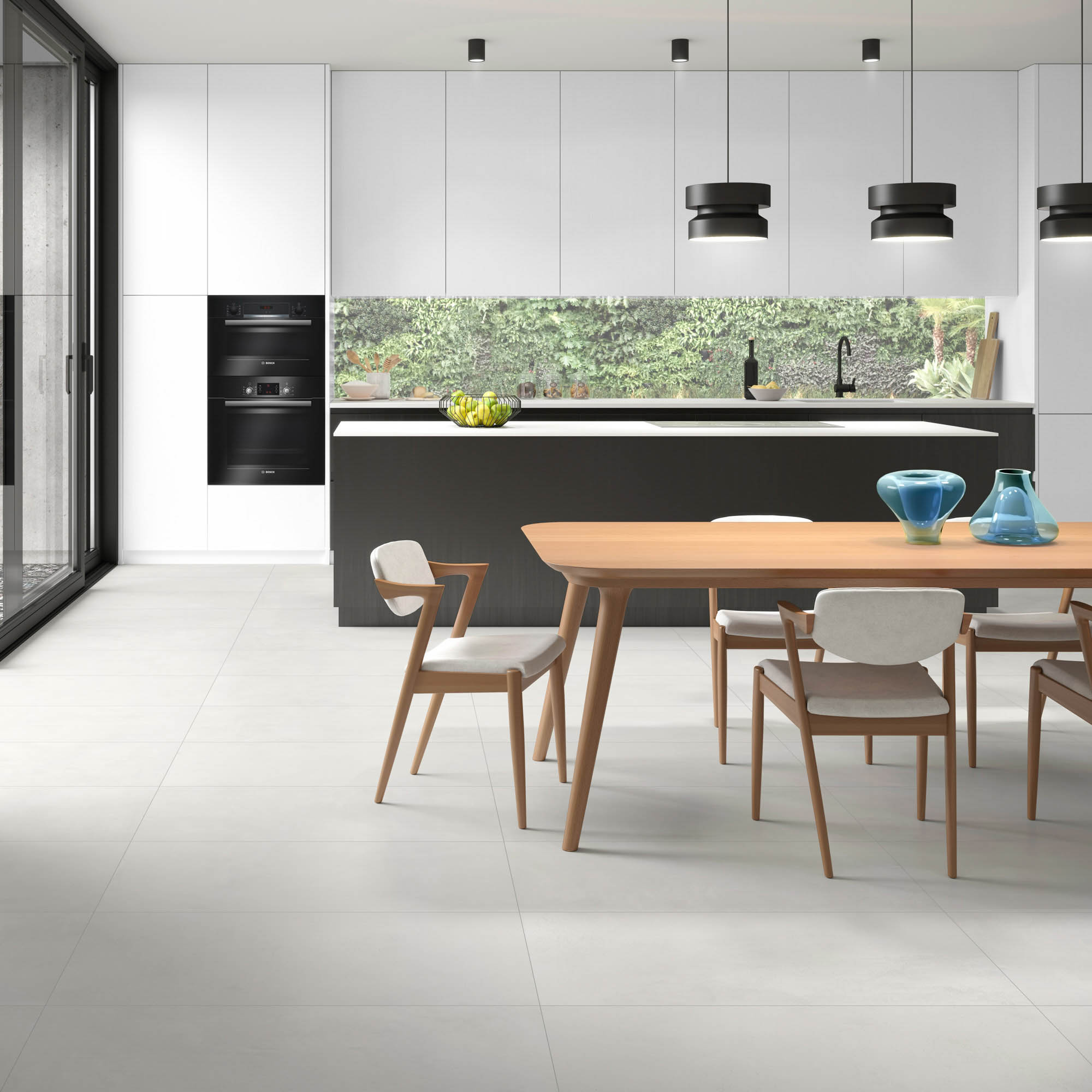 Studio
Other applications of kitchen tiles
The functionality of ceramic tiles to protect against knocks or stains means that their use is not only limited to floors, but also as wall cladding. With white or light-coloured ceramic wall tiles, kitchens can appear larger, gain volume and even visual richness thanks to their textures, reliefs and decorations.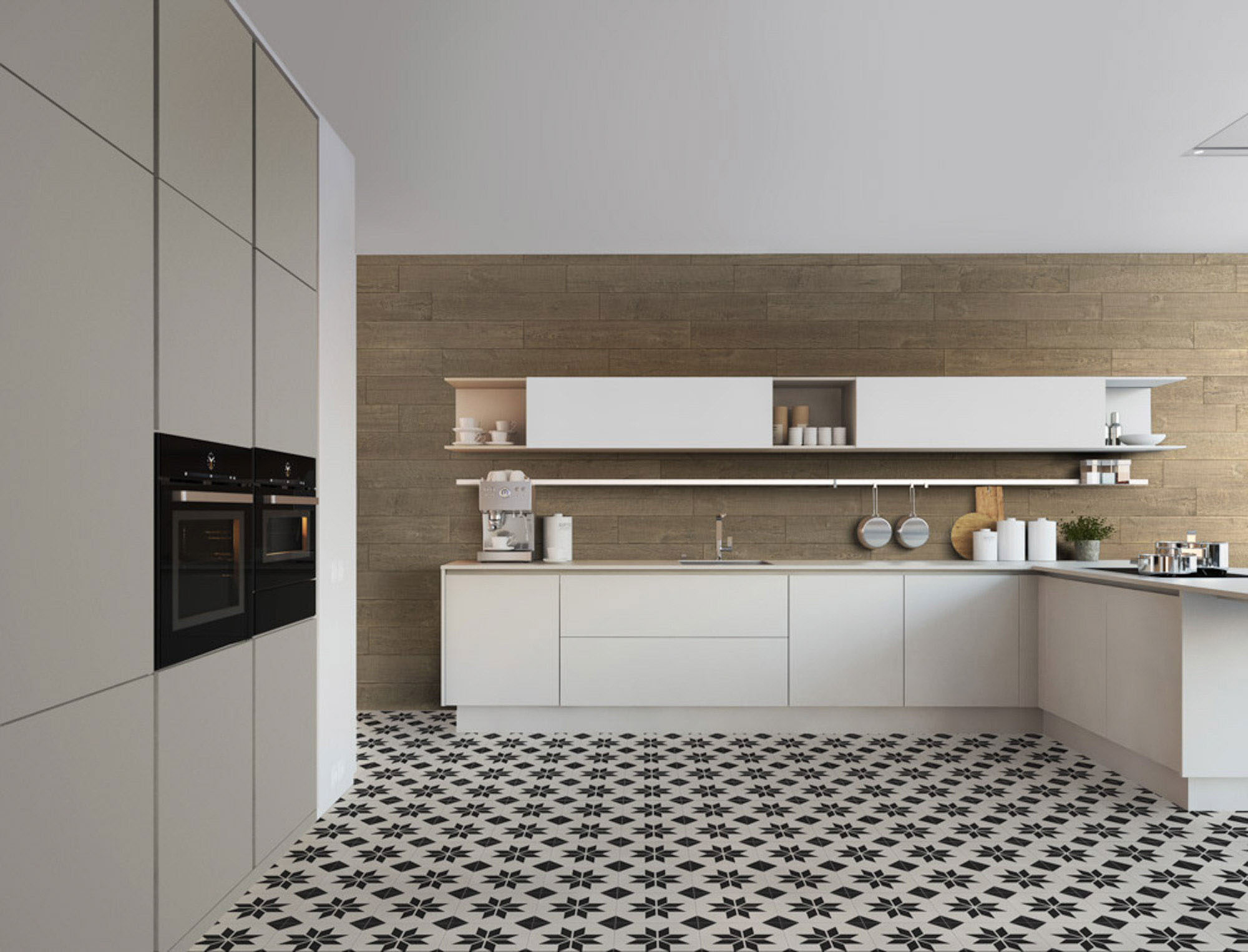 Vienna & Norway
What's more, its possibilities do not stop there. Ceramic has also become a decorative element because its performance makes it ideal for use anywhere. On the dashboard, for example, porcelain tile protects the surface from splashes of water and dirt from the environment, as well as adding character.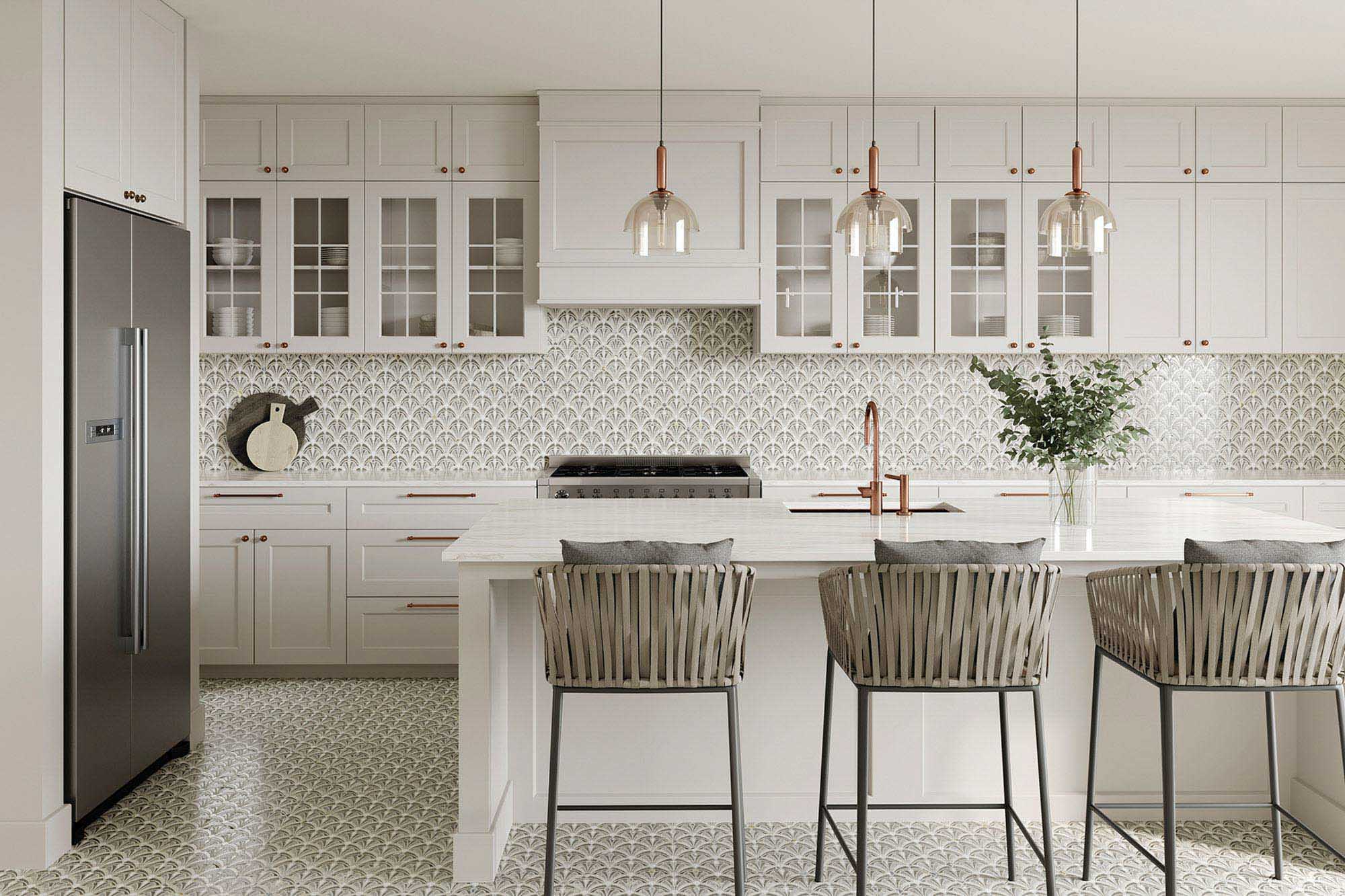 Sunderland