The living room is a space full of life in the home. It is one of the rooms in which we spend the most time, so one of the maxims is to always set up cosy and pleasant spaces. Something that also happens in the case of modern living rooms, which combine design and comfort like few others.

In the decoration of modern living rooms we find a wide variety of styles. From industrial to minimalist, from Nordic to Japanese... Each of them has its own characteristics and particularities. Today we explore some of the most popular trends and tell you which materials are suitable.
We provide you with ideas for designing a modern living room to suit your tastes and needs.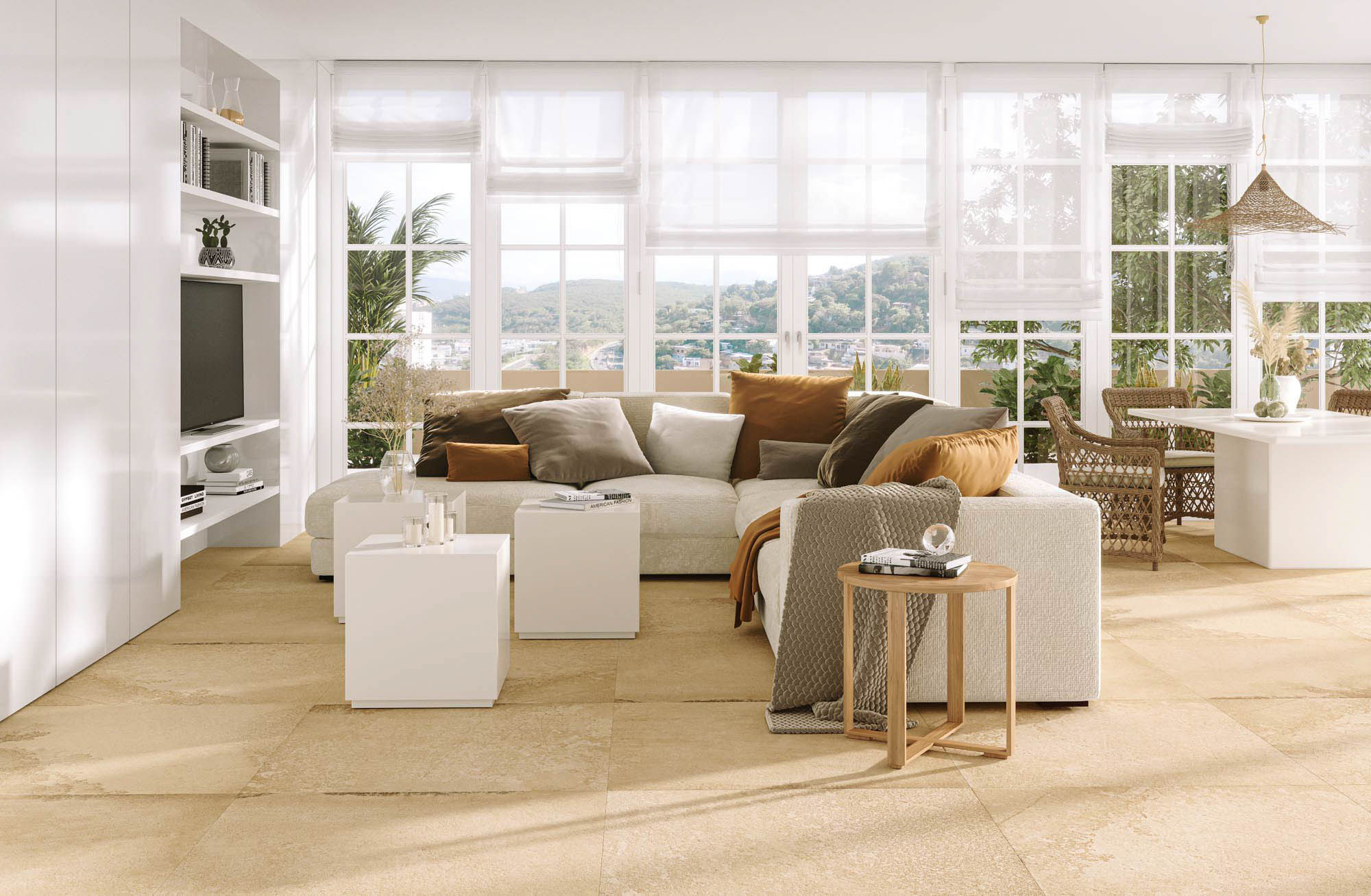 Bavaria
Trendy styles for the living room
If you're thinking of giving your living room a makeover, you have several options to choose from among today's trendy styles. Here are some of the most popular.
Nordic living rooms
The Nordic style has been around for years. This trend in interior design is characterised by the presence of natural elements, such as wood, wicker and textiles. Furniture and accessories are usually simple and elegant, with clean lines and a minimalist air. It is also advisable to use a palette of soft, light colours. As for flooring, we can opt for natural wood textures to achieve an unmistakable Nordic look.
Industrial style 
Undoubtedly, one of the most widespread trends in modern living room decoration. This style is characterised by the presence of materials such as metal, concrete and aged wood, as well as a cosmopolitan aesthetic.
To design a living room with an industrial look, it is important to use furniture and accessories that reflect this aesthetic, such as metal lamps, aged leather sofas and solid wood tables.
Modern minimalist living room
The minimalist style is based on simplicity and functionality, as well as the ability to design pleasant environments using as few elements as possible. It is therefore characterised by a well-understood austerity and a neutral colour palette. Textures such as natural stone or micro-cement surfaces contribute to give shape to a living room with a minimalist air.
Japandi style
The combination of Japanese and Scandinavian elements gives rise to the Japandi style. Synonymous with harmony and simplicity, it is characterised by the presence of natural materials such as wood and bamboo, as well as a minimalist and functional aesthetic.

The textures of stone and natural wood are also part of this trend. The furniture and accessories for a Japandi living room are simple and elegant, with clean lines and organic shapes.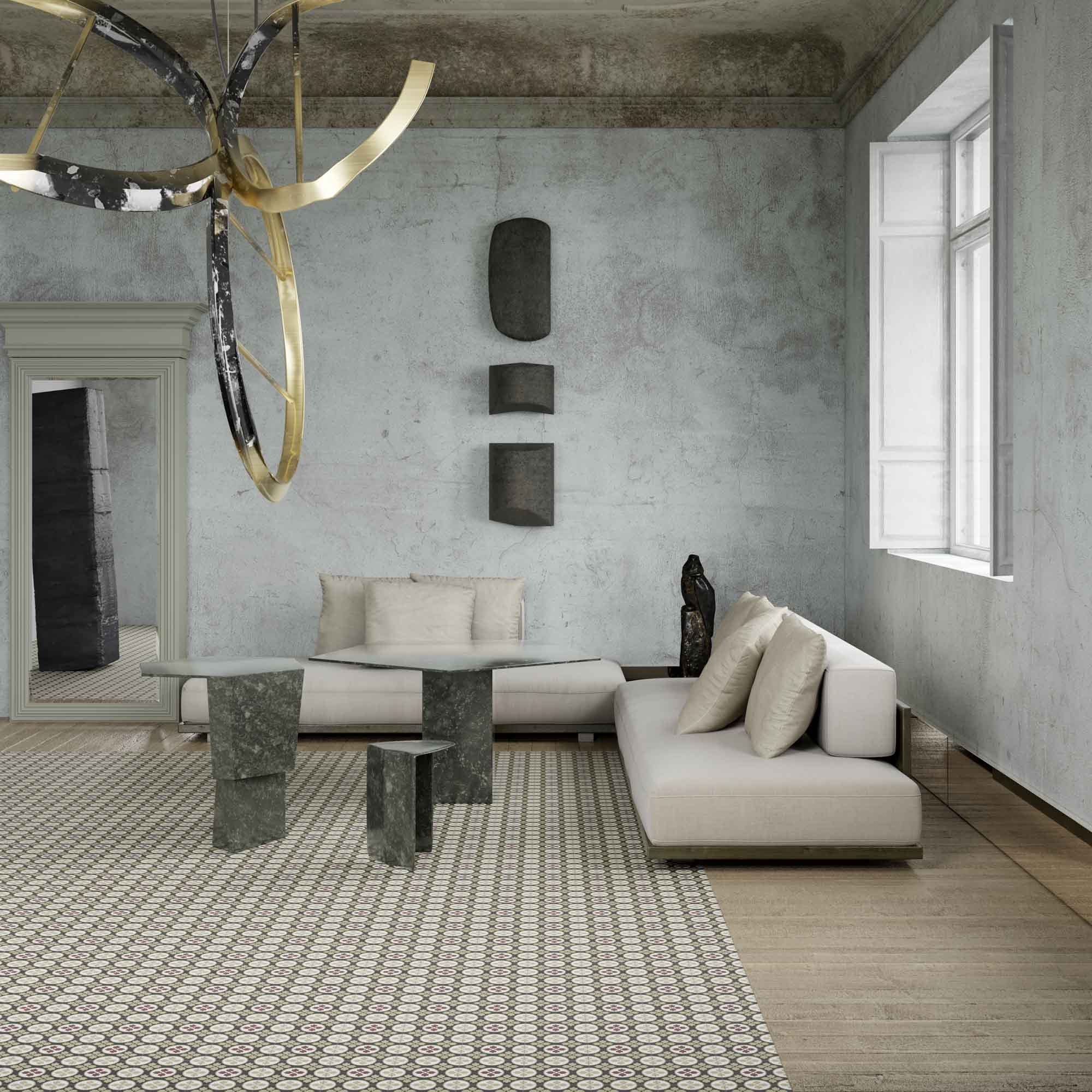 Vienna
Elements for designing a modern living room
Once you have selected the style you want for your modern living room, it is time to choose the furniture, accessories and other decorative objects. From Cerámicas Aparici we make your task easier with these ideas.
Modern living room furniture
The modern living room furniture is essential to create an elegant and sophisticated atmosphere, as well as to enhance the comfort in the room. The options are diverse: sofas with organic shapes, chairs with metal legs, coffee tables with marble or glass finishes, minimalist design shelves... The secret to choosing the right furniture is to look for pieces that reflect your personality. Also, remember that quality furniture is an investment for life, so we recommend that you invest in pieces that are durable, timeless and adapted to the style you are looking for.
Fabrics and accessories
Textiles and accessories help to give the style we want for our living room without having to spend a lot of money. The options are almost endless. A rug with an eye-catching pattern can be the key element to liven up a minimalist living room. Cushions, blankets and curtains can add warmth, colour and texture to rooms with a Nordic or Japanese feel. Artwork and decorative pieces can add a personal touch to a modern living room.
Fireplaces with a personality of their own
Fireplaces can be the centrepiece of a modern living room. Nowadays, there is a wide variety of styles and designs to choose from. From classic wood-burning fireplaces or modern electric fireplaces with LED lights to minimalist aesthetics that use bioethanol or pellets as fuel.
Moreover, the options multiply thanks to the cladding you use to cover it. Porcelain tile for fireplaces is a great option, as it resists high temperatures without any problems.
Flooring for living rooms
Talking about modern living rooms also means talking about floors that are capable of reflecting and enhancing the chosen style. In this sense, few materials like porcelain are capable of adopting almost any look. Its chameleon-like personality makes porcelain flooring an aesthetic and functional solution for any project and decorative style.
Marble or natural stone design porcelain tiles
Porcelain floors with a natural stone design can be the perfect complement to the decoration of a modern living room. In this sense, there are collections such as Imarble or Dstone that soften the veining of marble and other natural stones and adapt to styles such as minimalist. Others such as Slate have a place in industrial style living rooms thanks to the texture of slate.
Natural wood design is undoubtedly one of the greatest exponents of styles such as Nordic or Japanese in a modern living room. Porcelain stoneware is once again an excellent choice, as it conveys the warmth of wood and adds extra strength and durability.
In addition, wooden floors require much less maintenance than those made of the original material. Collections such as Branch are a good example of this.
Living rooms with grey flooring
Grey floors are a popular choice for modern living rooms because of their versatility and ability to be combined with almost any colour. Grey is also the predominant colour in porcelain tiles that imitate the textures of cement, predominant in styles such as minimalist and, above all, industrial. Among Aparici's collections there are numerous options for dressing the living room in grey, from the minimalism of Attila or Build to the soft expressiveness of Cracked.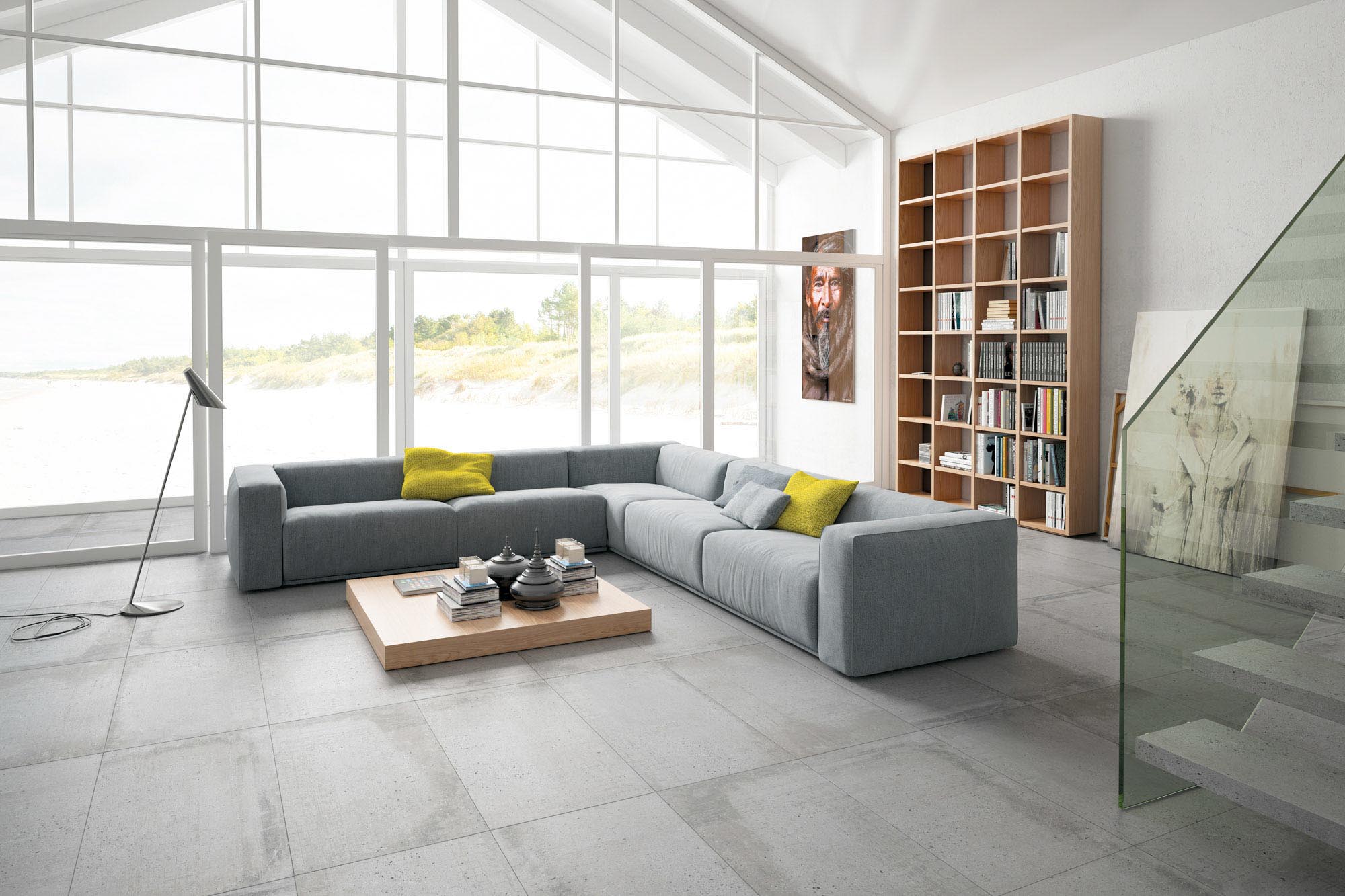 Build
Designing a modern living room can be an exciting and fun task. By following styles such as minimalist, industrial, nordic or japandi, you can create a space that reflects your personality and is both functional and welcoming. Don't forget that furniture, textiles, accessories and flooring are key tools to achieve the look you're going for, so get experimenting!