Are you looking to add warmth and charm to your home? In that case, the rustic style is undoubtedly your choice. Earth tones, natural textures or the search for handcraftsmanship characterise a style associated with the Mediterranean way of life. Its unmistakable aesthetic always remains in force and is constantly updated thanks to the appearance of new materials. Among them, porcelain stoneware, capable of capturing that rustic charm and of giving shape, both for its look and its properties, to the best rustic floors for modern homes.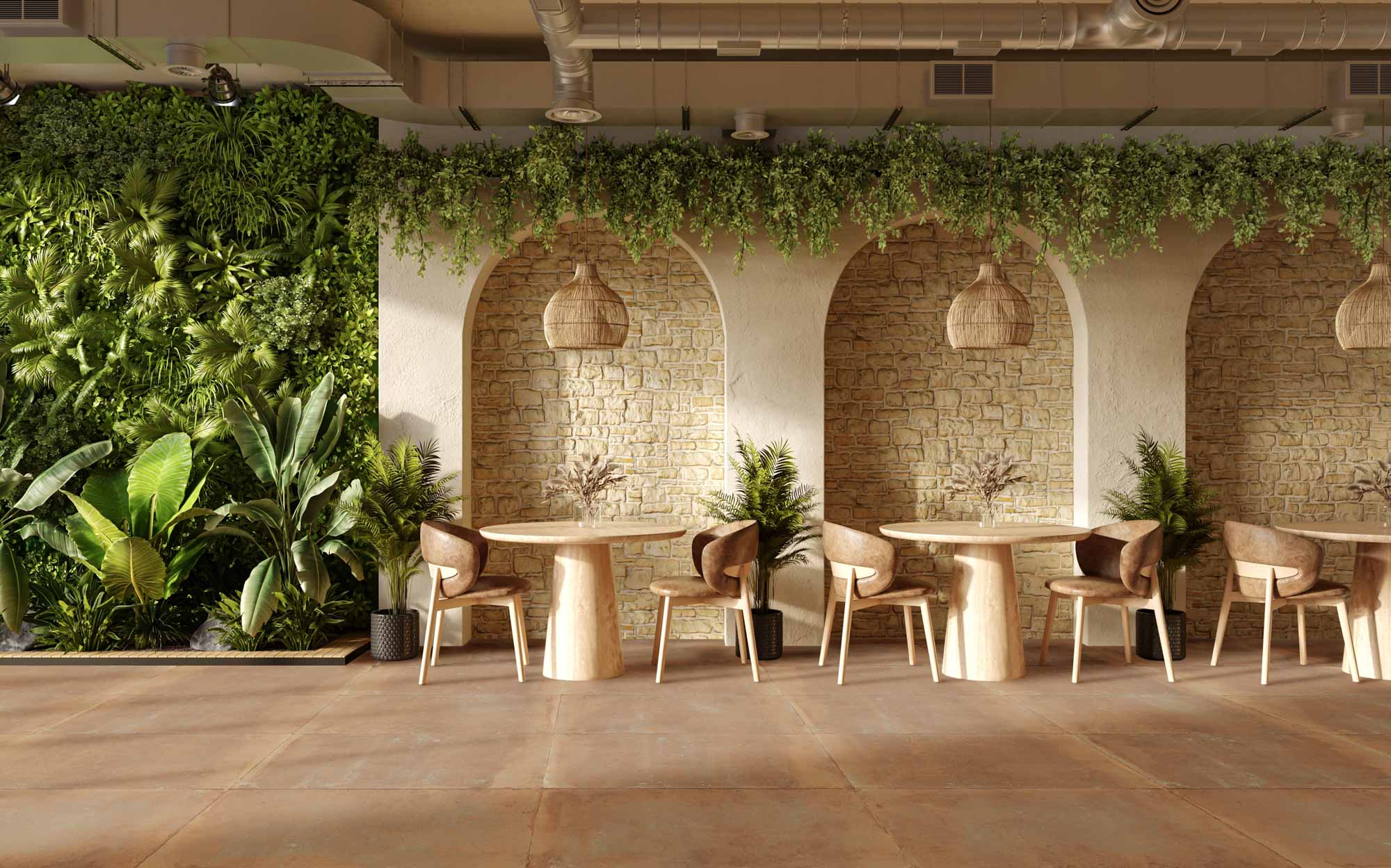 Cotto
Advantages of modern rustic flooring over handmade tiles
As we have mentioned, modern rustic floors are the better choice. They are so because of their ability to recreate the traditional look and the cosy feeling it conveys. But also for their technical performance, which far exceeds the limitations of handmade tiles.
Greater resistance: porcelain stoneware is one of the most resistant and durable materials available, so it can be used as flooring in any space in the home. In contrast, handmade tiles wear out easily due to daily use.
Low maintenance: porcelain flooring is a much less porous material than terracotta, so it absorbs less moisture and requires less maintenance.
Versatility: ceramic flooring comes in different thicknesses and finishes, making it much more versatile than traditional tiles. Thus, it can be installed in living rooms and bedrooms as well as in bathrooms, kitchens and terraces.
Variety of styles: ceramic design enriches the handcrafted look with new graphics and patterns. It even extends the chromatic range of handmade tiles, associated only with earth and ochre tones.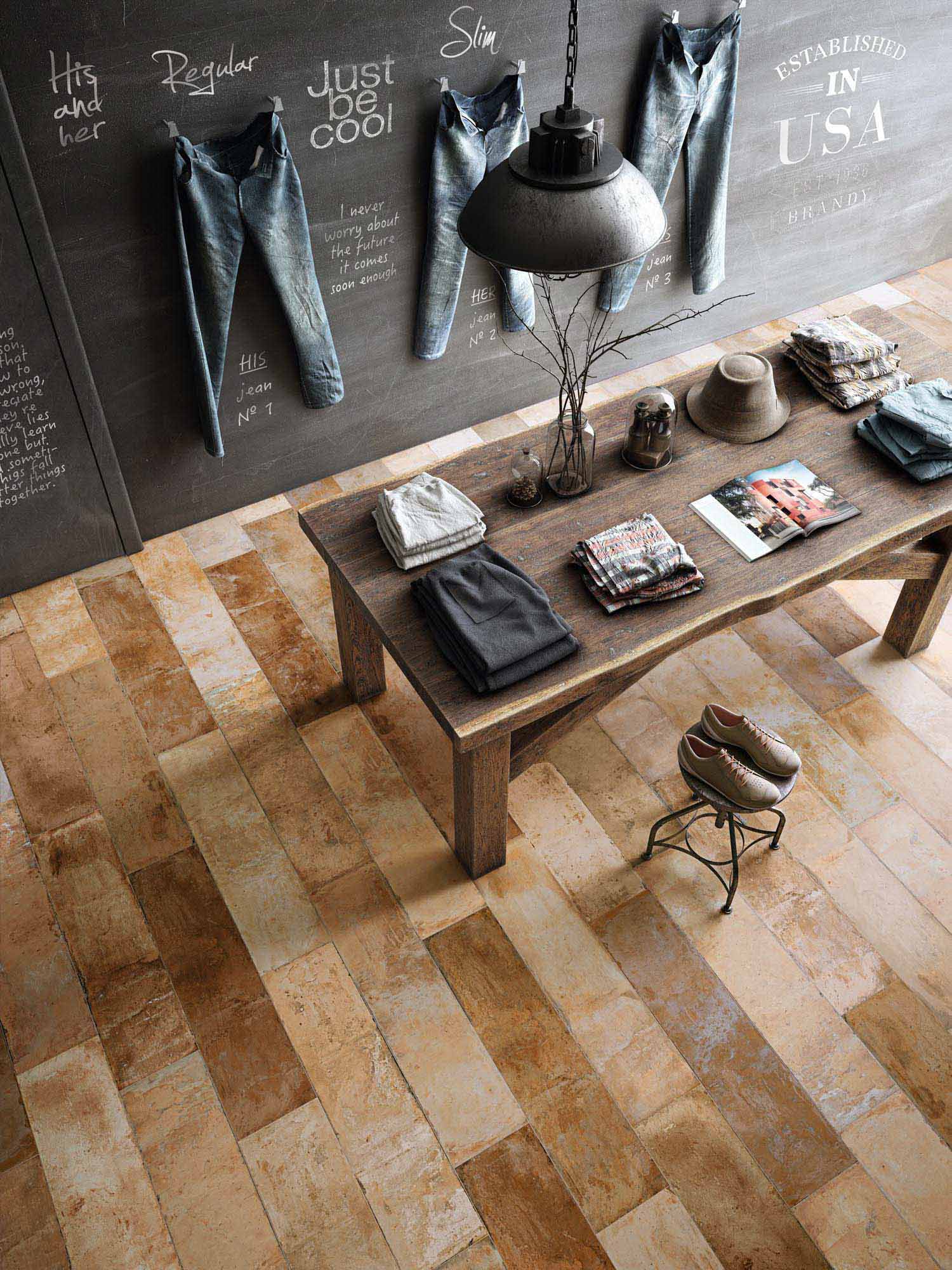 Terre
Types of rustic flooring depending on the space
The decoration of a modern rustic house must have floors that help to transmit that personality and that adapt to the conditions of the place and the space. The best choice of flooring is based on the properties offered by the material. For this reason, we classify rustic floors according to the space in which they are installed.
Indoor rustic floors
Rustic porcelain stoneware floors have a great advantage, they are perfect for any type of room. In living rooms and bedrooms, they help to create that warm and cosy atmosphere, which invites you to relax and where you feel comfortable and safe.
Porcelain stoneware allows you to go one step further and dress bathroom and kitchen floors with vintage charm. As we have seen, modern rustic floors are very compact, so they do not absorb moisture. This characteristic is highly appreciated in spaces where splashes, whether of water or any other liquid, are commonplace.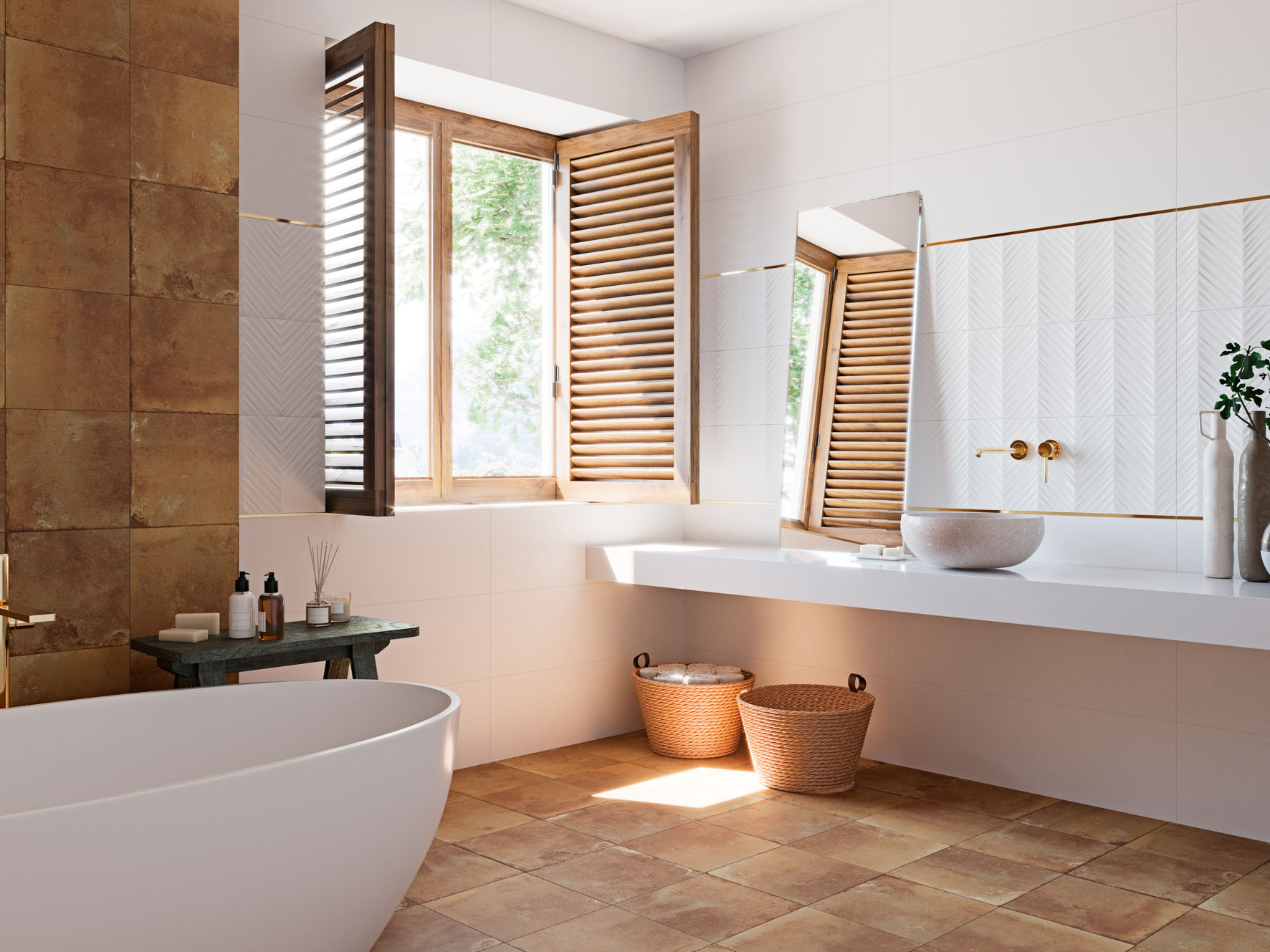 Cotto
Rustic, non-slip outdoor floors
The taste for rustic is by no means exclusive to the interior spaces of the home. As we have said, it is associated with the Mediterranean style, which favours outdoor living. It is essential to have materials capable of bringing warmth and appreciation for craftsmanship to terraces, patios and porches. Porcelain flooring not only achieves this, but also adds another advantage: safety.
In Aparici's catalogue there are rustic outdoor floors with a non-slip finish that offer that extra confidence and provide the necessary slip resistance without altering the design. In short, they meet all the requirements for creating a safe environment on patios, rustic porches and other outdoor areas.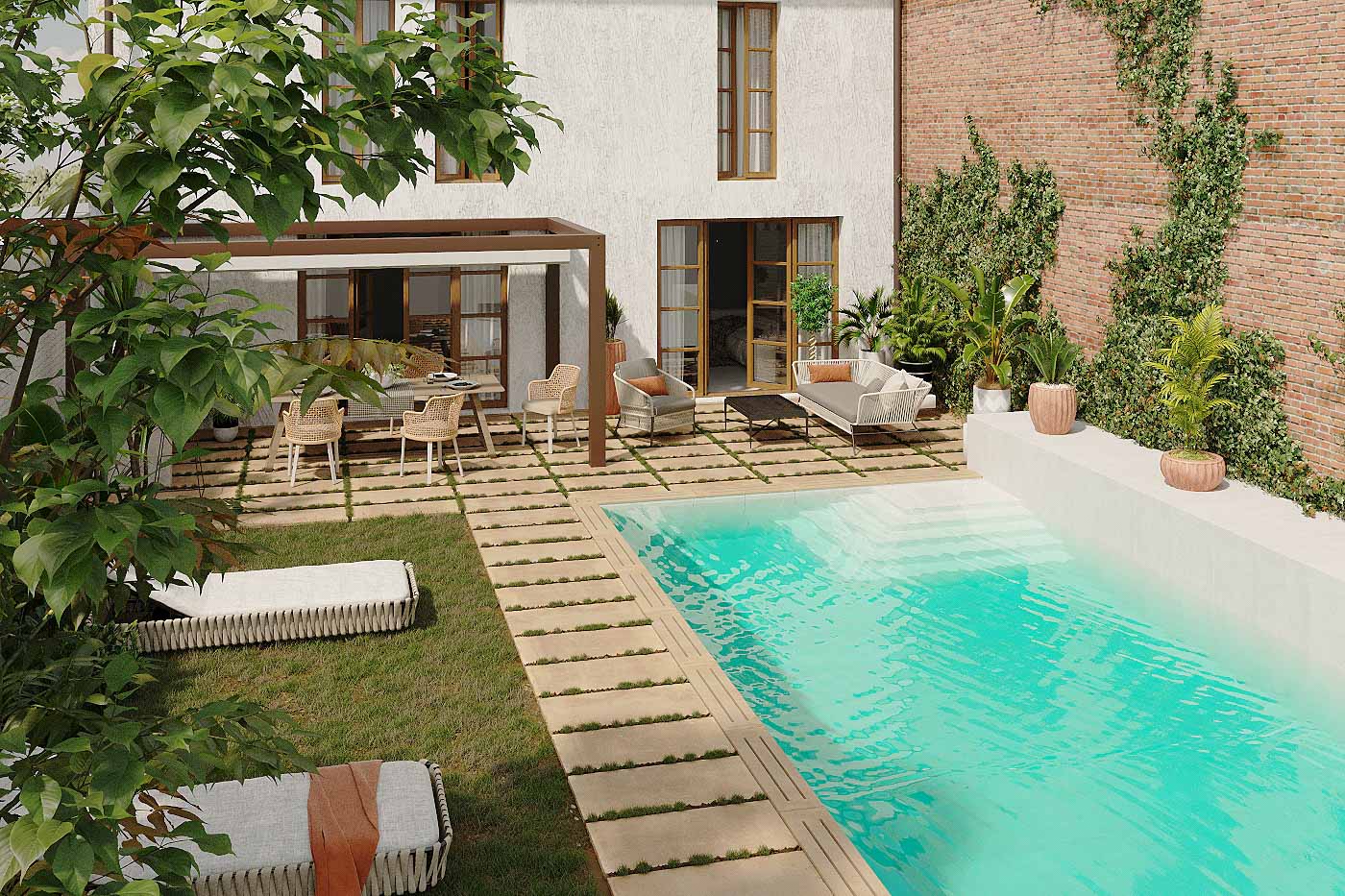 Cotto
Rustic flooring ideas beyond terracotta
Designing a space with rustic flooring offers many options. It is usually associated with terracotta slabs in tile and reddish tones, a look that cotto design porcelain is capable of recreating. But at Aparici we encourage you to go a step further and experiment with other aspects to update the rustic style. The variety and the possibility of adding personality is wide.
Imitation wood porcelain floors
Porcelain wood tiles are perfectly suited to the rustic style, as they provide the necessary warmth thanks to classic textures such as maple or oak. In addition, porcelain stoneware allows you to innovate with a wider chromatic palette with colours such as beige, grey and even white. In short, it is a safe bet for renewing the most traditional rustic style.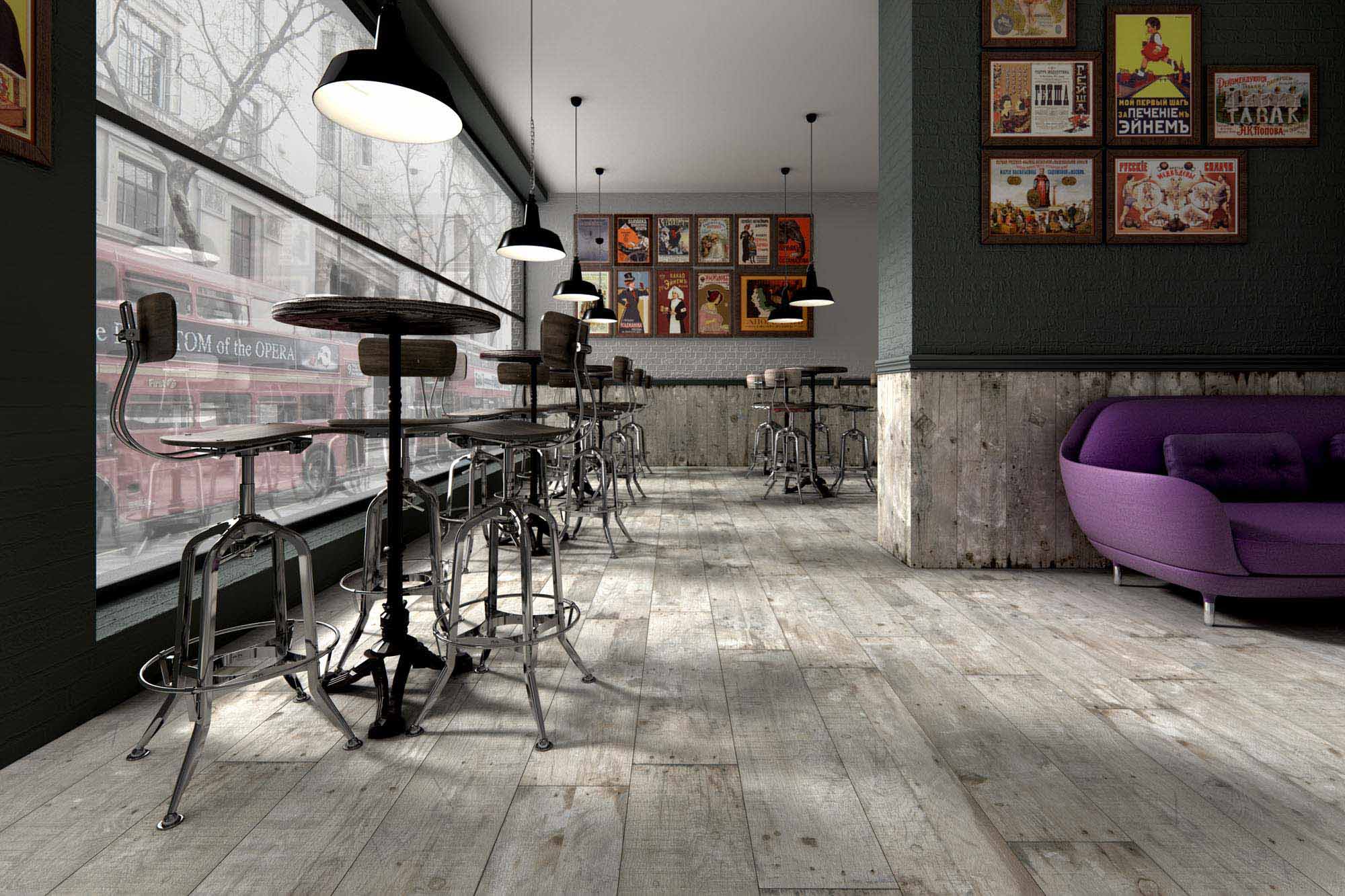 Rafter
Natural stone imitation flooring
The stone effect tiles allow to simulate, with care and attention, the details and textures of materials such as slate, quartzite or limestone, so that the essence of the rustic remains. Aparici's collection of stone effect tiles offers a wide range of colours with earth tones, greys, beiges and browns.

Moreover, porcelain stoneware is a much more versatile material than natural stone, so it can be installed as flooring in both indoor and outdoor spaces, giving the project greater visual continuity.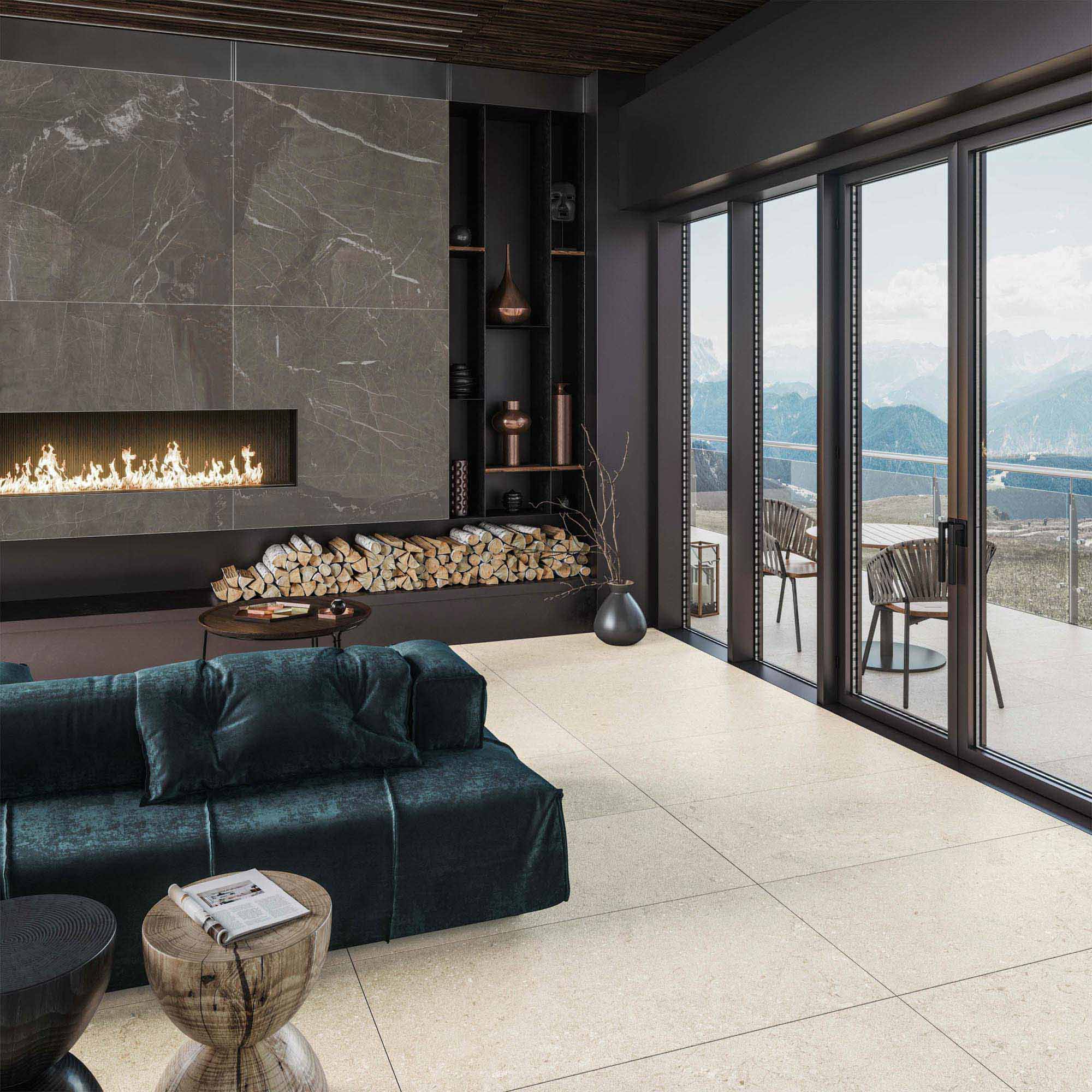 Dstone
Encaustic floor tiles
Encaustic paving is an ideal option if you want to give your modern rustic home personality, originality and charm. Its variety of designs and beauty allows you to create spaces full of authenticity and dynamism, without having to give up the durability, easy maintenance and resistance offered by porcelain floors.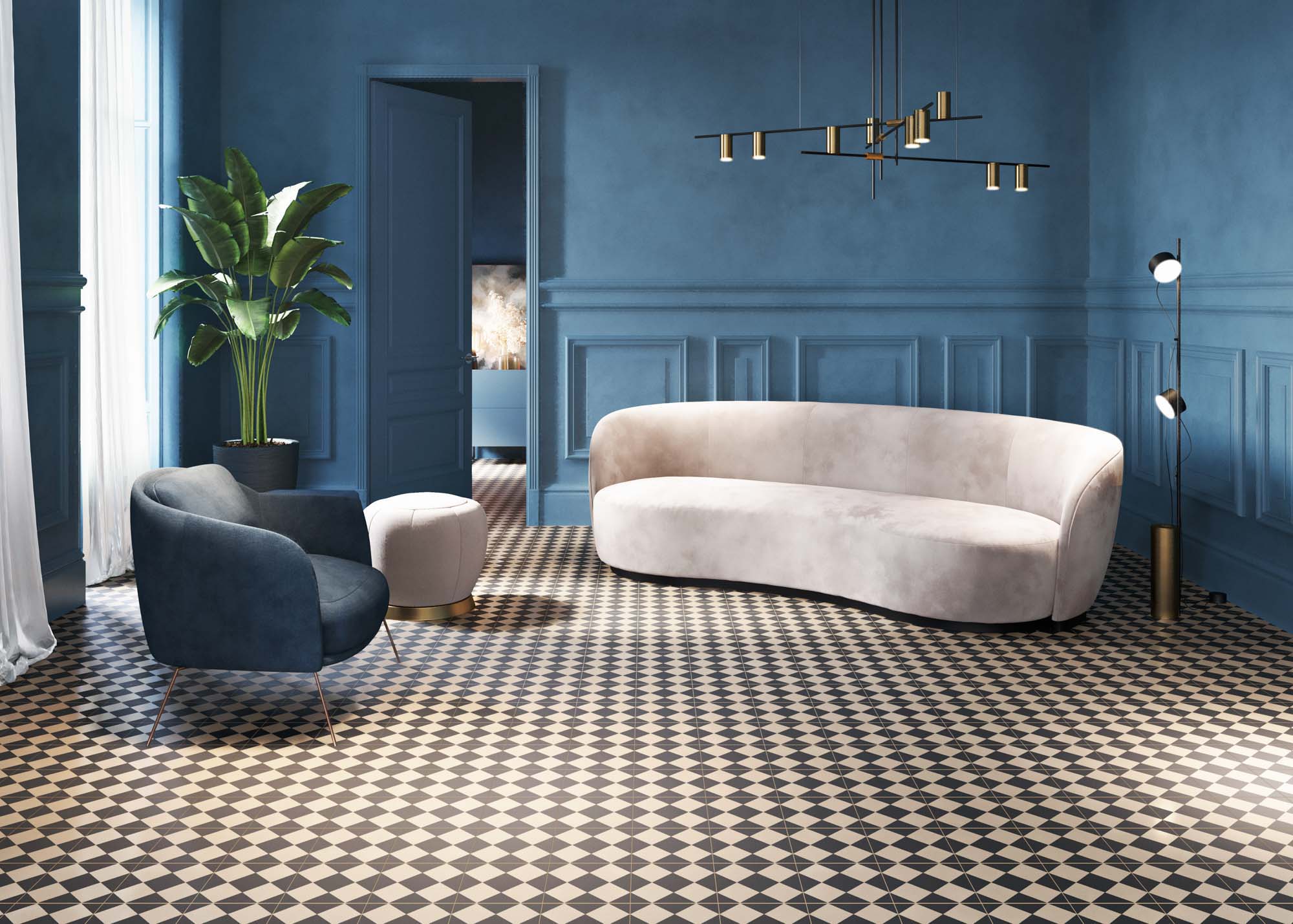 Danube
There is plenty of variety when it comes to rustic flooring. With all the proposals that we bring you, you will be able to choose which style you like the most and which one best enhances the decoration of your modern home.