Rectangular, oval, blue or white, semi-covered or as a central element of a garden. Summer is coming and at Aparici we know one thing for sure: swimming pools will once again be the main protagonists. And when the heat gets hotter, there is no better place to cool off and to spend fun moments with family and friends.
Today we are talking about modern swimming pools that inspire us.
And, above all, which are the best tiles to make them a reality.
Why choose porcelain tiles for a swimming pool?
When we consider remodelling or building a swimming pool, one of the first steps is to choose the right material. There are more and more options on the market. The traditional gresite, a vitreous mosaic-like coating that has been very popular in recent years, is giving way to other surfaces, such as reinforced PVC sheeting, polyester or, above all, porcelain tiles.
Porcelain is undoubtedly the material that has grown the most as a covering when it comes to designing a modern swimming pool. Interior designers and architects have no hesitation in opting for this extremely versatile material, which offers a number of decisive advantages over other types of surfaces.
Let us look at some of them.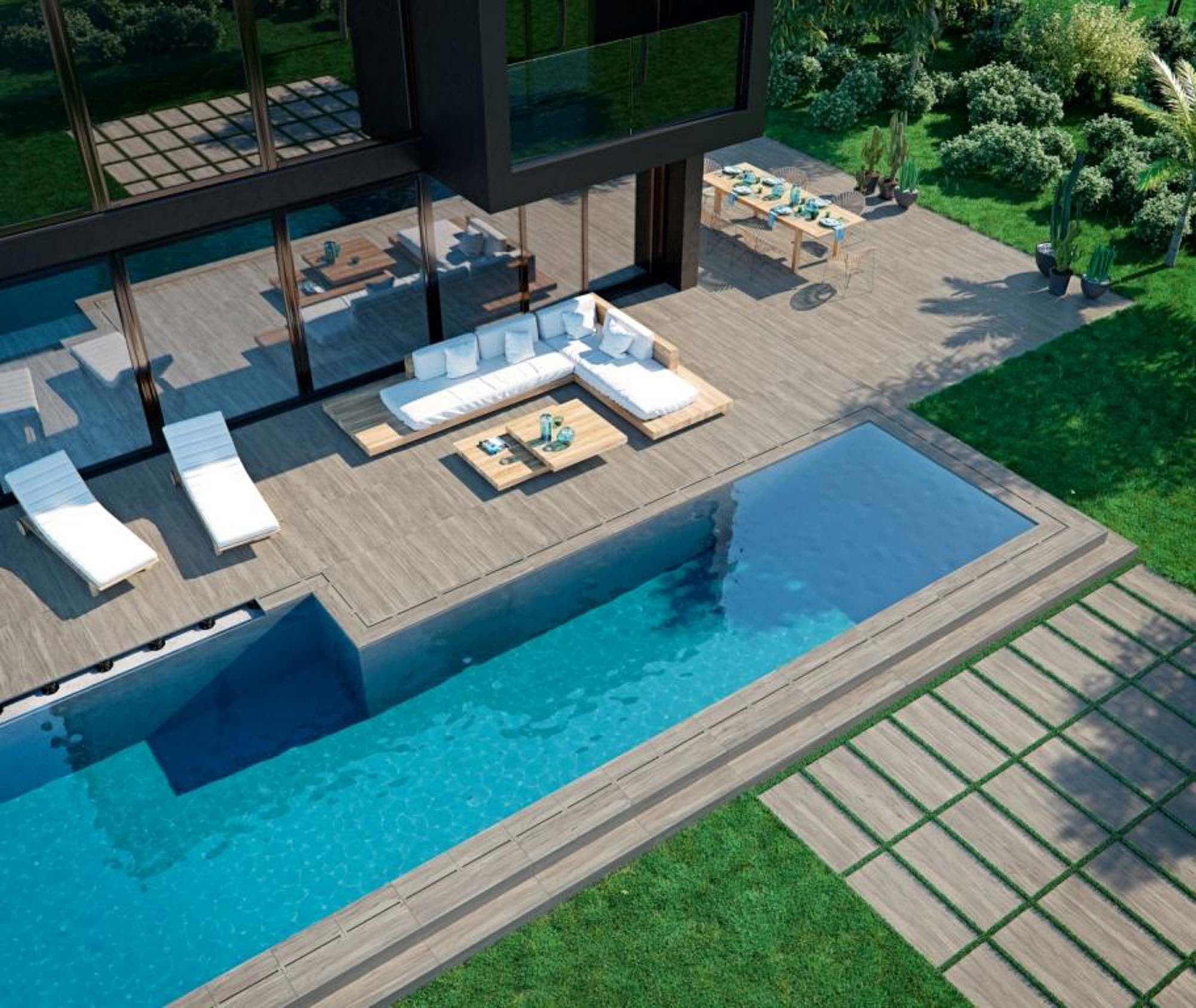 Camper Ash 2CM
Resistance and durability. Porcelain stoneware is a non-porous material with almost zero water absorption. These characteristics make stoneware tiles extremely resistant to water and ensure that they do not alter or deform over time. In addition, it also stands out for its resistance to all types of knocks.
Low maintenance. In any of their versions, porcelain tiles stand out for their ease of cleaning. Likewise, they do not require specific products or exhaustive care for optimal maintenance. Undoubtedly, one of the requirements for any swimming pool tiling, both for the pool and the surrounding area, is that it must be safe from slipping. There are anti-slip porcelain tiles that more than meet this requirement.
Visual continuity. Another advantage of porcelain pool tiles lies in their design possibilities. The same collection can be used to cover both the pool and the surrounding borders and paving, or you can opt for contrasting colours, aspects or formats to draw attention to the pool. Imagination to the max!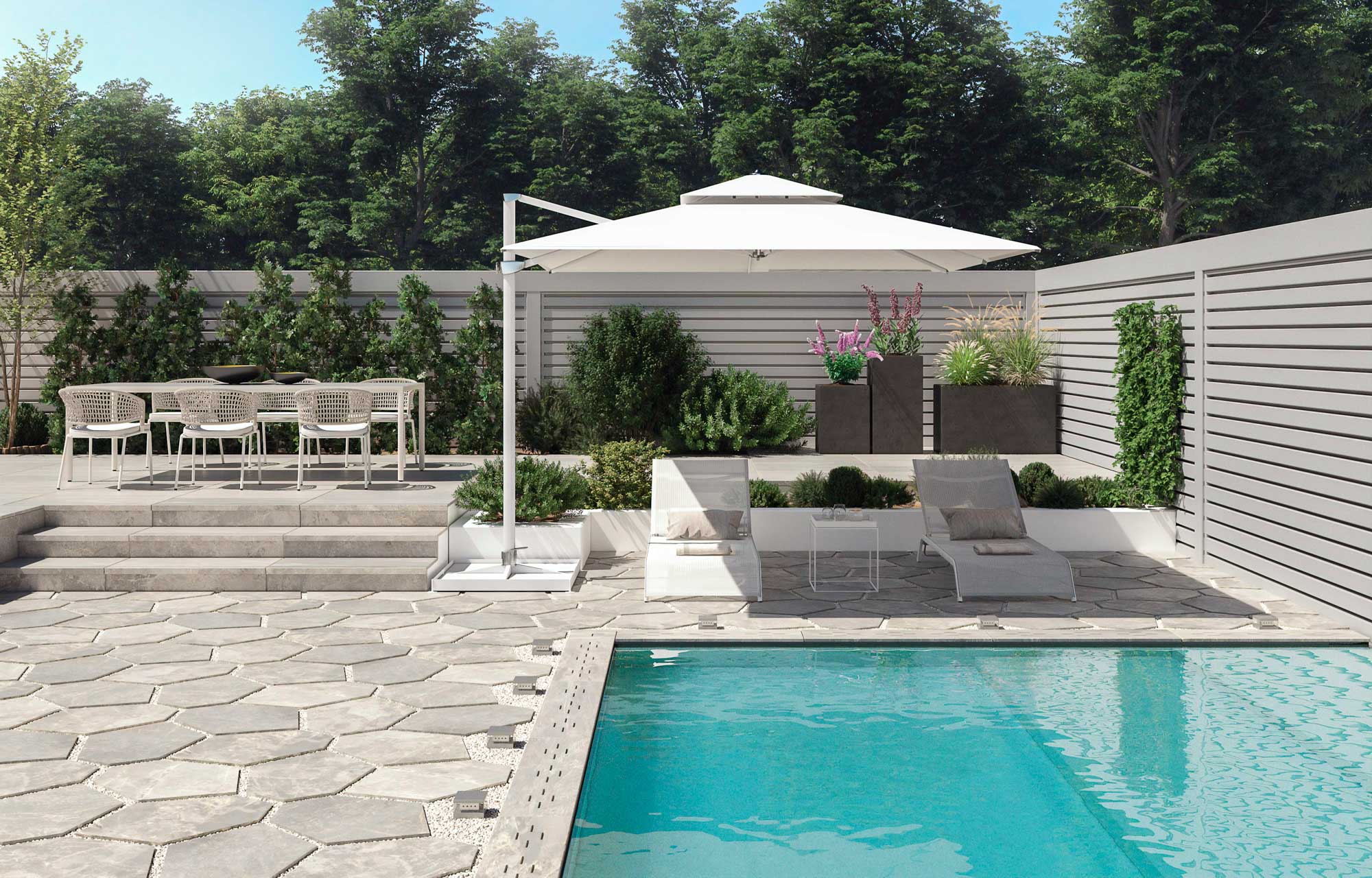 Dstone Ash Lekue 2CM
Modern swimming pool ideas with tiles
The versatility of tiles allows the pool to adapt like a glove to the personality of any project. Stone or marble-effect design tiles are ideal for more classic settings that are more in tune with nature, while porcelain tiles imitating concrete are a safe bet for pools with an urban touch, whether in a residential or hotel setting.
Now it is time to look for inspiration in some of the trends that are more fashionable than ever in 2023 and which are possible thanks, to a large extent, to the characteristics and variety of styles offered by ceramic floor and wall tiles.
Infinity or infinity pool
One of the great advantages of porcelain tiles is their ability to generate unlimited visual continuity. This feature is highly appreciated when designing an infinity pool and creating that 'infinity pool' effect we see so much in trendy magazines. To achieve this, it is enough to use the same paving for both the pool basin and the pool surrounds, especially in those cases where the tile design is more homogeneous.
Swimming pools integrated into a terrace
If, like us, you love swimming pools that become an extension of the terrace, you should know that tiles are the best pavement to make it a reality. In addition to being able to use the same paving for both areas, in the Aparici catalogue you will find special pieces for the edges of the pool. Moreover, laying the terrace tiles on plots, in the case of 2cm thick ceramic tiles, makes the installation even easier.
Small pools with charm
Having little space in the garden is not a disadvantage when installing a swimming pool, and once again, tiles are the ideal option to give it a special charm. Thus, collections such as Altea fill outdoor spaces with personality thanks to their encaustic design, while others such as Cotto (porcelain stoneware imitating terracotta) or Carpet (tiles with a textile effect) give new life to the rustic style.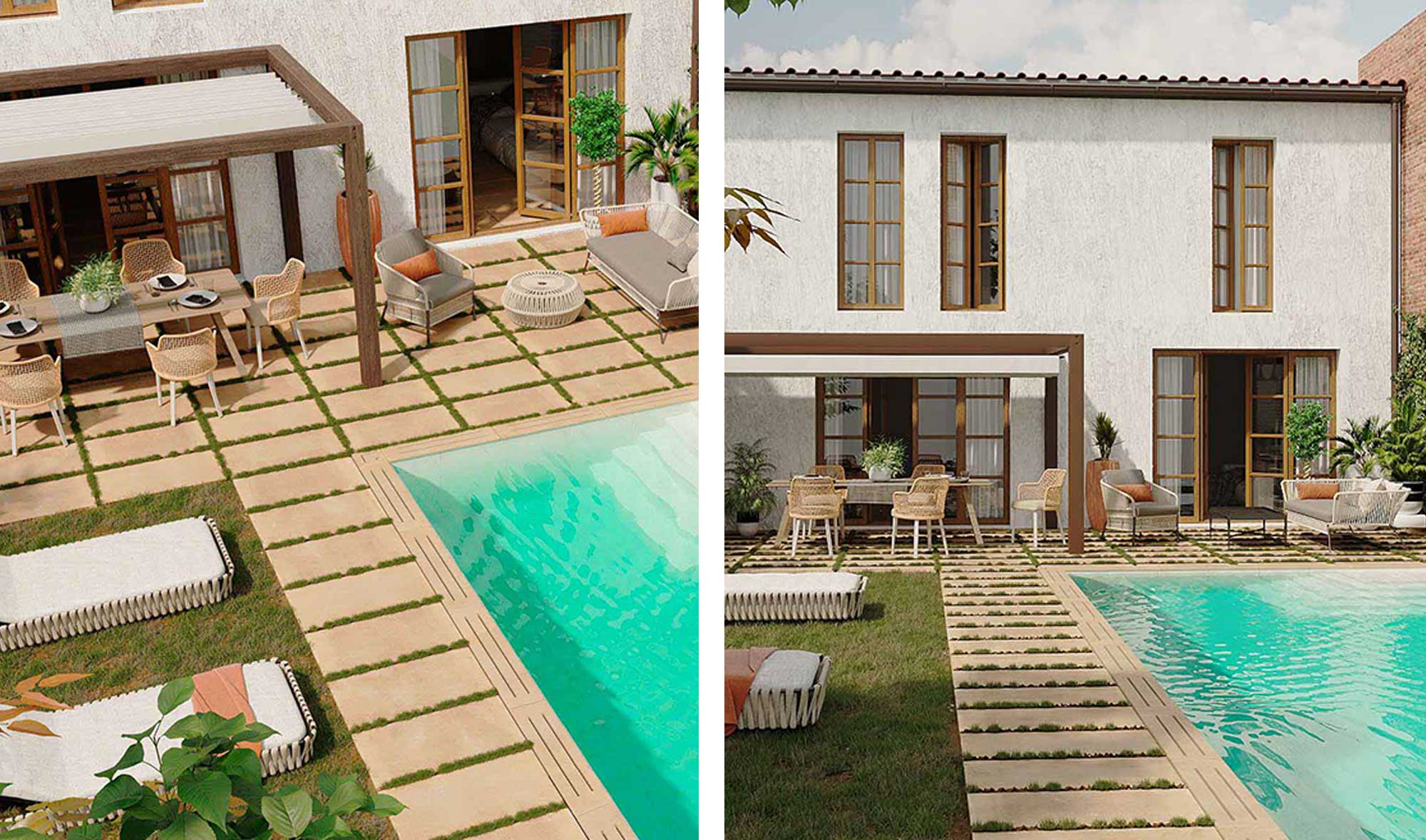 Cotto Sand 2CM
Variety of colours for a modern swimming pool
The chromatic variety of stoneware tiles is another of their strong points when it comes to choosing a covering for the inside of the pool. At this point, we must bear in mind that the colour of the tile will influence the tonality with which we perceive the water.
White tiles for swimming pools
This is undoubtedly one of the most commonly used colours in swimming pool cladding. White tiles offer a refreshing sensation and make us perceive the colour of the water in the range of light blues. In addition, it is one of the most used shades to achieve the infinity pool effect we have mentioned.
Aparici's white tile collection shows that it can be a colour full of nuances and allows us to bring textures of materials such as cement, natural stone or even wood (Camper collection) to the interior of the swimming pool.
Grey porcelain tile
Undoubtedly one of the rising trends in modern swimming pool colours. Grey porcelain tiles give a feeling of calm and tranquillity, and the colour of the water reminds us of a lake - who wouldn't want to take a dip as if they were in the middle of nature?
Grey tiles, like white tiles, also stand out for their versatility in terms of designs and textures. A swimming pool with grey cement-effect tiles will underline its sobriety, while opting for the stone effect will enhance that cosy natural feeling.
Blue tiles, a classic that never fails
A classic among classics, blue is the most refreshing colour for a swimming pool. The sensations will vary depending on the intensity of the colour. With light blue tiles we will achieve the characteristic Caribbean effect.
Darker tones, on the other hand, are ideal in warmer areas, as they further intensify the freshness of the water.
Green tiles for swimming pools
A colour that takes us back to nature. With green tiles, the pool water takes on a relaxing blue colour, as if we were bathing in a natural pool. If, on the other hand, we opt for darker tones, the result will be emerald green water.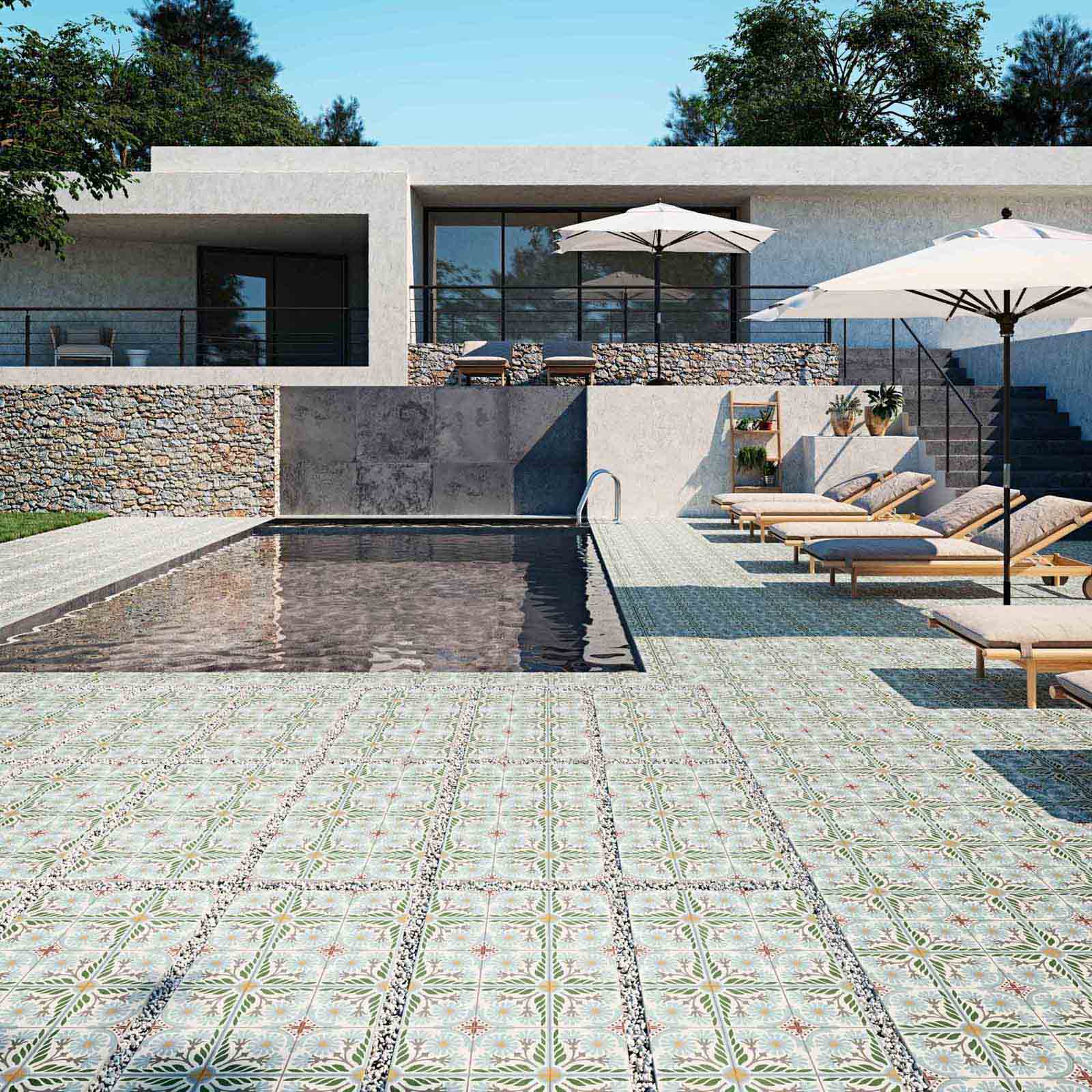 Altea Olivo 2CM
In short, porcelain tiles are, due to their technical characteristics and versatility of styles, the ideal ally to give a modern touch to any type of swimming pool, whether in a residential or commercial architectural project.